Next up is the Lake Hartwell Fall Final January 7th at Broyles! You only had to enter 1 Hartwell Qualifier to be eligible to enter the Final!
Cam & Dave Holley win the Hartwell Fall Points and will fish the Final Free!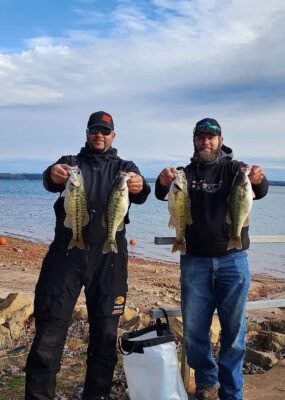 Darrin & Eric Jeter win Hartwell with 5 bass weighing 13.70 lbs!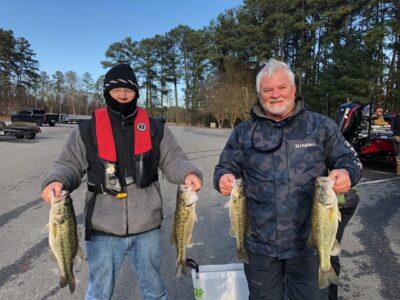 Dusty & Clay Greer 2nd Place with 12.63 lbs!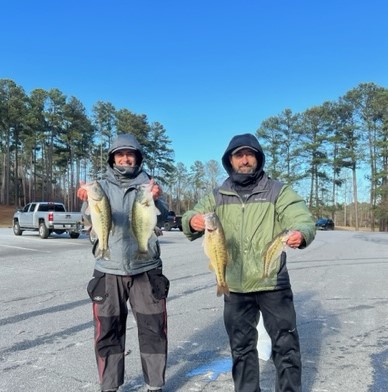 Vince & Billy Meser with their catch!

| | | | | |
| --- | --- | --- | --- | --- |
| Team | BF | Weight | Winnings | Points |
| Eric Jeter & Darrin Jeter | 0.00 | 13.70 | $330.00 | 110 |
| Dusty Greer Clay Greer | 4.60 | 12.63 | $110.00 | 109 |
| Joel Phillips Jerry Phillips | 0.00 | 10.35 | | 108 |
| Vince & Billy Meser | 0.00 | 7.86 | | 107 |
| Robert Morris Roger Owens | 0.00 | 6.65 | | 106 |
| Doug Krom Rusty Rainey | 0.00 | 2.58 | | 105 |
| Dave Holley, Randey Cantrel | 0.00 | 0.00 | | 95 |
| Russel and Brett Avery | 0.00 | 0.00 | | 95 |
| Total Entrys | | | $480.00 | |
| BONUS $ | | | $100.00 | |
| Total Paid At Ramp | | | $440.00 | |
| 2022 Hartwell Fall Final Fund | | | $140.00 | |
| 2023 CATT Championship Fund | | | $0.00 | |
| 2022 Hartwell Fall Final Fund Total | | | $615.00 | |