Next up is Lake Keowee Jan 10 at Mile Creek County Park! This is the last Fall Qualifier and you only have to enter 1 Qualifier to fish the Final Jan 24th!
Guys check out the 2021 CATT Invitational on Lake Hartwell this Fall! Tap on the Divisions page then 2021 CATT Invitational!
Brock Taylor & Eric Martin win with 12.85 lbs!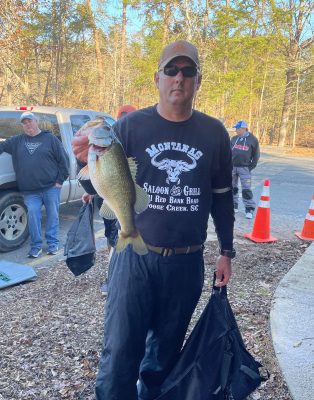 2nd Place Allen Holcombe & Tyler Thompson with 11.92 lbs!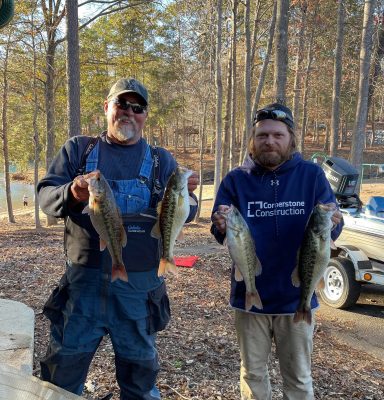 Charles Murphy with some nice uns!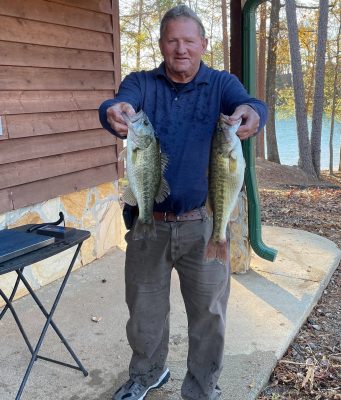 | | | | | |
| --- | --- | --- | --- | --- |
| Team | BF | Weight | Winnings | Points |
| Brock Taylor – Eric Martin | 4.37 | 12.85 | $570.00 | 110 |
| Tyler Thompson – Allen Holcombe | 3.50 | 11.92 | $170.00 | 109 |
| Charles Murphy – Cody Ray | 2.86 | 11.01 | | 108 |
| Shannon Poore – Jeremy Stewart | 2.76 | 10.43 | | 107 |
| Derek Lehtonen | 2.72 | 9.93 | | 106 |
| Roger Gosnell – Chad Powell | 2.18 | 8.10 | | 105 |
| Ricky Case – Conny Case | 2.36 | 8.00 | | 104 |
| Tony Gravely – Matt Durham | 2.81 | 7.91 | | 103 |
| Cliff Ferrell – Keller Campbell | 2.72 | 6.60 | | 102 |
| Bo Hill | 0.00 | 0.00 | | 101 |
| Matt Richardson | 0.00 | 0.00 | | 101 |
| Jerry Hagler | 0.00 | 0.00 | | 101 |
| Randy Childers – Scott Sellars | 0.00 | 0.00 | | 101 |
| Jayme Rampey – Adam Smith | 0.00 | 0.00 | | 101 |
| Total Entrys | | | $840.00 | |
| BONUS $ | | | $200.00 | |
| Total Paid At Ramp | | | $740.00 | |
| 2020 Keowee/Jocassee Fall Final Fund | | | $120.00 | |
| 2021 CATT Championship Fund | | | $20.00 | |
| 2020 Keowee/Jocassee Fall Final Fund Total | | | $210.00 | |
| 2021 CATT Championship Fund Total | | | $465.00 | |