Next Lake Murray CATT is March 29 at Bill Dreher Island State Park!
To view the Lake Murray Points go to the Lake Murray Division Page and scroll down!
Russ Padgett & Phillip Anderson take the win with 5 bass weighing 25.39 lbs! They also weighed a 6.39 lb bass which was our 2nd BF!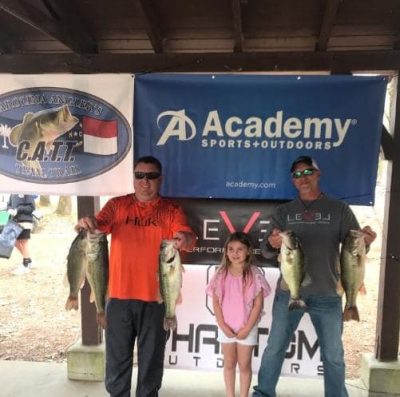 Rhet Manus & Doug Lown took 2nd with 23.11 lbs and weighed the Academy BF at 6.59 lbs!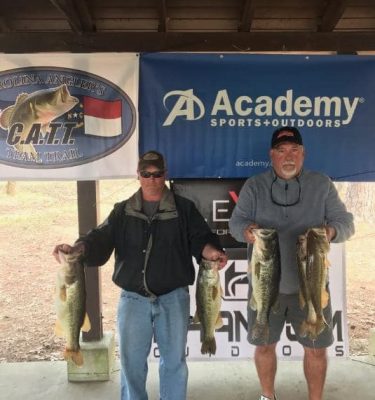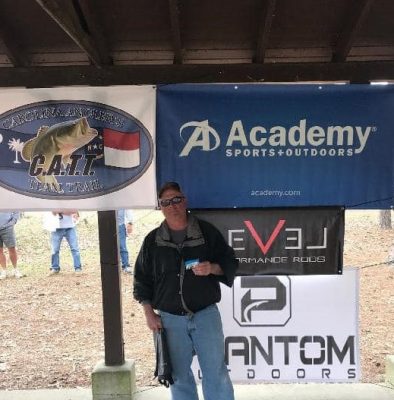 3rd with 22.57 lbs Clay Riddle & Dave Franklin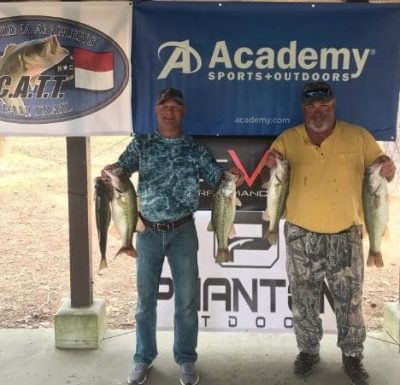 Sammy & CJ Freeman with some nice ones!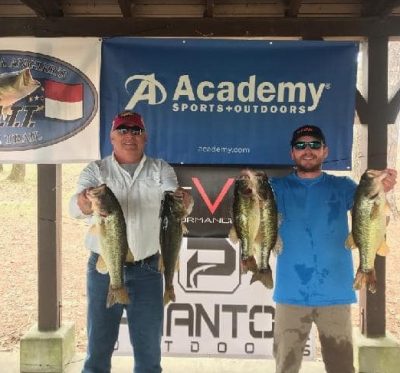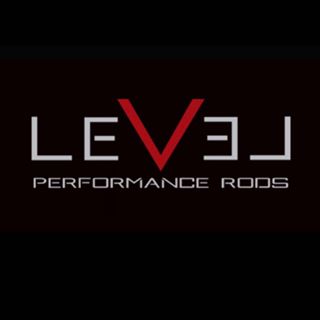 | | | | | |
| --- | --- | --- | --- | --- |
| 21 Teams | BF | Weight | Winnings | Points |
| Phillip Anderson – Russ Padgett | 6.39 | 25.39 | $900.00 | 110 |
| Doug Lown – Rhet Manus | 6.59 | 23.11 | $447.00 | 109 |
| Dave Franklin – Clay Riddle | 6.56 | 22.57 | $213.00 | 108 |
| Johnny Mayer – Chris Epting | 4.17 | 18.36 | | 107 |
| CJ Freeman – Sammy Freeman | 4.23 | 17.65 | $100.00 | 106 |
| Joe Quinn – Greg Causey | 6.41 | 16.82 | | 105 |
| Mark Krengel – Ron Wood | 5.05 | 16.06 | | 104 |
| Len Harley – George Rabon | 4.22 | 15.90 | | 103 |
| Dylan Edenfield – Hunter Hite | 4.98 | 15.67 | | 102 |
| Neil Huffstetler – Tim Huffstetler | 0.00 | 14.53 | | 101 |
| Brian Key | 3.05 | 13.87 | | 100 |
| Beau Dixon | 6.11 | 13.84 | | 99 |
| Dalton Dowdy – David Dowdy | 3.74 | 12.36 | | 98 |
| Bradley Rhodes – Braeden Rhodes | 2.64 | 9.68 | | 97 |
| Jason Ries – Roger McKee | 3.23 | 9.53 | | 96 |
| Dean Plunkett – Heath Plunkett | 0.00 | 3.07 | | 95 |
| Chad Hastings | 0.00 | 0.00 | | 94 |
| Joey Spradley – Matt Mollohan | 0.00 | 0.00 | | 94 |
| Wade Amick – Zach Huffstetler | 0.00 | 0.00 | | 94 |
| Claudell Monroe – John Mitchell | 0.00 | 0.00 | | 94 |
| John Stevenson Sr | 0.00 | 0.00 | | 94 |
| Total Entrys | | | $1,680.00 | |
| BONUS $$ | | | $400.00 | |
| Total Paid At Ramp | | | $1,660.00 | |
| Murray Spring Final Fund | | | $320.00 | |
| 2020 CATT Championship Fund | | | $50.00 | |
| 2020 Murray Spring Final Fund | | | $1,555.00 | |
| 2020  CATT /Phantom Championship | | | $2,955.00 | |