Next up is the Final May 6th at Dreher Island!  A team must enter 2 Murray Spring Qualifiers and you're eligible to enter the Murray Spring Final!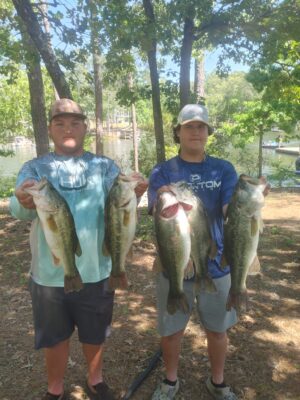 Karson Grubbs & Tanner Shultz win Murray with 5 bass weighing 19.00 lbs! They took home $1,279.00!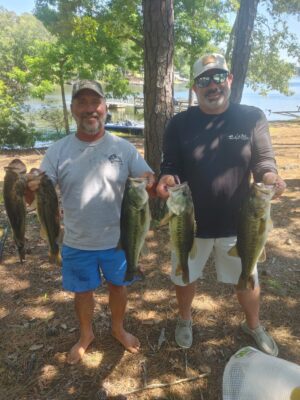 Kevin Fulmer & Tim Sox 2nd with 18.55 lbs!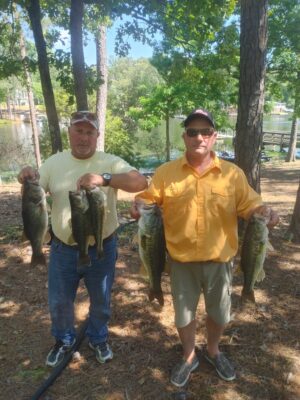 Tim Huffstetler & Neal Huffstetler 3rd with 18.51 lbs!
| | | | | |
| --- | --- | --- | --- | --- |
| Team | BF | Weight | Winnings | Points |
| Karson Grubbs – Tanner Shultz | 5.36 | 19.00 | $1,279.00 | 110 |
| Tim Sox – Kevin Fulmer | 4.89 | 18.55 | $225.00 | 109 |
| Tim Huffstetler – Neal Huffstetler | 5.19 | 18.51 | $100.00 | 108 |
| Tim Richardson | 4.47 | 16.62 | | 107 |
| Scott Farmer | 4.21 | 16.55 | | 106 |
| Wayne Jeffcoat – Kevin Banks | 5.59 | 16.18 | $126.00 | 105 |
| Matt Skeeter | 4.20 | 15.46 | | 104 |
| Johnny Mayer – Chris Epting | 0.00 | 15.21 | | 103 |
| Benrie Dreher – Jonah B | 3.87 | 13.46 | | 102 |
| Darryl Starkey – Nelson Walker | 4.48 | 13.35 | | 101 |
| Gregg Lockhart – Steven Tucker | 3.24 | 12.88 | | 100 |
| Jason Ries – Roger McKee | 3.40 | 12.01 | | 99 |
| Chad Hastings – Chris Neal | 0.00 | 0.00 | | 98 |
| Jason Fulmer – John Roberts | 0.00 | 0.00 | | 97 |
| Ben Lee | 0.00 | 0.00 | | 96 |
| Travis Knight – Wayne Gerould | 0.00 | 0.00 | | 95 |
| Les Westbury – Tony Walker | 0.00 | 0.00 | | 94 |
| Dylan Sills – Hunter Jeffcoat | 0.00 | 0.00 | | 93 |
| Total Entrys | | | $1,440.00 | |
| BONUS $ | | | $725.00 | |
| Total Paid At Ramp | | | $1,730.00 | |
| CATT | | | $50.00 | |
| 2023 Murray Spring Final Fund | | | $335.00 | |
| 2023 CATT Championship Fund | | | $50.00 | |
| 2023 Murray Spring Final Total | | | $2,130.00 | |