Next James River CATT is August 7th at Osbourne!
Steve & Julie Colgin weighed in a limit of James River bass tipping the scales at 21.97 lbs taking 1st Place plus they brought in the BF of the day at 7.44 lbs! Add in the Caymas Cash award and the 1st BONUS $ and they collected $9,968.00!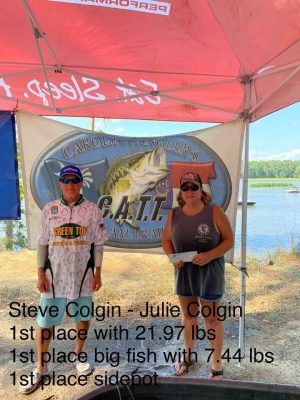 Guy Fairweather & Jared Williams with a nice bag they put them way up in the money!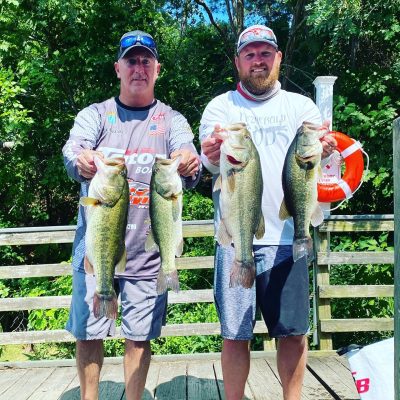 Evan Anderson and Bryan Keane with a nice bag!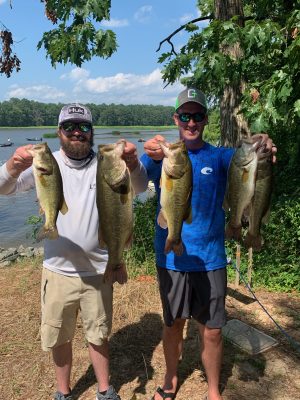 Richard Bates & Scott Randal with their sack!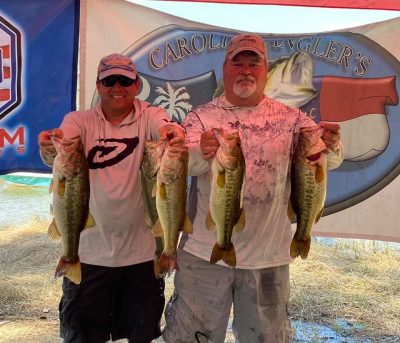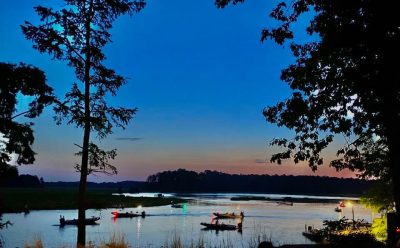 | | | | | |
| --- | --- | --- | --- | --- |
| Team | BF | Weight | Winnings | Points |
| Steve Colgin – Julie Colgin | 7.44 | 21.97 | $9,968.00 | 110 |
| Ray Hogge – Donnie Daniel | 0.00 | 20.84 | $1,300.00 | 109 |
| Garrett Geouge – Mike Grogan | 0.00 | 19.88 | $775.00 | 108 |
| Mike Rowe – James Rowe | 6.36 | 19.44 | $675.00 | 107 |
| Guy Fairweather – Jared Williams | 0.00 | 18.93 | $525.00 | 106 |
| Ryan Drewery – Wayne Drewery | 0.00 | 17.92 | $450.00 | 105 |
| Howard Austin – Mark Austin | 5.20 | 17.78 | $375.00 | 104 |
| John Barnes | 7.08 | 17.61 | $350.00 | 103 |
| Bryan Keane – Evan Anderson | 6.76 | 17.61 | $522.00 | 102 |
| Luke Carson – Darren Zoller | 6.39 | 17.29 | $250.00 | 101 |
| Tripp Mistr – Brent Mistr | 0.00 | 17.06 | $200.00 | 100 |
| Richard Bates – Scott Randall | 0.00 | 16.98 | $175.00 | 99 |
| Dave Carney – Andy Bollhorst | 0.00 | 16.96 | $160.00 | 98 |
| Paul Martin – Francis Martin | 0.00 | 16.72 | $140.00 | 97 |
| Trey Goodman – Tim Chaffin | 0.00 | 16.63 | $120.00 | 96 |
| Eddie Griggs – Eric Rowe | 0.00 | 16.41 | | 95 |
| Burley Langford – Brian Langford | 6.69 | 16.27 | | 94 |
| Anthony Williams – Jay Griffin | 0.00 | 16.26 | | 93 |
| Wesley Creasey – Charles Crowder | 0.00 | 15.98 | | 92 |
| Alex Woodruff – Tyler Shellman | 5.52 | 15.89 | | 91 |
| Chase Huffman – Harrison Baker | 0.00 | 15.70 | | 90 |
| Jeffrey Valentin – Daryl Moody | 5.92 | 15.65 | | 89 |
| Kelly Robinette – David Barlow | 3.94 | 15.63 | | 88 |
| Tommy Little – Jerry Heffler | 0.00 | 15.50 | | 87 |
| Rusty Alley – Dan Robinson | 0.00 | 15.43 | | 86 |
| Charles James – Conway | 0.00 | 15.40 | | 85 |
| Jeffery Bamko – Adam Weaver | 0.00 | 15.38 | | 84 |
| Jamie Nealy – Greg Ball | 0.00 | 15.35 | | 83 |
| Gary Schembs – Jared Jenkins | 0.00 | 15.32 | | 82 |
| Audie Murphy – Chris Dorman | 4.82 | 14.75 | | 81 |
| Jason Bishop – Jeff Hamilton | 0.00 | 14.30 | | 80 |
| Zacj Whitt – Larry Whitt | 0.00 | 14.22 | | 79 |
| Allen Williams – Brad Redden | 0.00 | 14.16 | | 78 |
| Linwood Shores | 0.00 | 13.92 | | 77 |
| Stacy Vasser – Preston s | 0.00 | 13.88 | | 76 |
| Rogers Walters – Renee Walters | 0.00 | 13.78 | | 75 |
| Richard Mistr – Tom Owens | 0.00 | 13.76 | | 74 |
| Avery Powelson – Brian Brooks | 0.00 | 13.75 | | 73 |
| Cory Donnavant – Kennon Ball | 5.58 | 13.61 | | 72 |
| Ben Kendrick – Nate Kendrick | 0.00 | 13.58 | | 71 |
| Joey Cooke – Justin Hall | 0.00 | 13.48 | | 70 |
| Blake Condrey – Merle Condrey | 0.00 | 13.10 | | 69 |
| RJ Davis – Jay Davis | 0.00 | 13.01 | | 68 |
| Walter Emerson -Brody Webb | 0.00 | 12.98 | | 67 |
| David Bivens – Clay Lewis | 0.00 | 12.92 | | 66 |
| Comer -Warren | 0.00 | 12.53 | | 65 |
| Barry Brandt Jr – Robert Brandt | 0.00 | 12.14 | | 64 |
| Ronald Slaughter – Landon Tucker | 0.00 | 12.06 | | 63 |
| Duane Hodge – Brad Colgin | 0.00 | 11.75 | | 62 |
| Wayne Andrews – Tim Tait | 5.29 | 11.69 | | 61 |
| Curtis Combs – CJ Combs | 0.00 | 11.56 | | 60 |
| Brian Snipes – Chris Cockrell | 0.00 | 11.14 | | 59 |
| Charles Ramer – Ernest Revels | 0.00 | 10.51 | | 58 |
| Marshall Johnson – Ryan Lachniet | 0.00 | 10.48 | | 57 |
| Chris Mcdaniel – Matt Kite | 0.00 | 10.43 | | 56 |
| Clyde Baldwin – Jeff Davis | 0.00 | 10.34 | | 55 |
| Jimmy Condrey – Cody Condrey | 0.00 | 9.16 | | 54 |
| Mike Gibson -Rocky stone | 0.00 | 8.49 | | 53 |
| BJ Boothe – Alex Richard | 0.00 | 8.20 | | 52 |
| Jesse Kidd – Jake Kidd | 0.00 | 7.60 | | 51 |
| Josh Durham – Aaron Durham | 0.00 | 7.43 | | 50 |
| Steve Webb- Ricky Williams | 0.00 | 7.17 | | 49 |
| James Tilley – Andy Walker | 0.00 | 6.30 | | 39 |
| Michael Brannon – Jacob Compton | 0.00 | 0.00 | | 39 |
| Todd Fisher – Matt Chisholm | 0.00 | 0.00 | | 39 |
| Avery Neely – Chris Fiore | 0.00 | 0.00 | | 39 |
| Benny Hendricks – Ronnie Ketchum | 0.00 | 0.00 | | 39 |
| Nathaniel Kilgore | 0.00 | 0.00 | | 39 |
| Keith Langford – Time Richmond | 0.00 | 0.00 | | 39 |
| Donnie Meade – Travis Daniels | 0.00 | 0.00 | | 39 |
| Zachery Bodsford – Ricky Bodsford | 0.00 | 0.00 | | 39 |
| James Funk | 0.00 | 0.00 | | 39 |
| Bubba Whitehurst  – Parker Hinks | 0.00 | 0.00 | | 39 |
| Robert Sutton – Mark Adams | 0.00 | 0.00 | | 39 |
| Walter Hill – Kevin King | 0.00 | 0.00 | | 39 |
| Billy Allen- Craig Cheek | 0.00 | 0.00 | | 39 |
| Marcus Chandler- John Mansini | 0.00 | 0.00 | | 39 |
| Scott Rogers – Owen Rogers | 0.00 | 0.00 | | 39 |
| Total Entrys | | | $9,360.00 | |
| BONUS $ | | | $750.00 | |
| Total Paid At Ramp | | | $8,835.00 | |
| James River 2021 Final Fund | | | $575.00 | |
| 2021 CATT Championship Fund | | | $75.00 | |
| 2021 James River Final Fund Total | | | $2,175.00 | |
| 2021 CATT Championship Fund Total | | | $0.00 | |