Next up on Lake Murray is the Spring Final June 11! Remember guys you had to enter 2 Murray Spring Qualifiers to be eligible! We are looking to build up a more lucrative FALL Trail. Stay tuned!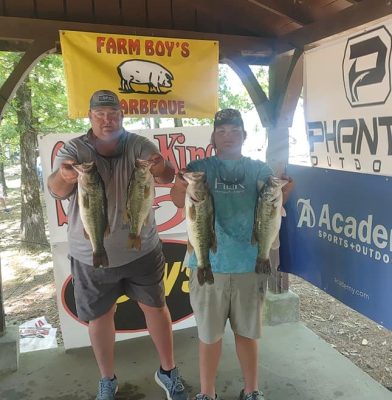 Emmett Maynor & Carson Grubbs win Murray with 5 bass weighing 20.71 lbs! With the Side Pot kicked in and 2nd BF at 5.49 lbs they took home $1,157.00!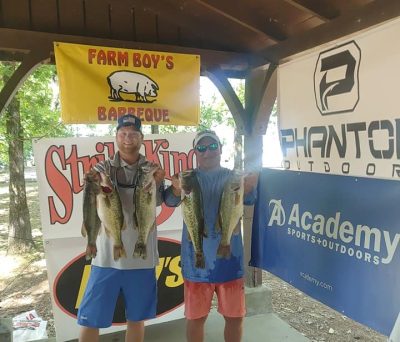 2nd Place went to Josh Rennebaum & Jim Davis with 18.66 lbs and they won the Murray Spring Points and will fish the Final Free!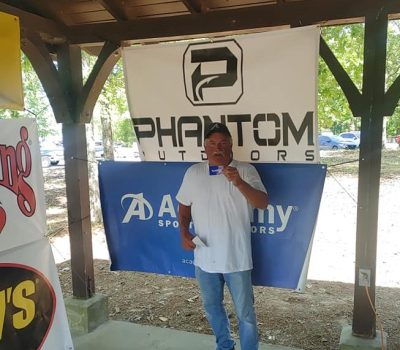 Johnny Mayer & Chris Epting took 3rd with 15.76 lbs and weighed in the Academy BF at 5.51 lbs!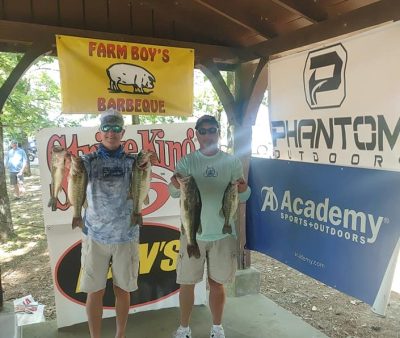 Darryl Starkey and Nelson Walker with their catch!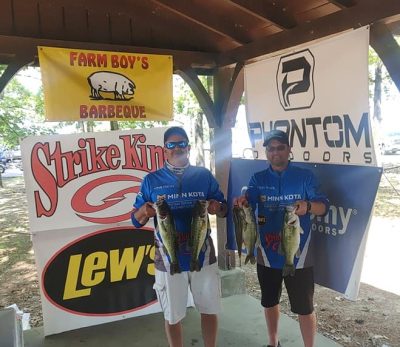 Steve Garvey & Nathan Woods with some nice uns!
| | | | | |
| --- | --- | --- | --- | --- |
| Team | BF | Weight | Winnings | Points |
| Emmett Maynor – Karson Grubbs | 5.49 | 20.71 | $1,157.00 | 110 |
| Josh Rennebaum – Jim Davis | 4.73 | 18.66 | $475.00 | 109 |
| Johnny Mayer – Chris Epting | 5.51 | 15.76 | $258.00 | 108 |
| Darryl Starkey – Nelson Walker | 5.29 | 15.40 | | 107 |
| Rodney Cromer – David Farr | 4.88 | 15.12 | | 106 |
| Dave Murdock | 4.75 | 14.33 | | 105 |
| Brandon Jeffcoat – Ryan Raley | 3.33 | 14.19 | | 104 |
| Wade Amick – Ellett Lavisky | 3.87 | 14.18 | | 103 |
| Steve Garvey – Nathan Woods | 3.15 | 13.13 | | 102 |
| Mark Krengel | 4.87 | 12.83 | | 101 |
| Dave Franklin – Gunnar Franklin | 4.33 | 11.73 | | 100 |
| Kevin Fulmer – Tim Sox | 4.03 | 10.08 | | 99 |
| Roger McKee – Jason Reis | 2.88 | 9.58 | | 98 |
| Thomas MacWhinnie | 2.24 | 9.05 | | 97 |
| Zachary Elliott – Jim Elliott | 0.00 | 4.15 | | 96 |
| Steve Pizzino – Curtis Jones | 0.00 | 0.00 | | 86 |
| Jeremiah Jensen – Gage Spagnola | 0.00 | 0.00 | | 86 |
| Bobby Martin – Michael Turner | 0.00 | 0.00 | | 86 |
| Winston Husband | 0.00 | 0.00 | | 86 |
| Total Entrys | | | $1,520.00 | |
| BONUS $ | | | $800.00 | |
| Total Paid At Ramp | | | $1,890.00 | |
| Murray 2022 Spring Final Fund | | | $330.00 | |
| 2022 CATT Championship Fund | | | $50.00 | |
| 2022 Murray Spring Final  Total | | | $2,115.00 | |