Next Lake Murray CATT is February 27 at Dreher Island!
Strike King Big Bass Challenge March 14 Lake Murray! Tap on the picture link below for more info!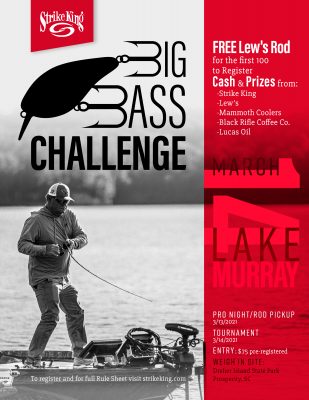 Tyler Alveros & Hampton Anderson win with 5 bass weighing 23.25 lbs and weighed in the BF at 7.68 lbs!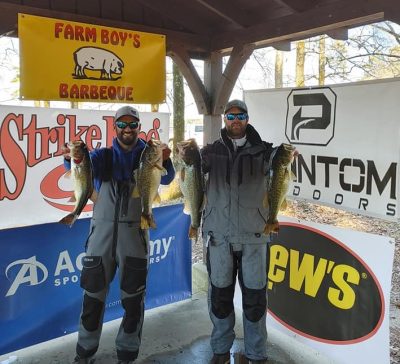 2nd Place Zach Huffstetler & Wade Amick with 18.81 lbs!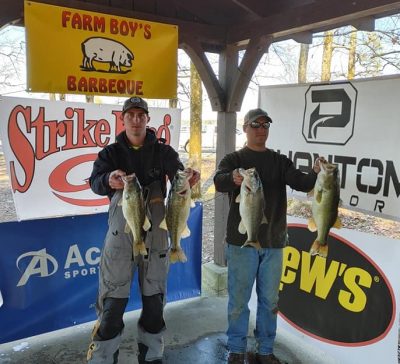 Phillip Anderson 3rd 17.40 lbs!
Josh Rennenbaum & Carl Smith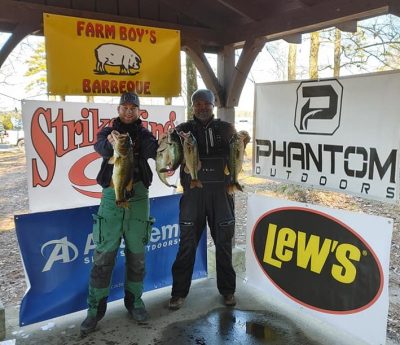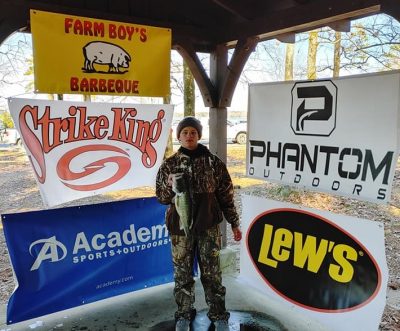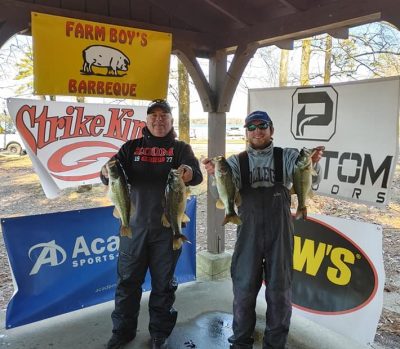 | | | | | |
| --- | --- | --- | --- | --- |
| Team | BF | Weight | Winnings | Points |
| Hampton Anderson – Tyson Alveras | 7.68 | 23.25 | $972.00 | 110 |
| Wade Amick – Zach Huffstetler | 5.39 | 18.81 | $300.00 | 109 |
| Phillip Anderson | 5.76 | 17.40 | $150.00 | 108 |
| Jim Davis – Mike Allman | 4.20 | 16.78 | $100.00 | 107 |
| Carl Smith – Josh Rennebaum | 5.12 | 16.36 | | 106 |
| CJ Freeman – Sam Freeman | 4.11 | 14.45 | | 105 |
| Chris Epting – Johnny Mayer | 3.73 | 13.60 | | 104 |
| Neil Huffstetler – Tim Huffstetler | 5.98 | 12.70 | $63.00 | 103 |
| Ben Lee | 3.82 | 11.95 | | 102 |
| Mark Krengel – Ron Wood | 3.91 | 10.81 | | 101 |
| Will Alewine – Andrew Snellgrove | 5.16 | 7.24 | | 100 |
| Mike Stribble – Blake Stribble | 5.90 | 5.90 | | 99 |
| Jason Ries – Roger McKee | 0.00 | 4.68 | | 98 |
| Josh Kirby – Tim Kirby | 4.42 | 4.42 | | 97 |
| Justin McGrady – AJ Dipetero | 0.00 | 3.74 | | 96 |
| Cameron Holley – David Holley | 0.00 | 0.00 | | 86 |
| Brandon Bryan – Shane Almeida | 0.00 | 0.00 | | 86 |
| Les Westberry – Dean Chapman | 0.00 | 0.00 | | 86 |
| Lian West – Colton Parrott | 0.00 | 0.00 | | 86 |
| Chase Austin – Casey Brown | 0.00 | 0.00 | | 86 |
| Kevin Fulmer – Tim Sox | 0.00 | 0.00 | | 86 |
| Total Entrys | | | $1,680.00 | |
| BONUS $$ | | | $325.00 | |
| Total Paid At Ramp | | | $1,585.00 | |
| 2021 Murray Spring Final Fund | | | $320.00 | |
| 2021 CATT Championship Fund | | | $50.00 | |
| 2021 Murray Spring Final Fund | | | $805.00 | |
| 2021  CATT /Phantom Championships | | | $710.00 | |