This Saturday at Dreher Island State Park Tournament Ramp – Phantom Outdoors Open! We lowered the entry fee for this one to $80 or $90 at the ramp! NO MEMBERSHIP! If you pay on line  go the Lake Murray Pay feature and select Qualifier and list Murray Phantom in the notes!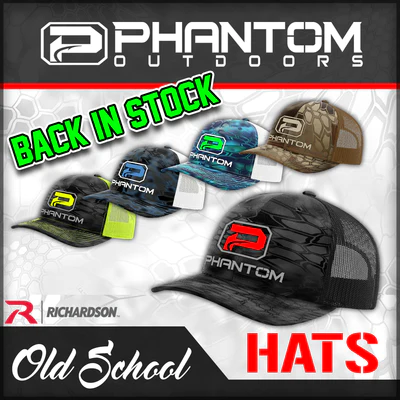 The next CATT Lake Murray Spring Qualifier is March 11at Dreher Island State Park!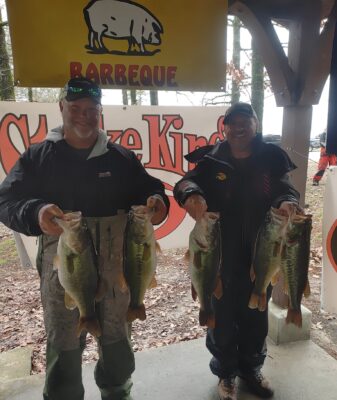 I met Wayne Jeffcoat & Kevin Banks on Lake Murray back in the 90's. They were bagging them up back then and back at it again! They weighed in 5 bass weighing 24.64 lbs taking 1st Place and $900.00!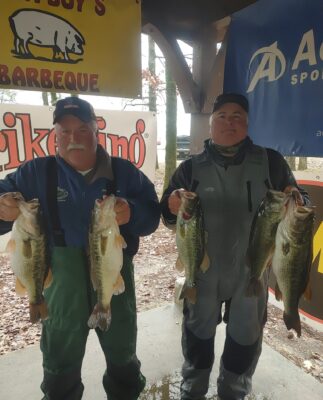 Another team that was smashing em on Muray in the 90's Johnny Mayer & Chris Epting with 23.76 lbs good enough for 2nd Place!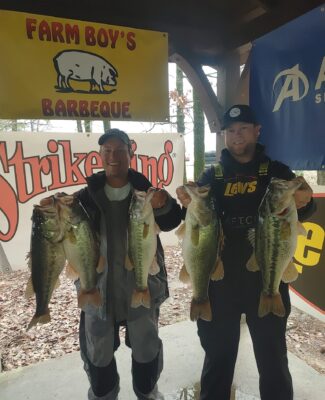 Wade Amick & Josh Rennebaum 3rd with 23.61 lbs! Another great bag!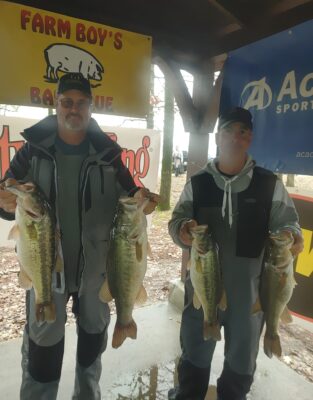 Another blast from the past Wayne Frierson & Ronnie Mueller 4th with 23.35 lbs and they weighed in the Academy BF at 7.82 lbs!
| | | | | |
| --- | --- | --- | --- | --- |
| Team | BF | Weight | Winnings | Points |
| Wayne Jeffcoat – Kevin Banks | 5.85 | 24.64 | $900.00 | 110 |
| Johnny Mayer – Chris Epting | 5.55 | 23.76 | $300.00 | 109 |
| Josh Rennebaum – Wade Amick | 5.42 | 23.61 | $200.00 | 108 |
| Ronnie Mueller – Wayne Frierson | 7.82 | 23.35 | $288.00 | 107 |
| Andy Wicker – Reid McGinn | 5.89 | 22.53 | | 106 |
| Andy Lake – Phillip Anderson | 5.86 | 21.71 | | 105 |
| AJ Dipietro – Jeremiah Jenson | 5.12 | 21.37 | | 104 |
| Chad Hastings – Chris Neal | 4.93 | 20.33 | | 103 |
| George Berry | 6.91 | 19.89 | $72.00 | 102 |
| Franky Shealy – Brandon Sheah | 5.11 | 19.11 | | 101 |
| Bob Rutherford – Brad Rutherford | 4.42 | 17.32 | | 100 |
| Jason Reis – Roger McKee | 4.53 | 16.42 | | 99 |
| Ryan Raley – Charkles Wilkie | 6.14 | 16.19 | | 98 |
| Ben Lee | 3.40 | 15.50 | | 97 |
| Neil Huffstetler – Tim Huffstetler | 6.27 | 15.37 | | 96 |
| Brian Mowder | 3.82 | 14.35 | | 95 |
| Jase Knight – Will Deck | 4.20 | 13.51 | | 94 |
| Dave Murdock – Steve Pizzino | 3.19 | 13.49 | | 93 |
| Jonah Nickley – Bernie Dreher | 2.95 | 11.73 | | 92 |
| Josiah Gaza – Jonathan Wolverton | 0.00 | 9.02 | | 91 |
| Dave Franklin – Gunnar Franklin | 0.00 | 0.00 | | 81 |
| Travis Knight – Wayne Gerald | 0.00 | 0.00 | | 81 |
| Carson Krell- Jennings Green | 0.00 | 0.00 | | 81 |
| Bridges Boulware – Justin Fulmer | 0.00 | 0.00 | | 81 |
| Total Entrys | | | $1,920.00 | |
| BONUS $ | | | $350.00 | |
| Total Paid At Ramp | | | $1,760.00 | |
| CATT | | | $50.00 | |
| 2023 Murray Spring Final Fund | | | $410.00 | |
| 2023 CATT Championship Fund | | | $50.00 | |
| 2023 Murray Spring Final Total | | | $830.00 | |