We're off to a great start on Lake Murray with 24 teams competing! Next Lake Murray CATT is Jan 18 at Dreher Island. Entry is $60 and $70 at the ramp!
We will also have a $60 Qualifier Feb 1st the week before the Carolinas Bass Challenge Qualifier on Lake Murray! If you're practicing for the CBC you may as well try to cash in on some good fishing!
Check this out!
For you guys fishing the 2020 CATT Lake Murray Spring Trail! The Academy Receipt Program will be in effect! Bring your Academy receipts to the Director on tourney day and for every $25 spent at Academy in the past year you will receive 2 raffle tickets! At the Lake Murray Spring Final we will draw for a $100, $75, $50 & $25 Academy Gift Card PLUS we will have Academy H2O products included in the drawing! Another great benefit when you shop Academy! 

1st Place Saturday went to Len Harley & George Raborn with 5 bass weighing 19.06 lbs! They also weighed in the Academy BF at 6.51 lbs! In cash they took home $1,220.00 PLUS a $25 Academy Gift Card! Great job guys!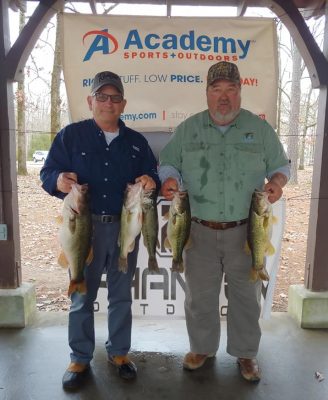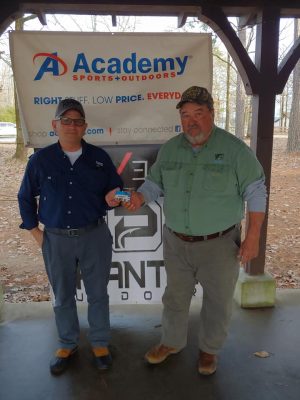 2nd went to Wade Amick & Zach Huffstetler with 18.21 lbs!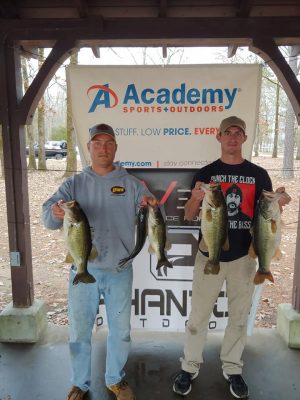 | | | | | |
| --- | --- | --- | --- | --- |
| 24 Teams | BF | Weight | Winnings | Points |
| Len Harley – George Raborn | 6.51 | 19.06 | $1,220.00 | 110 |
| Wade Amick – Zach Huffstetler | 6.20 | 18.21 | $300.00 | 109 |
| Dave Murdock – Steve Pizzino | 5.29 | 17.13 | $150.00 | 108 |
| Wayne Frierson – Ronnie Mueller | 4.13 | 17.08 | $100.00 | 107 |
| Johnny Mayer – Chris Epting | 3.97 | 16.87 | | 106 |
| Roger Farr – David Farr | 4.55 | 16.60 | | 105 |
| Doug Lown – Rhet Manus | 0.00 | 16.48 | | 104 |
| Bernie Dreher – Reese Turner | 5.11 | 16.16 | | 103 |
| Mike Stephens | 0.00 | 15.39 | | 102 |
| Travish Parrish – Gavin Parrish | 4.72 | 15.10 | | 101 |
| Emmett Maynor – Karson Grubby | 4.12 | 14.50 | | 100 |
| Kevin Fulmer – Bud | 0.00 | 12.57 | | 99 |
| Zak Martin – John Ray | 4.10 | 12.30 | | 98 |
| Gary Michaud – Dustin Compton | 3.26 | 12.05 | | 97 |
| Jason Ries – Roger McKee | 5.22 | 11.85 | | 96 |
| Howard Stephens – Paul Ham | 0.00 | 7.77 | | 95 |
| Joe Quinn – Wyatt McAbee | 2.51 | 5.91 | | 94 |
| Kenneth Mullins – Mark West | 3.81 | 5.52 | | 93 |
| Ben Smith | 0.00 | 4.20 | | 92 |
| Carl Smith – Tyson Alvanos | 0.00 | 0.00 | | 91 |
| Tim Slice – David Wiggins | 0.00 | 0.00 | | 91 |
| Ellett Lavisky – Ross Lowder | 0.00 | 0.00 | | 91 |
| Jeremiah Jensen | 0.00 | 0.00 | | 91 |
| Mark Krengel | 0.00 | 0.00 | | 91 |
| Total Entrys | | | $1,440.00 | |
| BONUS $$ | | | $500.00 | |
| Total Paid At Ramp | | | $1,770.00 | |
| Murray Spring Final Fund | | | $110.00 | |
| 2020 CATT Championship Fund | | | $10.00 | |
| 2020 Murray Spring Final Fund | | | $110.00 | |
| 2020  CATT /Phantom Championship | | | $1,920.00 | |