Next up on Lake Murray –  $60 Qualifier Feb 1st the week before the Carolinas Bass Challenge Qualifier on Lake Murray! If you're practicing for the CBC you may as well try to cash in on some good fishing!
Check this out!
For you guys fishing the 2020 CATT Lake Murray Spring Trail! The Academy Receipt Program will be in effect! Bring your Academy receipts to the Director on tourney day and for every $25 spent at Academy in the past year you will receive 2 raffle tickets! At the Lake Murray Spring Final we will draw for a $100, $75, $50 & $25 Academy Gift Card PLUS we will have Academy H2O products included in the drawing! Another great benefit when you shop Academy! 

Wade Amick & Zach Huffstetler brought in a fat sack of bass weighing up at 22.43 lbs! They also weighed in the 1st BF at 6.66 lbs! All total they collected $1,000.00!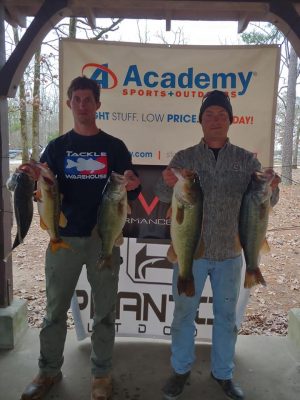 2nd went to Rhet Manus & Doug Lown with 5 bass weighing 21.29 lbs!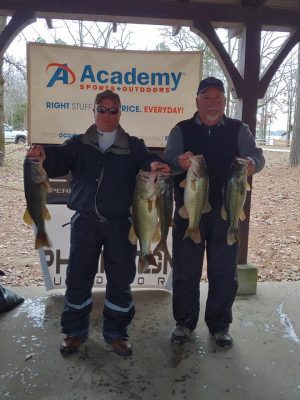 3rd Gavin Parrish & Travis Parrish 19.56 lbs!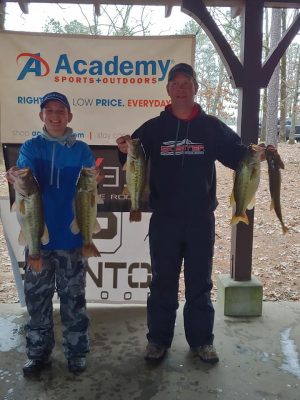 Academy BF was brought in by Jason Ries & Roger McKee 6.37 lbs! They received an Academy Gift Card valued at $25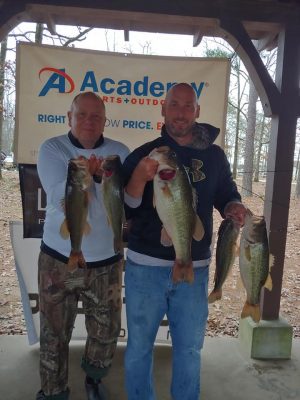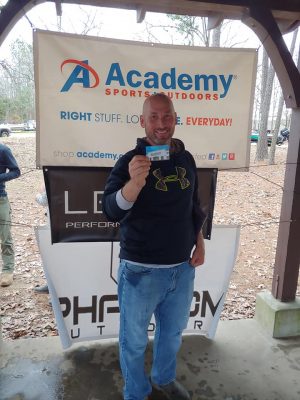 Kenneth Mullins & Mark West with a 6 pounder!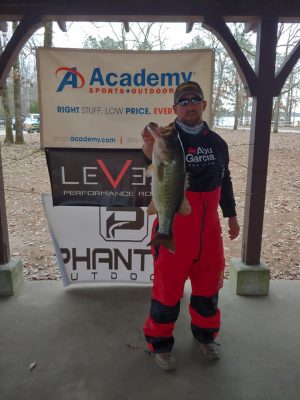 Zach Douglas & Hunter Enlow with a nice catch!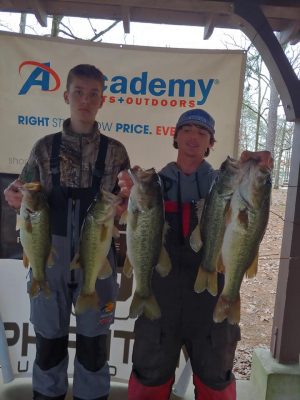 | | | | | |
| --- | --- | --- | --- | --- |
| 19 Teams | BF | Weight | Winnings | Points |
| Wade Amick – Zach Huffstetler | 6.66 | 22.43 | $1,000.00 | 110 |
| Doug Lown – Rhet Manus | 5.74 | 21.29 | $210.00 | 109 |
| Travish Parrish – Gavin Parrish | 4.91 | 19.56 | $105.00 | 108 |
| Johnny Mayer – Chris Epting | 5.66 | 17.29 | | 107 |
| Brian Key | 5.41 | 16.73 | | 106 |
| Jason Ries – Roger McKee | 6.37 | 16.70 | | 105 |
| Roger Farr – David Farr | 4.62 | 15.70 | | 104 |
| Hunter Enlow – Zach Douglas | 3.99 | 15.33 | | 103 |
| Anthony Cancelli – Bob Rutherford | 5.53 | 14.96 | | 102 |
| Howard Stephens – Paul Ham | 5.31 | 14.15 | | 101 |
| Thomas Hardwick – Tommy Williams | 3.03 | 13.89 | | 100 |
| Len Harley – George Raborn | 4.76 | 12.22 | | 99 |
| Kenneth Mullins – Mark West | 6.16 | 11.10 | | 98 |
| Winston Husband – Dane Odom | 5.75 | 10.71 | | 97 |
| Daniel Grassi – Baker Woodward | 0.00 | 9.86 | | 96 |
| Zak Martin – Colton Parrott | 4.53 | 6.35 | | 95 |
| Mark Krengel – Ron Wood | 0.00 | 0.00 | | 94 |
| Joseph Keplar – Robert Keplar | 0.00 | 0.00 | | 94 |
| Dave Murdock – Steve Pizzino | 0.00 | 0.00 | | 94 |
| Total Entrys | | | $1,140.00 | |
| BONUS $$ | | | $350.00 | |
| Total Paid At Ramp | | | $1,315.00 | |
| Murray Spring Final Fund | | | $115.00 | |
| 2020 CATT Championship Fund | | | $10.00 | |
| 2020 Murray Spring Final Fund | | | $225.00 | |
| 2020  CATT /Phantom Championship | | | $1,930.00 | |