Next Lake Murray Fall CATT is November 25th at Dreher Island State Park!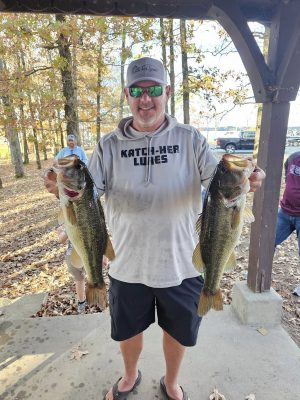 Jody Wright took 1st Place at Murray with 5 bass weighing 19.82 lbs worth $1,175.00!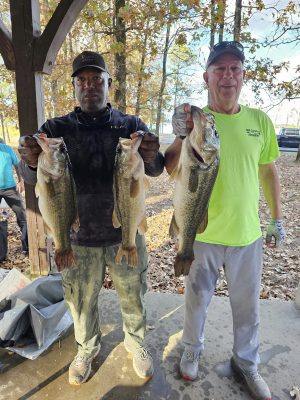 Maurice Barrett & Steve Wicker 2nd with 18.06 lbs! PLUS they weighed the Academy BF at 5.49 lbs!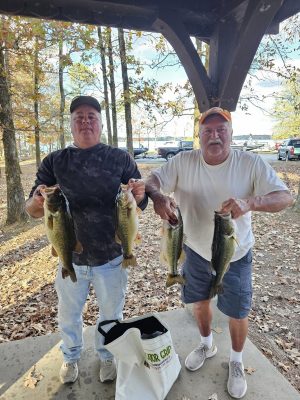 Darryl Starkey – Garrett Starkey 4th 15.81 lbs and 2nd BF at 4.95 lbs!
| | | | | |
| --- | --- | --- | --- | --- |
| Team | BF | Weight | Winnings | Points |
| Jody Wright | 4.60 | 19.82 | $1,175.00 | 110 |
| Steve Wicker – Maurice Barrett | 5.49 | 18.06 | $298.00 | 109 |
| Johnny Mayer – Chris Epting | 4.30 | 17.04 | | 108 |
| Darryl Starkey – Garrett Starkey | 4.95 | 15.81 | $42.00 | 107 |
| Ben Lee | 3.76 | 14.25 | | 106 |
| Hampton Anderson | 3.65 | 13.80 | | 105 |
| Jeremy Medlock | 2.84 | 10.55 | | 104 |
| Colin Eichelberger – Jacob Anastasi | 4.22 | 8.78 | | 103 |
| Neal Huffstetler – Tim Huffstetler | 4.00 | 8.64 | | 102 |
| Jason Ries – Roger Mckee | 2.52 | 8.04 | | 101 |
| Hans Cansler – Jon Holsenback | 2.87 | 6.26 | | 100 |
| Robert Jackson – Curtis jackson | 3.16 | 6.10 | | 99 |
| Chad Hastings – Chris Neal | 0.00 | 0.00 | | 89 |
| Josh Rennenbaum | 0.00 | 0.00 | | 89 |
| Total Entrys | | | $1,120.00 | |
| BONUS $ | | | $725.00 | |
| Total Paid At Ramp | | | $1,515.00 | |
| Murray 2023 Fall Final Fund | | | $230.00 | |
| CATT | | | $50.00 | |
| 2024 CATT Championship Fund | | | $50.00 | |
| 2023 Murray Fall Final  Total | | | $690.00 | |