Next Lake Murray CATT Fall Qualifier is a GOLD $120 entry or $130 at the ramp. November 19th at Dreher Island State Park!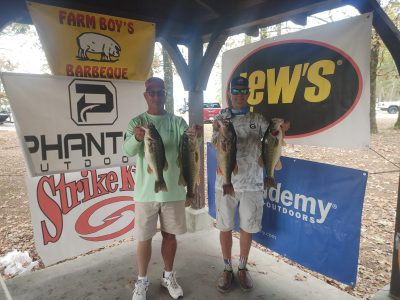 Nelson Walker & Darryl Starkey brought in a fat fall sack of Lake Murray bass weighing 22.10 lbs taking 1st Place worth $925.00!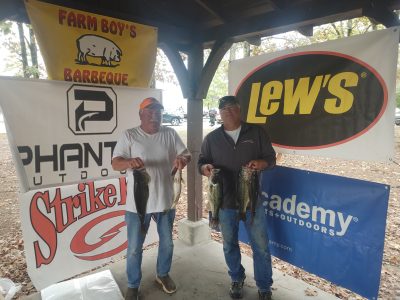 Johnny Mayers & Chris Epting 2nd with 20.10 lbs!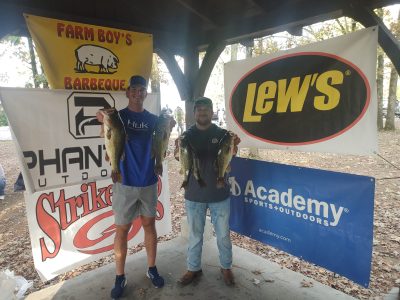 Tyler Causey & Joe Quinn 3rd with 19.00 lbs!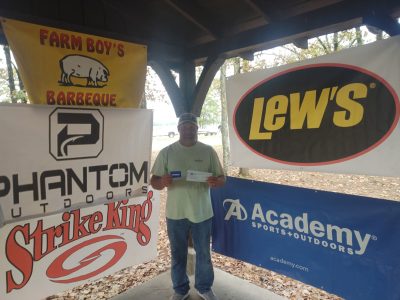 Sean Anderson with Academy BF at 6.66 lbs!
| | | | | |
| --- | --- | --- | --- | --- |
| Team | BF | Weight | Winnings | Points |
| Darryl Starkey – Nelson Walker | 6.07 | 22.10 | $925.00 | 110 |
| Johnny Mayer – Chris Epting | 6.14 | 20.10 | $300.00 | 109 |
| Joe Quinn – Tyler Causey | 5.87 | 19.00 | $200.00 | 108 |
| Sean Anderson – George Berry | 6.66 | 16.66 | $254.00 | 107 |
| Mark Krengel – Ron Wood | 3.40 | 15.80 | | 106 |
| Joey Sabbagha – Dalton Dowdy | 0.00 | 15.79 | | 105 |
| Michael Murphy – Kevin Harvey | 6.54 | 15.00 | $66.00 | 104 |
| Jason Ries – Roger McKee | 6.02 | 14.29 | | 103 |
| Beau Dixon – Andy Sease | 3.85 | 14.16 | | 102 |
| Phillip Anderson – Andy Lake | 3.10 | 13.53 | | 101 |
| Neil Huffstetler – Tim Huffstler | 3.71 | 13.42 | | 100 |
| Jody Wright – Chris Marshall | 2.96 | 11.69 | | 99 |
| Steve Pizzino – Jordan Gunnells | 0.00 | 11.59 | | 98 |
| Justin Hadden – Sterling Banks | 0.00 | 11.15 | | 97 |
| Will Alewine – Edgar Alewine | 0.00 | 9.27 | | 96 |
| Chad Hastings – Chris Neal | 2.42 | 8.64 | | 95 |
| Michael Smith | 3.76 | 7.34 | | 94 |
| Rusty Bullard | 0.00 | 0.00 | | 84 |
| Trey Locklair – Jackson Locklair | 0.00 | 0.00 | | 84 |
| John Jeffcoat – Neil Chaffins | 0.00 | 0.00 | | 84 |
| Bert Pierce – Brett Jones | 0.00 | 0.00 | | 84 |
| Matt Mollohan – MJ Mollohan | 0.00 | 0.00 | | 84 |
| Total Entrys | | | $1,760.00 | |
| BONUS $ | | | $425.00 | |
| Total Paid At Ramp | | | $1,745.00 | |
| Murray 2022 Fall Final Fund | | | $315.00 | |
| Murray 2022 Fall Points | | | $50.00 | |
| 2023 CATT Championship Fund | | | $35.00 | |
| 2022 Murray Fall Final  Total | | | $590.00 | |