We had a great Spring season on Lake Murray paying back a total of 20,895.00!
We plan to have a couple of Opens soon so keep an eye out for those!
Bradley Rhodes & Chris Dorlan won big with 5 bass weighing 23.10 lbs! They weighed in the 1st BF at 6.57 lbs and earned a Lews Speed Stick! Their total take home pay was $3,168.00!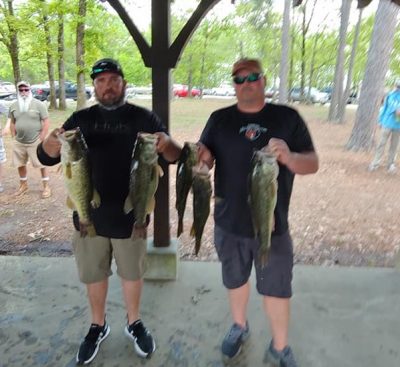 Scott Farmer & CJ Freeman claimed 2nd with 22.79 lbs worth $1,250.00!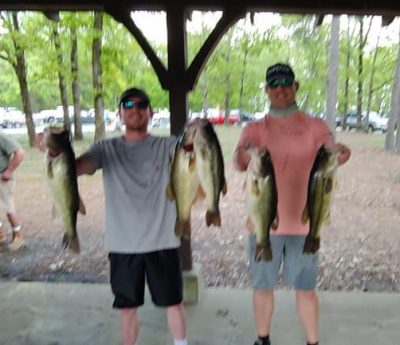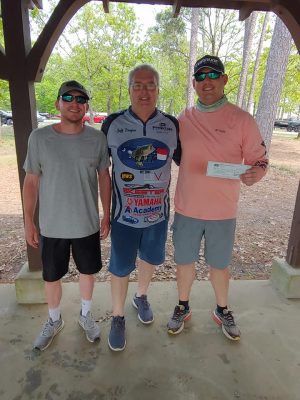 Neil & Tim Huffstetler 3rd with 21.57 lbs!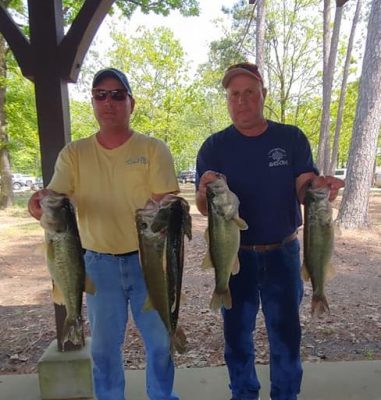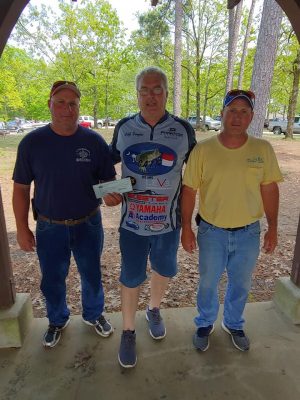 Dan McGlohorn – Gary McGlohorn 4th with 21.50 lbs!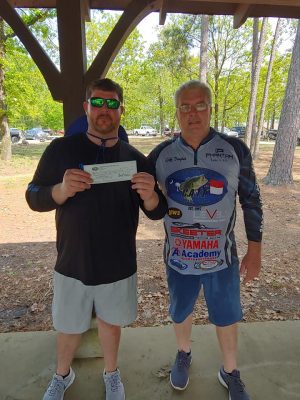 Howard Stephens – Paul Ham weighed in 19.42 lbs and had the 2nd BF at 5.95 lbs! They received a $25 Academy Sports Gift Card!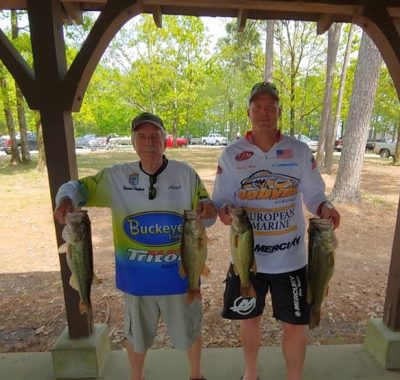 | | | | |
| --- | --- | --- | --- |
| | Big | Total | Total |
| 25 Teams | Fish | Weight | Winnings |
| Bradley Rhodes – Chris Dorlan | 6.57 | 23.10 | $3,168.00 |
| Scott Farmer – CJ Freeman | 5.76 | 22.79 | $1,250.00 |
| Neil Huffstetler – Tim Huffstetler | 5.81 | 21.57 | $600.00 |
| Dan McGlohorn – Gary McGlohorn | 5.15 | 21.50 | $350.00 |
| Howard Stephens – Paul Ham | 5.95 | 19.42 | $272.00 |
| Dave Franklin – Clay Riddle | 4.69 | 19.34 | |
| Todd Lawrence – Roger Medlock | 4.96 | 19.11 | |
| Josh Rennebaum | 4.91 | 18.91 | |
| Brandon Jeffcoat | 5.88 | 18.85 | |
| Jeremiah Jensen – DJ McEarchern | 0.00 | 18.52 | |
| Johnny Mayer – Chris Epting | 0.00 | 18.38 | |
| Kevin Fulmer – Tim Sox | 4.75 | 18.35 | |
| Ronnie Tapp – Travis Parrish | 4.21 | 18.13 | |
| Doug Lown – Rhett Manus | 4.50 | 16.52 | |
| Chad Hastings | 0.00 | 15.18 | |
| Roger Farr – TJ Francis | 3.82 | 14.37 | |
| Mark Krengel – Ron Wood | 0.00 | 13.36 | |
| Terry Morris – Bobby Martin | 4.47 | 12.72 | |
| Daniel Grassi – Tyler Thompson | 3.55 | 12.29 | |
| Brian Key | 0.00 | 10.03 | |
| Chris Sullivan | 0.00 | 5.39 | |
| Ronnie Mueller – Wayne Frierson | 0.00 | 0.00 | |
| George Berry | 0.00 | 0.00 | |
| Russ Padgett | 0.00 | 0.00 | |
| Will Anderson – Kyle Cannon | 0.00 | 0.00 | |
| Total Entrys | | | $2,880.00 |
| BONUS $ | | | $500.00 |
| Murray Spring Final Fund | | | $2,280.00 |
| Total Paid At Ramp Cash & Prizes | | | $6,090.00 |
| Total Paid Spring 2019 Lake Murray | | | $20,895.00 |