We had a great Spring on the 2023 Old North CATT Trail! The total payback for the 2023 Old North Spring Trail was $68,055.00! Thanks for fishing with us! We will post the 2024 Old North schedule very soon! Once again, we will guarantee 1st Place $8,000! You will again have 2 chances to win big! The 2024 Old North Spring Final and the 2024 CATT Academy Championship on Kerr Lake!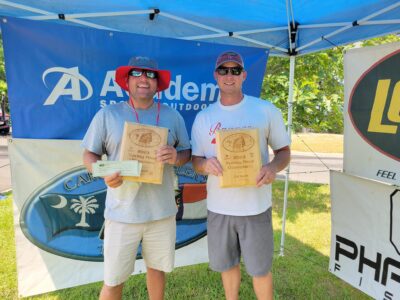 Tyler Trent & Josh Hooks took 1st Place at the 2023 Old North Final with 5 bass weighing 25.23 lbs! They collected $8,830.00!
Bo Adams & Brian Fritts claimed 2nd Place with a limit weighing 23.58 lbs! Kick in the 2nd BF at 7.20 lbs and they took home $2,262.00!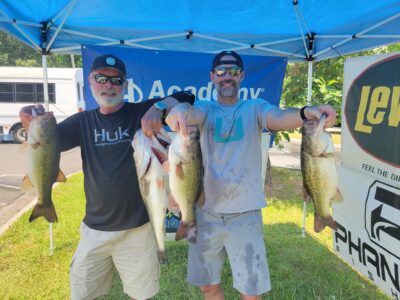 David & Dustin Hall 3rd Place with 21.53 lbs and they earned $1,290.00!
Chad Fara & Stephen Lasher 4th Place with 19.66 lbs!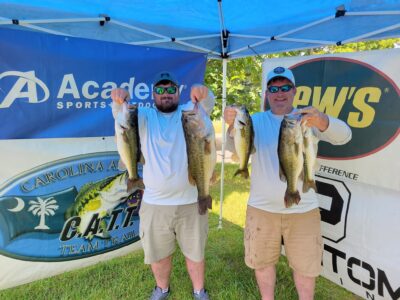 Thomas & Gavin Sheffer 5th Place 19.37 lbs! They weighed the Academy BF at 8.38 lbs!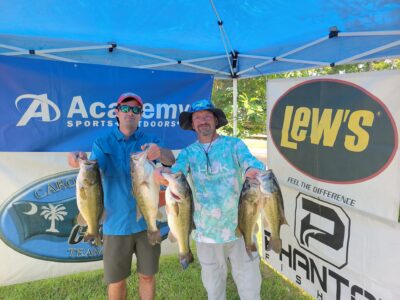 David Walton & Justin Young 6th 18.82 lbs!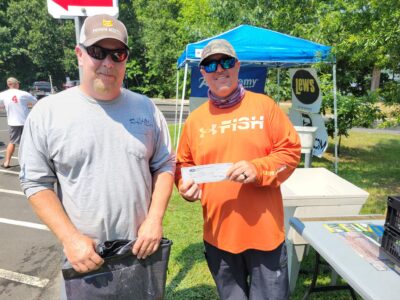 Kevin Cheatham & Johnny Wilder 7th Place 18.64 lbs!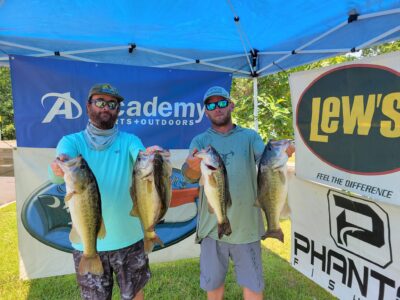 8th and last money spot! Justin Ingle & Lee Gay with 17.98 lbs!
| | | | |
| --- | --- | --- | --- |
| Team | BF | Weight | Winnings |
| Josh Hooks – Tyler Trent | 6.45 | 25.23 | $8,830.00 |
| Bo Adams – Brian Fritts | 7.20 | 23.58 | $2,262.00 |
| David Hall – Dustin Hall | 6.90 | 21.53 | $1,290.00 |
| Chad Fara – Stephen Lasher | 0.00 | 19.66 | $500.00 |
| Thomas Sheffer – Gavin Sheffer | 8.38 | 19.37 | $708.00 |
| David Walton – Justin Young | 5.86 | 18.82 | $300.00 |
| Johnny Wilder – Kevin Cheatham | 0.00 | 18.64 | $250.00 |
| Justin Ingle – Lee Gay | 0.00 | 17.98 | $200.00 |
| James Wall – Michael Alverson | 6.27 | 17.74 | |
| Tony Stanley – Chase Stanley | 0.00 | 16.81 | |
| Mark Williams – Tim Goad | 5.66 | 16.60 | |
| Alec Lower – Richard Lower | 6.37 | 16.32 | |
| Joe Osborne – John Piltcher | 0.00 | 16.22 | |
| Jacob Moore – Austin Woody | 0.00 | 15.97 | |
| Clay Ausely-  Ken McNeil | 5.61 | 15.75 | |
| Toni Fofi – Marl Mohler | 5.48 | 15.61 | |
| Cahd Craven – Ben Cannon | 0.00 | 15.49 | |
| Scott Woodson – Todd Staker | 6.38 | 15.20 | |
| Dennis Allen | 0.00 | 15.07 | |
| Travis Watson – Shannon Stewart | 0.00 | 14.67 | |
| Jason Suggs – Calton Hall | 0.00 | 14.22 | |
| James Richmond – John Richmond | 0.00 | 13.06 | |
| John McClelland – Larry Godfrey | 0.00 | 13.00 | |
| David Farmer – Matt Deese | 0.00 | 12.84 | |
| Jerry Marshburn – Willy Burns | 0.00 | 12.69 | |
| Todd Sumner – Rich Z | 0.00 | 12.58 | |
| Matthew Jones – Sonny Tindal | 0.00 | 12.09 | |
| Larry Hipps – Dean Larison | 0.00 | 11.92 | |
| Roby Wyatt – Mike Prytula | 0.00 | 11.76 | |
| Jerry Dean – Robert Dean | 3.87 | 10.21 | |
| Johnny Howard – William Howard | 0.00 | 10.15 | |
| Lucas Lobaugh – Jeremy Moody | 0.00 | 10.03 | |
| Preston Jacobs – Adam Bessette | 0.00 | 9.52 | |
| Dale Delaney Jr – Mike Salguero | 0.00 | 8.80 | |
| DJ MYSLINSKI – DEAN MYSLINKSI | 0.00 | 8.42 | |
| Jeff Beasley – Park Beasley | 0.00 | 0.00 | |
| Doug Stallings – Seth Ellis | 0.00 | 0.00 | |
| Billy West – Curtis Vaughn | 0.00 | 0.00 | |
| Owen Pinhollow – Tyler Goss | 0.00 | 0.00 | |
| Eric Schell – Todd Smith | 0.00 | 0.00 | |
| Bradley McLaurin – Mike Marchant | 0.00 | 0.00 | |
| Mike Rhew – Jonathan Rhew | 0.00 | 0.00 | |
| Justin Rhew | 0.00 | 0.00 | |
| Dennis Reedy – Scott Smith | 0.00 | 0.00 | |
| Total Entrys | | | $6,160.00 |
| BONUS $ | | | $1,750.00 |
| Old North Spring Final Fund | | | $6,400.00 |
| Total Paid At Ramp | | | $14,340.00 |
| Grand Total Paid Spring 2023 Old North | | | $68,055.00 |