Guys check out the Katch Her Jigs on the CATT website under shop! Or Click on the link below…you buy 12 and we'll send you 2 free!
Wendell Ireland & Todd Anders won on Norman with 5 bass weighing 11.99 lbs! They also brought in the BF at 4.33 lbs and took home the BONUS $ All total $1.200.00!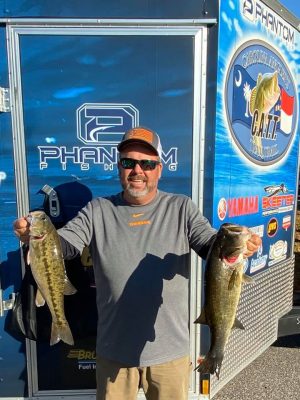 Matt Stout earned $375.00 with his 2nd Place finish! His limit weighed 11.62 lbs!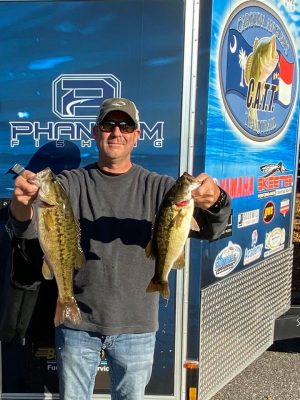 Craig Chambers & Derrick Cummings claimed 3rd with 10.81 lbs!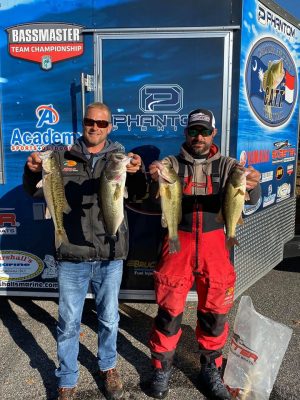 Michael Stevens finished 4th with 10.11 lbs!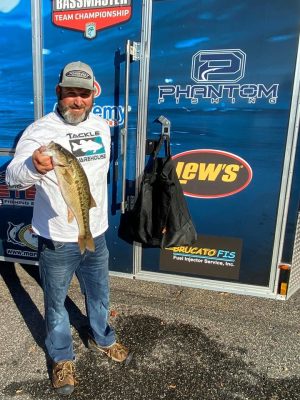 | | | | | |
| --- | --- | --- | --- | --- |
| 25 Teams | BF | Weight | Winnings | Points |
| Wendell Ireland – Todd Anders | 4.33 | 11.99 | $1,200.00 | 110 |
| Matt Stout | 3.38 | 11.62 | $375.00 | 109 |
| Craig Chambers & Derrick Cummings | 3.30 | 10.81 | $200.00 | 108 |
| Michael Stevens | 2.80 | 10.11 | $110.00 | 107 |
| Adam Waters | 2.87 | 9.44 | $100.00 | 106 |
| Matt McBee | 2.19 | 9.31 | | 105 |
| Jimmy & Alex Leshock | 2.56 | 9.21 | | 104 |
| Aric Dwyer | 2.25 | 8.66 | | 103 |
| Aarron Jordan | 2.19 | 8.40 | | 102 |
| Mark Morrison – Cliff Kirby | 2.41 | 7.76 | | 101 |
| Lance Eckford – Kevin Thomas | 0.00 | 7.63 | | 100 |
| Greg & Gregory Mauldin | 2.14 | 7.07 | | 99 |
| Mark Kershaw – Niko Romero | 2.04 | 7.03 | | 98 |
| Boo Whitaker – John Miller (VET) | 0.00 | 5.95 | | 97 |
| Tony Nelson | 2.50 | 5.59 | | 96 |
| Brandon Borleis – John Michael Shenette | 0.00 | 5.59 | | 95 |
| Joel Marcotte  (VET) | 0.00 | 5.02 | | 94 |
| TJ Rumpf | 0.00 | 0.00 | | 93 |
| Lester Elton – Chris Martin | 0.00 | 0.00 | | 93 |
| Justin Locatis – Charlie Ponder | 0.00 | 0.00 | | 93 |
| Bobby Snyder – Tim Cline | 0.00 | 0.00 | | 93 |
| Chris Myatt – Andrew Shundich | 0.00 | 0.00 | | 93 |
| Todd & Hayden Hammond | 0.00 | 0.00 | | 93 |
| Keith Speece & Willie Norman | 0.00 | 0.00 | | 93 |
| Troy & Fisher Armstrong | 0.00 | 0.00 | | 93 |
| Total Entrys | | | $2,000.00 | |
| BONUS $ | | | $475.00 | |
| Total Paid At Ramp | | | $1,985.00 | |
| Norman FALL 2019 Final Fund | | | $50.00 | |
| 2020 CATT Championship/Phantom Fund | | | $410.00 | |
| 2019 Norman Fall Final Fund Total | | | $1,670.00 | |
| 2020 CATT Champ/Phantom  Fund Total | | | $1,525.00 | |