Next & Last 2018 Gaston Qualifier is August 12th at Summit Landing (Lee's Creek)! This is a double point event and you must enter at least 2 Gaston Qualifiers to be eligible to enter the Gaston Final! Thanks for fishing guys! We are having a great crowd!
Thanks to these sponsors of the 218 Gaston CATT Trail!
Chuck Murray & Randy Groves take the win with 5 bass weighing 14.76 lbs! Great jobs guys!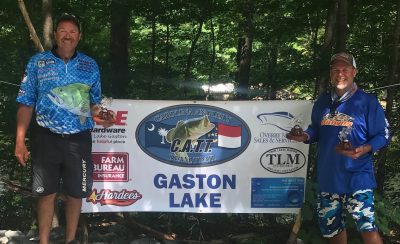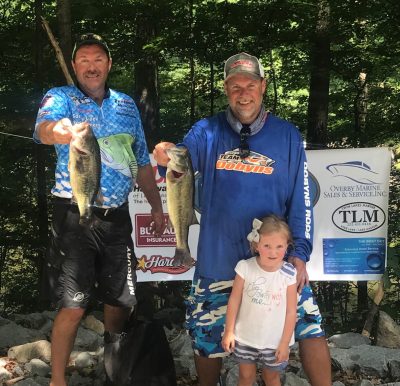 3rd Place team Jay Wright & Nick Bell!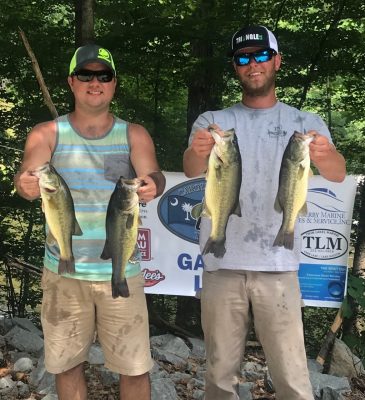 | | | | | |
| --- | --- | --- | --- | --- |
| | Big | Total | Total | |
| 17 Teams | Fish | Weight | Winnings | Points |
| Chuck Murray- Randy Groves  1st BF & 1st BONUS $ | 4.39 | 14.76 | $1,385.00 | 110 |
| Adam Richardson- Gene Richardson  2nd BONUS $ | 4.12 | 13.16 | $535.00 | 109 |
| Jay Wright- Nick Bell   3rd BONUS $ | 0.00 | 13.05 | $220.00 | 108 |
| Tom Peele- Brian Bartholomew | 0.00 | 11.95 | | 107 |
| Wesley Bennett- Chris Bishop  2nd BF | 4.26 | 11.55 | $45.00 | 106 |
| Scott Griffin – Kyle Griffin | 0.00 | 10.95 | | 105 |
| JT Palmore – Bobby Crisman | 3.83 | 9.16 | | 104 |
| Michael Chlomoudus- Marty Warren | 0.00 | 8.96 | | 103 |
| Justin Miles | 0.00 | 7.44 | | 102 |
| Mikey Anderson- Cody Backus | 0.00 | 6.51 | | 101 |
| John Jackson- Lee Gay | 0.00 | 6.35 | | 100 |
| Scott Golden – Jessie Medlin | 0.00 | 4.20 | | 99 |
| Shane Doughtie – Evan White | 0.00 | 2.06 | | 98 |
| Ivan & Janet Morris | 0.00 | 0.00 | | 97 |
| Jeremy Sabo | 0.00 | 0.00 | | 97 |
| Ray Horrocks | 0.00 | 0.00 | | 97 |
| Greg Kropp- Nathaniel Sholar | 0.00 | 0.00 | | 97 |
| Total Entrys | | | $1,920.00 | |
| BONUS $ | | | $520.00 | |
| Total Paid At Ramp | | | $2,185.00 | |
| Gaston 2018 Spring Final Fund | | | $205.00 | |
| 2019 CATT Championship Fund | | | $50.00 | |
| 2018 Gaston Spring Final Fund Total | | | $1,365.00 | |
| 2019 CATT Championship Fund Total | | | $535.00 | |