Here are the results of Saturdays CATT Open on Lake Norman:
We had a good turnout with 30 boats entering the fray…25 of which weighed in 5 fish!! Payout was for the top 6 and they were as follows:
In 6th place with 5 fish weighing 14.16 LBS was the team of

Shane Ireland Sharpe

and

Will Mitchell

for a check for $75.00.
In 5th place, with a 5 fish sack weighing 14.43 LBS was

Roger Hoover

winning him a check for $100.00
4th place was won by the team of

Kj Queen

and

Grant Rutter

weighing in 5 alive at 14.53 LBS. taking home $125.00 for their efforts.
3rd place check was written out to

Adam Waters

and

Cole Blythe

in the amount of $165.00 for a 5 fish bag weighing 16.16 LBS.
Bringing home the 2nd spot this week for a check in the amount of $275.00 was Conran Manuel with a 5 fish sack weighing 16.20 LBS.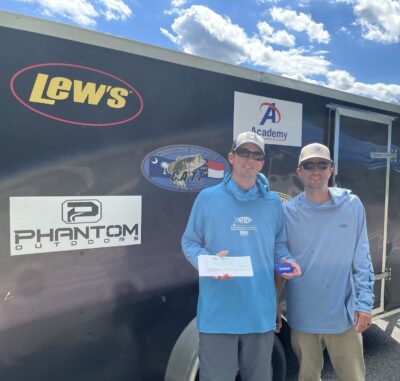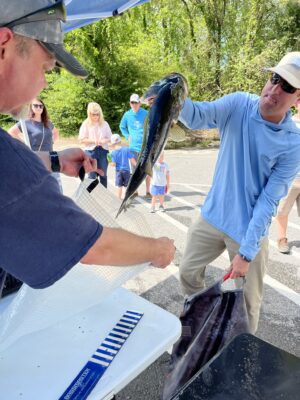 1st place was brought home with an impressive bag weighing 18.63 LBS including a BIG FISH weighing in at 6.46 LBS was the Harris brothers.

Preston Harris

and

Stanton Harris

won a total of $1,300.00 for 1st place, big fish and the side pot. Congratulations fellas on a great day of fishing.
We will be back at it on Saturday April 29th on Lake Norman out of Pinnacle Landing (150 bridge) with blast off at safe light.
| | | | |
| --- | --- | --- | --- |
| Team | BF | Weight | Winnings |
| PRESTON HARRIS / STANTON HARRIS | 6.46 | 18.63 | $1,300.00 |
| CONRAD MANUEL | 0.00 | 16.20 | $275.00 |
| ADAM WATERS / COLE BLYTHE | 0.00 | 16.16 | $165.00 |
| KJ QUEEN / GRANT RUTTER | 0.00 | 14.53 | $125.00 |
| ROGER HOOVER | 0.00 | 14.43 | $100.00 |
| SHANE SHARPE / WILL MITCHELL | 3.98 | 14.16 | $75.00 |
| JACOB SMITH | 4.98 | 13.14 | |
| BRAIN ANDERSON / DAVE ANDERSON | 0.00 | 13.06 | |
| STEVE ADDINGTON / MIKE STOUT | 3.35 | 12.66 | |
| DERICK LIVINGSTON / BRITTANY LIVINGSTON | 3.31 | 12.33 | |
| ETHAN HOSPERDALES / NICK COULTER | 0.00 | 12.10 | |
| CONRAD POGORZELSKI | 3.32 | 12.04 | |
| OWEN HAWKER / TOM LAICHER | 3.11 | 11.97 | |
| ROB DIGH / TODD SOSBEE | 3.65 | 11.69 | |
| JOSH GOWAN / HAYDEN FOSTER | 0.00 | 11.00 | |
| BRAYDEN MUELLER / DUSTIN GREEN | 0.00 | 10.94 | |
| LUKE CLARK / HEATHER CLARK | 0.00 | 10.67 | |
| CHRIS TEAGUE | 0.00 | 10.60 | |
| DAVID HENDRICK / SIDNEY REYNOLDS | 0.00 | 10.31 | |
| DAVE BEARD / JERRY GOBEL | 0.00 | 10.24 | |
| GREG SIMS / BOBBY YOUNG | 0.00 | 10.13 | |
| MIKE GREEN / DREW MONTGOMERY | 0.00 | 10.12 | |
| JOEL PORTER | 0.00 | 9.31 | |
| TONY NELSON | 0.00 | 8.47 | |
| DOUG BJORNSON / JOSH BJORNSON | 0.00 | 6.73 | |
| TJ MURPHY | 0.00 | 0.00 | |
| HAYDEN STRICKLAND / NICHOLAS WILLIAMS | 0.00 | 0.00 | |
| ADAM PARKER / CHRIS VAN DYKE | 0.00 | 0.00 | |
| JOSH ASHLEY / HILLARY ASHLEY | 0.00 | 0.00 | |
| KEITH WOOD | 0.00 | 0.00 | |