Guys you can qualify to enter the 2022 Phantom Outdoors Classic on Lake Norman Dec 2-3, 2022, out of Blythe Landing! $10,000 1st Place with a minimum of 100 teams entered!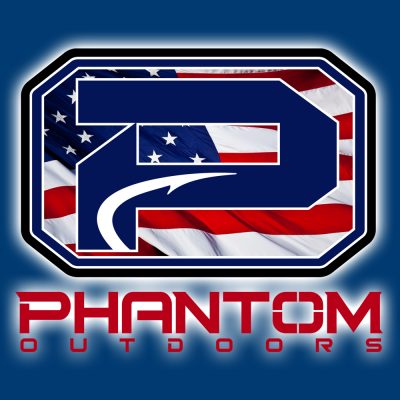 The Phantom Classic features the same format as the CATT Championship we host on Kerr Lake each year! We normally have 180 to 200 teams enter the Championship at Kerr! There will be teams coming from other CATT Divisions Plus CBC teams Plus we send out invitations to select clubs. In order to enter the Classic you must enter 2 CATT events.
 How To Qualify–A team or solo angler must fish 2 CATT events to Qualify! CATT Opens & Phantom Invitationals count! You may fish the Norman Phantom Classic solo or with your partner or alternate partner your team used in any CATT event.
If you have ONLY entered Opens to Qualify you will required to pay the $35 CATT membership! You can get in your 2 events by fishing any CATT Fall 2021, CATT Spring 2022, CATT Summer 2022 & CATT Fall 2022! If you entered 2 – 2022 CBC Qualifiers you are eligible to enter!  Entering solo or with a Sub also counts toward your teams Championship & Classic Qualification! The 2 events do not have to be in the same CATT Trail!  Invitations are sent to select Trails and Clubs!
 Check out the winnings the Top teams earned this past May at Kerr! Make plans and come join us! We want to make this an annual event at Lake Norman! It's going to be HUGE!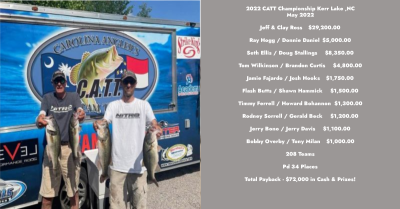 Here are the results and pictures from the final CATT Open for the fall of 2022. Bonnie and I would like to thank each and every one of you that came out to fish with us this fall. We enjoy and relish putting on these tournaments for you all and the priceless aspect is getting to know you all. From the pros that fish with us to the young kids fishing with their parents…you are all very special to us and we again thank you for letting us play along with you! So, enough of that, on to the results!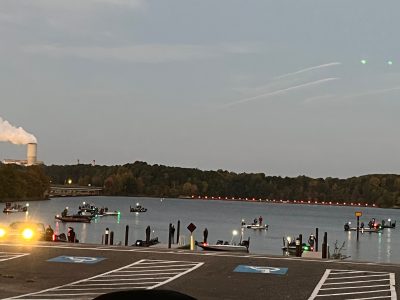 We had 21 boats turn out and paid out top 4:
In first place, weighing in 5 fish with a total weight of 13.72 LBS was team #3 – Corey Lassiter and Colby Lassiter winning a first-place check for $425.00 plus the side pot of $400.00 for a total payday of $825.00. Congratulations and great work to you both!!!
In second place, coming in with a 5 fish limit weighing 12.35 LBS was the solo boater in boat 6 of Michael Wilson earning him a check for $220.00.
In third place was the team of Travis Donaldson and Lee Endicott weighing in 5 alive at 11.94 LBS and walking with a check for $110.00.
Our fourth place tandem of Garrett Poovey and Spencer Black brought 5 fish to the scales with a total weight of 11.85 missing third by just .09 LBS.
I again thank all of you for your support, good will, sportsmanship and most of all patience. It has been a pleasure hosting you!
Please note that Anthony Williams will be kicking off the Lake Norman CATT Trail for the fall starting October 29th out of Pinnacle access. Visit https://www.cattteamtrail.com/divisions/catt-lake-norman/ for more details.
Carl & Bonnie Holt
 

| | | |
| --- | --- | --- |
| 2022 NORMAN FALL CATT EVENTS | DATE | LANDING |
| Qualifier 1 | Oct 29 $2,000 1st Place | Pinnacle Access |
| Qualifier 2 | Nov 12 $2,000 1st Place | Pinnacle Access |
| Qualifier 3 | Nov 19 $2,000 1st Place | Pinnacle Access |
| Qualifier 4 | Nov 26 $2,000 1st Place | Pinnacle Access |
| Phantom Outdoors Classic | Dec 2-3 $10,000 1st Place | Blythe Landing |
You can view more by tapping on Divisions!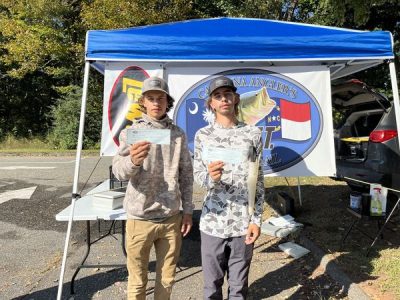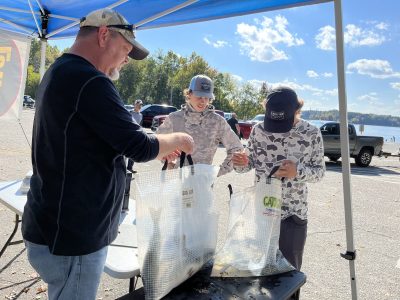 Corey & Colby Lassiter win the Lake Norman Open with 5 bass weighing 13.72 lbs!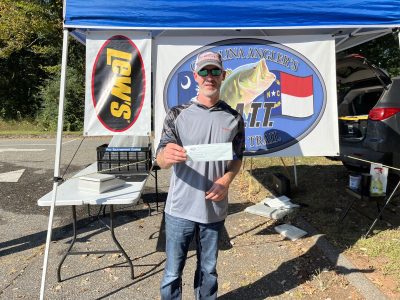 Michael Wilson 2nd place!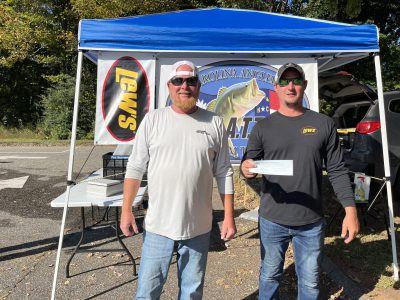 Travis Donaldson & Lee Endicott 3rd Place!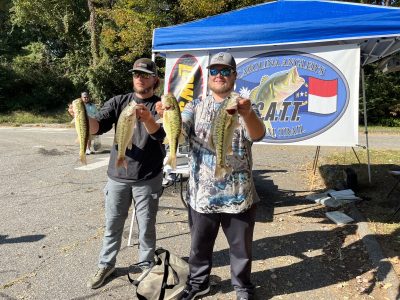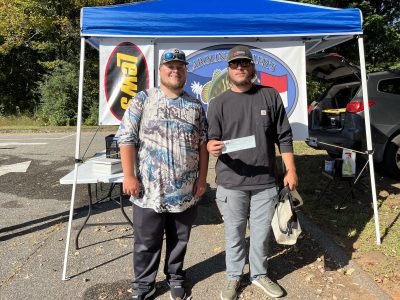 Garrett Poovey & Spencer Black 4th Place!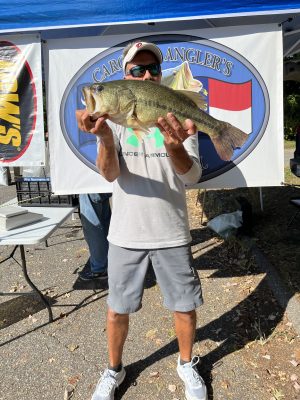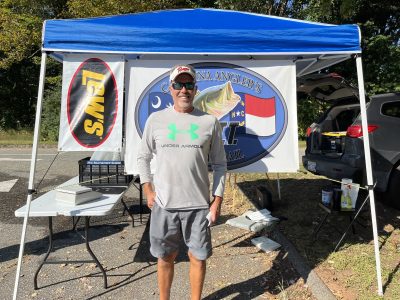 Robert Stiltner with the BF at 6.11 lbs!
| | | | |
| --- | --- | --- | --- |
| Team | BF | Weight | Winnings |
| COREY LASSITER / COLBY LASSITER | 0.00 | 13.72 | $825.00 |
| MICHAEL WILSON | 0.00 | 12.35 | $220.00 |
| TRAVIS DONALDSON / LEE ENDICOTT | 2.90 | 11.94 | $110.00 |
| GARRETT POOVEY / SPENCER BLACK | 0.00 | 11.85 | $65.00 |
| NOAH WOILSON / NATHAN SCRONCE | 0.00 | 11.03 | |
| JASON RHODES / RUSSELL MCCLEAN | 0.00 | 10.99 | |
| ALVIN SHAW / KYLE FORESMAN | 0.00 | 10.58 | |
| MICHAEL MILLER | 3.25 | 9.86 | |
| CHUCK DOUTHIT | 0.00 | 9.86 | |
| SPENCER TAYLOR | 0.00 | 9.85 | |
| KEVIN FARLEY / RANDY HUDSON | 0.00 | 9.32 | |
| JEFFERY CAMPBELL / HUNTER CARPENTER | 0.00 | 8.87 | |
| JAMES PETITGOUT / EDDIE PETITGOUT | 0.00 | 8.43 | |
| ROBERT STILTNER | 6.11 | 7.55 | $105.00 |
| CHRIS WEAVER / JOHN VUE | 0.00 | 4.03 | |
| CHRISTOPHER COOK / LUCAS COOK | 0.00 | 0.00 | |
| JOEL MARCOTTE | 0.00 | 0.00 | |
| RICKY POPLIN | 0.00 | 0.00 | |
| ISAAC LEDFORD / CLAY SNIPES | 0.00 | 0.00 | |
| JAKE SCHNELL / ERIC PARKER | 0.00 | 0.00 | |
| MIKE GITTINGS | 0.00 | 0.00 | |