Next Kerr Spring Qualifier is this coming weekend March 7!
Sorry Guys no pictures this time. We were following the Covid guidelines that were in place which was only 10 people could gather. It has changed to 25 so we should be good for this weekends tournament.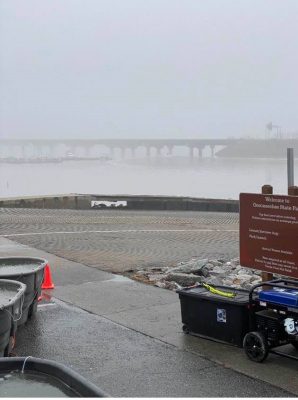 Michael Garner & Bill Shelton took 1st Place with 5 bass weighing 14.06 lbs worth $1,280.00!
| | | | | |
| --- | --- | --- | --- | --- |
| Teams | BF | Weight | Winnings | Points |
| Michael Garner / Billy Shelton | 3.93 | 14.06 | $1,280.00 | 110 |
| Emmitt Whitby / Justin Dalton | 2.65 | 12.42 | $815.00 | 109 |
| Evan White / Shane Doughtie | 3.89 | 11.10 | $455.00 | 108 |
| Brandon Gray | 4.49 | 9.87 | $246.00 | 107 |
| Mike Riggs / Chuck Morton | 3.29 | 9.74 | $115.00 | 106 |
| Jay Fogleman / Robert Perkins | 0.00 | 9.40 | $100.00 | 105 |
| Lonnie Whitfield / Phillip Smith | 3.08 | 7.04 | | 104 |
| Marty Williams / Jerry Bono | 2.56 | 6.12 | | 103 |
| Donnie Avant / Randy Waterman | 0.00 | 5.76 | | 102 |
| Mike Maull / Greg Lahr | 5.60 | 5.60 | $224.00 | 101 |
| Brian & Evan Young | 0.00 | 5.44 | | 100 |
| Tommy Marrow / Dennis Reedy | 4.48 | 4.48 | | 99 |
| Charlie Gunter / Derick Bowden | 2.68 | 4.33 | | 98 |
| Michael Stewart / Buck Clark | 2.76 | 4.12 | | 97 |
| Darnel Small / Donald Coleman | 0.00 | 2.86 | | 96 |
| Brandon Slaughter / Brandon Curtis | 1.00 | 2.51 | | 95 |
| Kevin Brown / Chris Wimbish | 1.00 | 1.90 | | 94 |
| Russell Rigsbee / Shane Robbins | 1.00 | 1.33 | | 93 |
| Ryan Roller / Gary Colwell | 0.00 | 0.00 | | 83 |
| Andrew Kerns / Gray Williams | 0.00 | 0.00 | | 83 |
| Kevin Dickens / R J Johnson | 0.00 | 0.00 | | 83 |
| Jenny Li / Michael Dikun | 0.00 | 0.00 | | 83 |
| Paul Rigsbee / Corey Leonard | 0.00 | 0.00 | | 83 |
| Tyler & Ricky Trent | 0.00 | 0.00 | | 83 |
| Eddie Glascock / Billy Dunn | 0.00 | 0.00 | | 83 |
| Jason & Danny Houchins | 0.00 | 0.00 | | 83 |
| Robbie Kennon / Ross Kennon | 0.00 | 0.00 | | 83 |
| Kevin & Joey Dawson | 0.00 | 0.00 | | 83 |
| David Farrington / Terry Easter | 0.00 | 0.00 | | 83 |
| Cavin Young / Rob Wells | 0.00 | 0.00 | | 83 |
| Arron Falwell / Steven Coleman | 0.00 | 0.00 | | 83 |
| Marty Warren / Daniel Jenkins | 0.00 | 0.00 | | 83 |
| Tyler Calloway / Ben Dalton | 0.00 | 0.00 | | 83 |
| Total Entrys | | | $2,560.00 | |
| BONUS $ | | | $1,200.00 | |
| Total Paid At Ramp | | | $3,235.00 | |
| Kerr 2021 Spring Final Fund | | | $440.00 | |
| 2021 CATT Championship/Phantom Fund | | | $50.00 | |
| 2021 Kerr Spring Final Fund Total | | | $440.00 | |
| 2021 CATT Championship/Phantom Total | | | $1,110.00 | |