Next CATT Lake Norman Open is this coming Saturday Sept 17th at Pinnacle!
Guys you can qualify to enter the 2022 Phantom Outdoors Classic on Lake Norman Dec 2-3, 2022, out of Blythe Landing! $10,000 1st Place with a minimum of 100 teams entered!
The Phantom Classic features the same format as the CATT Championship we host on Kerr Lake each year! We normally have 180 to 200 teams enter the Championship at Kerr! There will be teams coming from other CATT Divisions Plus CBC teams Plus we send out invitations to select clubs. In order to enter the Classic you must enter 2 CATT events.
 How To Qualify–A team or solo angler must fish 2 CATT events to Qualify! CATT Opens & Phantom Invitationals count! You may fish the Norman Phantom Classic solo or with your partner or alternate partner your team used in any CATT event.
If you have ONLY entered Opens to Qualify you will required to pay the $35 CATT membership! You can get in your 2 events by fishing any CATT Fall 2021, CATT Spring 2022, CATT Summer 2022 & CATT Fall 2022! If you entered 2 – 2022 CBC Qualifiers you are eligible to enter!  Entering solo or with a Sub also counts toward your teams Championship & Classic Qualification! The 2 events do not have to be in the same CATT Trail!  Invitations are sent to select Trails and Clubs!
 Check out the winnings the Top teams earned this past May at Kerr! Make plans and come join us! We want to make this an annual event at Lake Norman! It's going to be HUGE!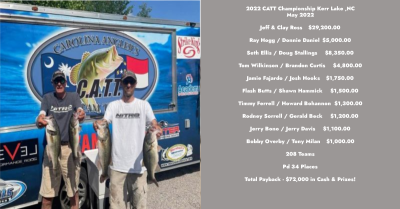 Here are the final full results from the CATT Open on Lake Norman for Saturday September 10th!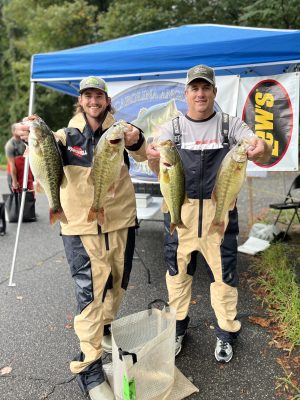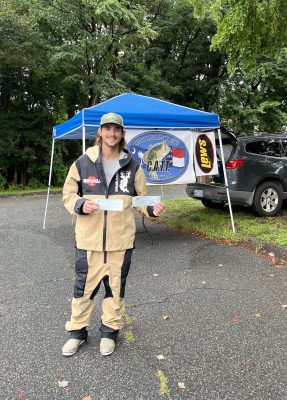 Winning first place with a total weight of 16.80 LBS was the team of Jeffrey Queen & KJ Queen! First place PLUS the winnings from the side pot brought the Queens a payday of $925.00. Good work gentlemen!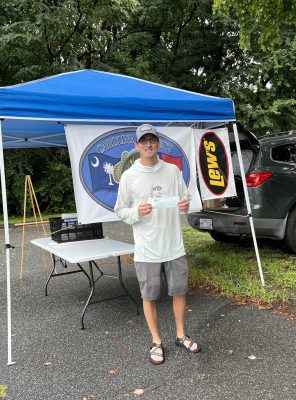 Second place was won with a bag weighing 13.36 by Preston Harris and Stanton Harris getting them a payday of $220.00.

Third place was brought in by Craig Chambers and Derek Cummins with a total weight of 12.99 LBS affording them a check for $110.00.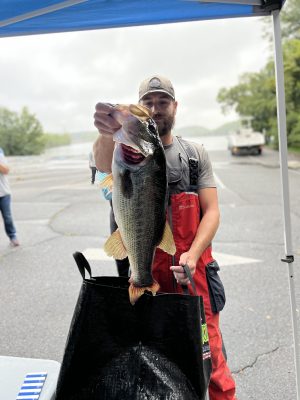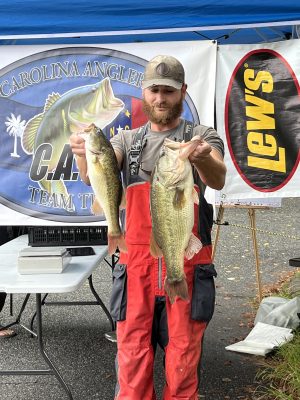 Fourth place was won on 4 fish weighing 12.48 LBS by Christian Johnson who also brought home the BIG FISH for the day weighing in at 7.05 LBS. This combination won Christian a check for $170.00.
Good work to all of you and thank you for coming out on such a damp day! We will be back at it next Saturday the 24th out of Pinnacle Landing. Come on out and have some fun!
C&B
| | | | |
| --- | --- | --- | --- |
| Team | BF | Weight | Winnings |
| JEFF QUEEN / KJ QUEEN | 3.73 | 16.80 | $925.00 |
| PRESTON HARRIS / STANTON HARRIS | 3.47 | 13.36 | $220.00 |
| CRAIG CHAMBERS / DEREK CUMMINGS | 3.49 | 12.99 | $110.00 |
| CHRISTIAN JOHNSON | 7.05 | 12.48 | $170.00 |
| HUNTER HARWELL | 0.00 | 12.16 | |
| MICHAEL KINARD | 2.76 | 11.43 | |
| ISAAC LEDFORD | 0.00 | 10.27 | |
| MICHAEL GITTINGS | 3.19 | 9.49 | |
| KENNY BEARD / DAVID BEARD | 0.00 | 8.71 | |
| KELLY RUFF / MORRIS RUFF | 2.81 | 7.89 | |
| CHRIS WEAVER / JOHN VUE | 0.00 | 4.88 | |
| PHILIP MCCLUNG JR | 0.00 | 0.00 | |
| MICHAEL WILSON / MICHAEL BLEVINS | 0.00 | 0.00 | |
| RODENY IRVIN / LAURENCE DICKERSON | 0.00 | 0.00 | |
| JEFFERY CAMPBELL / MICHAEL GOINS | 0.00 | 0.00 | |
| ADAM PARKER | 0.00 | 0.00 | |
| SHANE LEHEW / LUKE HELMS | 0.00 | 0.00 | |
| SPENCER TAYLOR | 0.00 | 0.00 | |
| LARRY YANCEY / DANNY MASON | 0.00 | 0.00 | |
| JIMMY LESHOCK / CHRIS BAUMGARDNER | 0.00 | 0.00 | |
| MAURICE FREEZE / RICKY POPLIN | 0.00 | 0.00 | |