Next up is the Lake Wylie Final Nov 28 at Buster Boyd!
Jody & Jay Wright and Marc Leach tie for the Points on Lake Wylie Both Teams will fish the Final Free!
David Winters & Brandon William top the field with 5 bass weighing 11.17 lbs!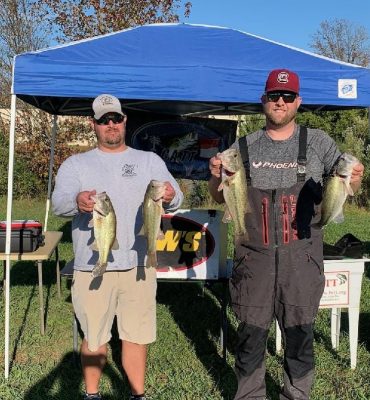 2021 Lake Wylie Spring Schedule will be posted soon!
| | | | | |
| --- | --- | --- | --- | --- |
| 9 Teams | BF | Weight | Winnings | Points |
| David Winters/Brandon Williams | 3.11 | 11.17 | $502 | 110 |
| Chris Fuentes | 3.89 | 9.96 | $203 | 109 |
| Mark Leech | 2.34 | 9.23 | | 108 |
| Mike Thompson/Clay Williams | 2.83 | 8.78 | | 107 |
| Joshua Cannon/Schaefer Dolboratz | 1.97 | 5.87 | | 106 |
| Jay Wright | 2.37 | 2.37 | | 105 |
| David Calbert/Bill Carothers | 0.00 | 0.00 | | 104 |
| Chris Baumgardner | 0.00 | 0.00 | | 104 |
| Jake Schnell/Eric Parker | 0.00 | 0.00 | | 104 |
| Total Entrys | | | $720.00 | |
| BONUS $ | | | $175.00 | |
| Total Paid At Ramp | | | $705.00 | |
| Wylie FALL 2020 Final Fund | | | $165.00 | |
| 2021 CATT Championship/Phantom Fund | | | $25.00 | |
| 2020 Wylie Fall Final Fund Total | | | $615.00 | |
| 2021 CATT Champ/Phantom  Fund Total | | | $270.00 | |