Next up on Lake Murray is the Spring Final April 14th! We have 85 teams eligible to enter
Dave & Gunnar Franklin took the win this past Sat at Dreher Island with 5 bass weighing 17.95 lbs! They also weighed the 1st BF at 6.29 lbs. Dave & Gunnar took home $740.00 plus an Academy Gift Card!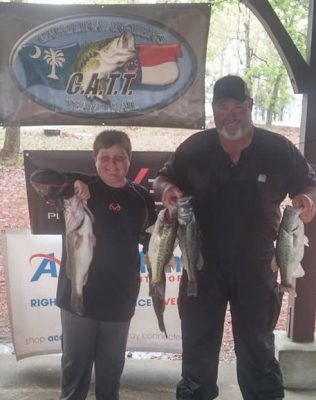 Rhet Manus & Doug Lown took 2nd with 17.58 lbs worth $250.00! They also won the points and will fish the Final Free!
Howard Stephens & Davy Hite weighed the 2nd Bf at 4.72 lbs!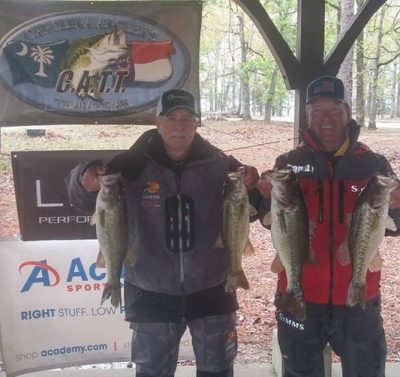 | | | | | |
| --- | --- | --- | --- | --- |
| 10 Teams | Big | Total | Total |   |
| Team | Fish | Weight | Winnings | Points |
| Dave Franklin – Gunnar Franklin  BONUS $ & 1st BF | 6.29 | 17.95 | $740.00 | 220 |
| Doug Lown – Rhett Manus | 4.23 | 17.58 | $250.00 | 218 |
| Keith Chichester – Baylen Moore | 4.13 | 17.35 | | 216 |
| Dan McGlohorn – Gary McGlohorn | 3.62 | 17.34 | | 214 |
| Howard Stephens – Davy Hite  2nd BF | 4.72 | 17.33 | $30.00 | 212 |
| Mike McCaslin – Joel Watts | 3.33 | 16.37 | | 210 |
| Robert Taylor – Frankie Taylor | 0.00 | 11.41 | | 208 |
| Bobby McPherson – Wayne Blackwell | 2.33 | 2.33 | | 206 |
| Steve Pizzino – Curtis Jones | 0.00 | 0.00 | | 204 |
| Roger Farr | 0.00 | 0.00 | | 204 |
| Total Entrys |   |   | $1,200.00 | |
| BONUS $ |   |   | $140.00 | |
| Total Paid At Ramp |   |   | $1,020.00 | |
| Murray Spring 2018 Fall Final Fund |   |   | $245.00 | |
| 2018 CATT Championship Fund |   |   | $75.00 | |
|   |   |   |   | |
| 2018 Murray Spring Final Fund Total |   |   | $1,635.00 | |
| 2018  CATT Championship Fund Total |   |   | $3,975.00 | |