Remember guys at the Lake Murray Final 1st takes home a minimum of $2,500.00! We will also award a $250 Gift Certificate from Treeshaker Tackle to the heaviest bag weighed during the Murray Spring trail! Next Lake Murray CATT is Mar 31st and is a GOLD!

1st Place this past Saturday went to Phillip Anderson with 5 bass weighing 20.59 lbs! Phillip also collected the BONUS pushing his total winning to $1,180.00!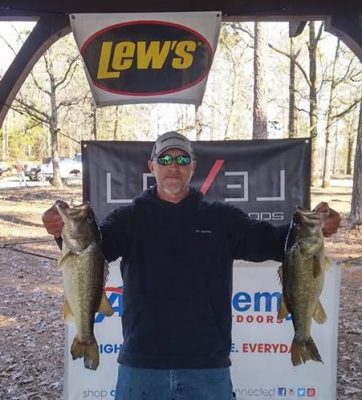 2nd went to Neil & Tim Huffstetler with 5 bass weighing 19.50 lbs and they weighed in the 1st BF at 5.90 lbs! They took home $519.00 plus an Academy Gift Card!

Dave Franklin took 3rd with a limit weighing 17.21 lbs and weighed in the 2nd BF at 5.78 lbs. Dave earned $191.00!
| | | | | | | |
| --- | --- | --- | --- | --- | --- | --- |
|   |   | Big | Total | Total |   | |
|   | Team | Fish | Weight | Winnings | Points | |
| 1 | Phillip Anderson   BONUS $ | 4.52 | 20.59 | $1,180.00 | 110 | |
| 2 | Niel Huffstetler – Tim Huffstetler   1st BF | 5.90 | 19.50 | $519.00 | 109 | |
| 3 | Dave Franklin  2nd BF | 5.78 | 17.21 | $191.00 | 108 | |
| 4 | Jim Davis – Josh Rennenbaum | 4.42 | 17.08 | | 107 | |
| 5 | Doug Lown – Rhett Manus | 4.31 | 16.62 | | 106 | |
| 6 | Dan McGlohorn – Gary McGloHorn | 4.77 | 15.52 | | 105 | |
| 7 | Keith Chichester – Baylen Moore | 5.00 | 15.36 | | 104 | |
| 8 | Roger Farr – Brad thompson | 4.20 | 14.77 | | 103 | |
| 9 | Will Anderson – Kyle Cannon | 3.87 | 14.50 | | 102 | |
| 10 | Tim Whitman – Christopher Shiflet | 3.91 | 12.03 | | 101 | |
| 11 | Scott Martin – Ryan Martin | 2.08 | 9.76 | | 100 | |
| 12 | Todd Sinclair – Hollis Dobbins | 2.20 | 8.86 | | 99 | |
| 13 | Matt Arms – Zach Blair | 0.00 | 5.50 | | 98 | |
| 14 | Bobby McPherson – Wayne Blackwell | 0.00 | 2.63 | | 97 | |
| 15 | Emmett Maynor – Karson Grubbs | 0.00 | 0.00 | | 96 | |
| 16 | Matt Maoolohan | 0.00 | 0.00 | | 96 | |
| 17 | Robert Taylor – Franke Taylor | 0.00 | 0.00 | | 96 | |
| | Total Entrys |   |   | $2,040.00 | | |
| | BONUS $ |   |   | $280.00 | | |
| | Total Paid At Ramp |   |   | $1,890.00 | | |
| | Murray Spring 2018 Fall Final Fund |   |   | $325.00 | | |
| | 2018 CATT Championship Fund |   |   | $70.00 | | |
| |   |   |   |   | | |
| | 2018 Murray Spring Final Fund Total |   |   | $1,045.00 | | |
| | 2018  CATT Championship Fund Total |   |   | $2,995.00 | | |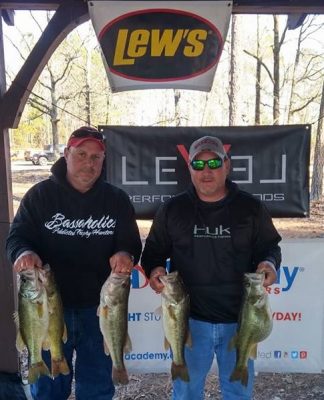 Tim & Neil Huffstetler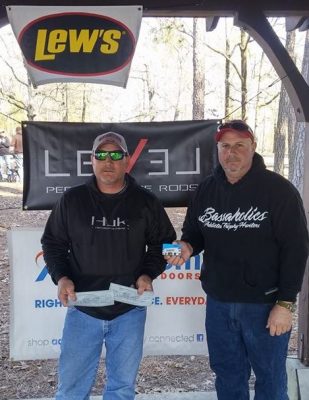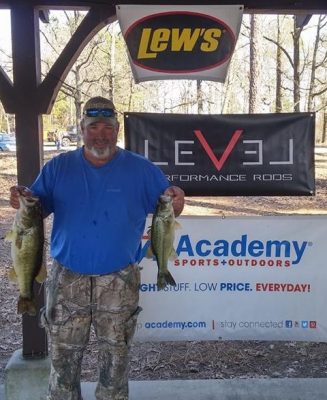 Dave Franklin