We had a great Old North Spring Trail  in 2021! The total payback was just over $47,000.00! Mark your calendar! 2022 CATT Academy Championship May 21-22, 2022! Kerr Lake! We had 198 teams enter this past May so come join us! CATT features the Best Payback in the Carolinas & Virginia! We do charge a membership! Compare what we pay to those who don't charge a membership! You'll be shocked at the amount of $$ we pay!
Dennis Reedy & Tommy Marrow claimed 1st Place with 5 bass weighing 25.94 lbs! They took home $5,750.00!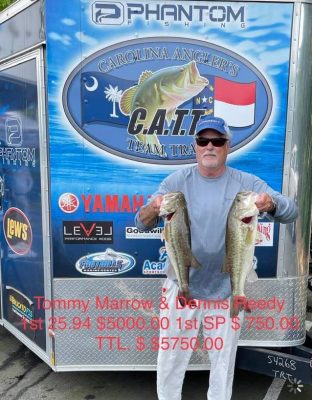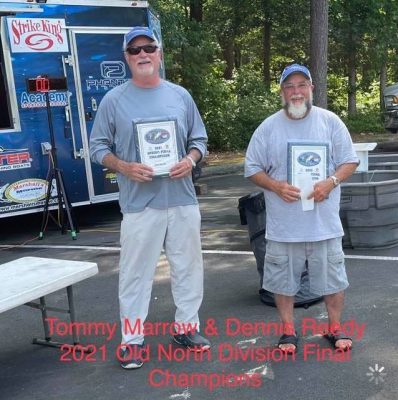 Brian McDonald & Billy Bledsoe claimed 2nd with 5 bass weighing 24.31 lbs and took home $2,690.00!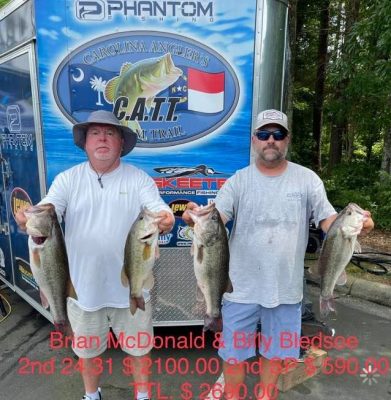 Mike Dinterman & Todd Sumner earned 3rd with 23.96 lbs and took home $1,260.00!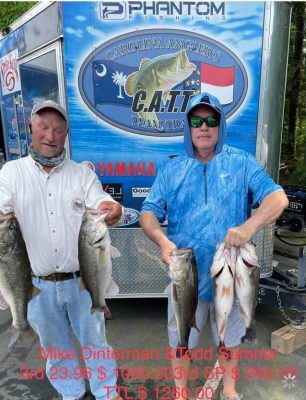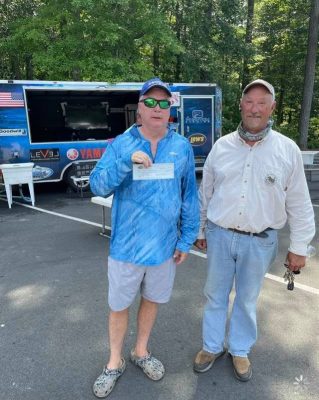 Justin Rhew & Roger Clary took 4th with 23.88 lbs!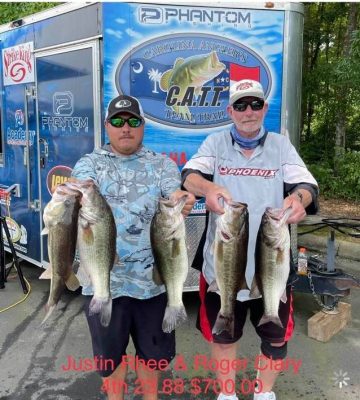 Michael Britt & Robert Barton II 5th with 22.31 lbs!
| | | | |
| --- | --- | --- | --- |
| Team | BF | Weight | Winnings |
| Dennis Reedy / Tommy Marrow | 6.68 | 25.94 | $5,750.00 |
| Billy Bledsoe / Brian McDonald | 7.02 | 24.31 | $2,690.00 |
| Todd Sumner / Mike Dinterman | 5.57 | 23.96 | $1,260.00 |
| Justin Rhew / Roger Clary | 5.13 | 23.88 | $700.00 |
| Robert Barton II / Michael Britt | 7.48 | 22.31 | $400.00 |
| Jeremy Moody / Tobey Lawson | 7.89 | 21.86 | $459.00 |
| Scott Dunn / Stewart Adams | 6.71 | 21.77 | |
| Todd Staker / Scott Woodson | 4.77 | 19.80 | |
| Jamie Fajardo / Josh Hooks | 4.90 | 18.60 | |
| Jason Suggs / Calton Hall | 4.14 | 16.32 | |
| Mark Williams / Tim Goad | 3.62 | 15.34 | |
| David Farmer – Matt Deese | 4.14 | 13.83 | |
| Johnny Wilder | 7.11 | 13.21 | $111.00 |
| Matthew Jones / Sonny Tindel | 0.00 | 12.68 | |
| Travis Watson | 5.43 | 12.57 | |
| Lucas Lobaugh / Preston Jacobs | 0.00 | 11.78 | |
| Craig Leff / Thomas Sheffer | 0.00 | 9.58 | |
| Brandon Taylor / David Eagle | 2.31 | 9.47 | |
| Rick Dunstan / Josh Huff | 5.41 | 9.32 | |
| John McLelland / Eric Schell | 0.00 | 9.22 | |
| D J & Dean Myslinski | 0.00 | 6.69 | |
| Jonathan & Mike Rhew | 4.70 | 4.70 | |
| Dane Butler  / Derick Wright | 0.00 | 0.00 | |
| Dennis & Dalton Allen | 0.00 | 0.00 | |
| Terry Amen / Casey Johnson | 0.00 | 0.00 | |
| Gary Johnson / Scottie Smith | 0.00 | 0.00 | |
| Steve Michales / Kenneth Ragland | 0.00 | 0.00 | |
| Clay Ausley | 0.00 | 0.00 | |
| Doug Stallings | 0.00 | 0.00 | |
| Will Howard / Bryce McLenney | 0.00 | 0.00 | |
| Dale Delaney Jr. / Mike Salguero | 0.00 | 0.00 | |
| Blain Brogden / Owen Pinhollow | 0.00 | 0.00 | |
| Mike Corbishley / Bryson Peed | 0.00 | 0.00 | |
| Jordan & Mark Young | 0.00 | 0.00 | |
| Bo Adams / Brian Fritts | 0.00 | 0.00 | |
| Josh Genthe | 0.00 | 0.00 | |
| Lynn Fox | 0.00 | 0.00 | |
| Rich Z / Jamie Olive | 0.00 | 0.00 | |
| Total Entrys | | | $5,920.00 |
| BONUS $ | | | $550.00 |
| Old North Spring Final Fund | | | $1,400.00 |
| Total Paid At Ramp | | | $11,370.00 |
| Grand Total Paid Spring 2021 Old North | | | $47,200.00 |