We closed out the 2019 Old North CATT Trail this past Saturday on Jordan Lake with 27 teams shooting for the $5,000.00 1st place prize! Overall we had good participation this year! We actually paid back over $4,000.00 more over the course of the Old North than we did at the 2018 Old North! Thanks for fishing guys and we'll have the 2020 Old North schedule posted soon! As I've posted over and over…CATT features the best payback in the Carolinas !
Josh Hook and Jaimie Fajardo claimed the top prize with 5 bass weighing up at 27.25 lbs! They collected $5,500.00 with the 1st BONUS added in! Keep in mind guys we ONLY had 27 boats enter! Big Payday with a small field!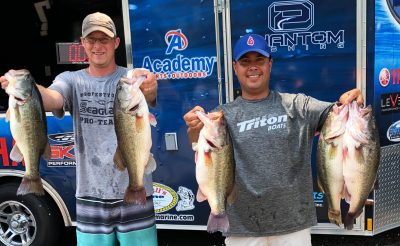 Dennis Reedy & Tommy Marrow claimed 2nd with 26.01 lbs! With the 2nd BF at 7.12 lbs they took home $1,941.00!
Jamie Olive & Rich Z finished 3rd with 5 bass weighing 25.24 lbs and weighed in the 1st BF at 8.03 lbs! They earned $939.00!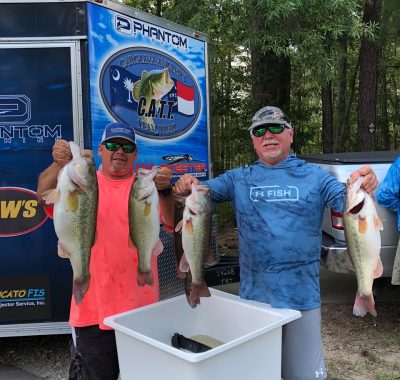 Jonathan Holloway & Brian West took 4th with 25.02 lbs!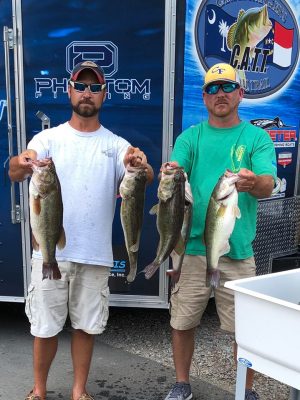 Chad Craven & Ben Cannon took 5th with 23.88 lbs!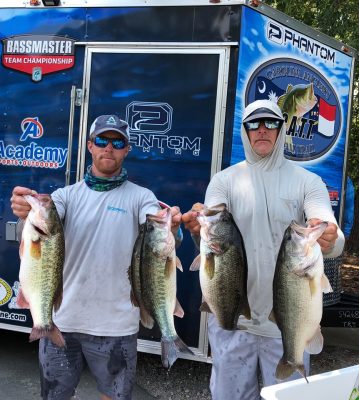 | | | | |
| --- | --- | --- | --- |
| 27 Teams | BF | Weight | Winnings |
| Josh Hooks / Jaimie Fajardo | 5.92 | 27.25 | $5,500.00 |
| Dennis Reedy / Tommy Marrow | 7.12 | 26.01 | $1,941.00 |
| Jamie Olive / Rich Z | 8.03 | 25.24 | $939.00 |
| Jonathan Holloway / Brian West | 5.33 | 25.02 | $300.00 |
| Chad Craven / Ben Cannon | 6.03 | 23.88 | $200.00 |
| Tod Staker / Scott Woodson | 5.32 | 22.74 | |
| Todd Sumner / Chuck Bolton | 5.25 | 22.72 | |
| Billy Bledsoe / Brian McDonald | 5.79 | 22.19 | |
| Clay Ausley / Ken McNeil | 6.77 | 22.00 | |
| Rick Dunstan / Josh Huff | 6.16 | 21.59 | |
| Tom & Jim Saywell | 5.39 | 21.56 | |
| Terry Amen / Chuck Darden | 6.38 | 20.55 | |
| Richard & Hunter Petty | 5.16 | 20.53 | |
| John McClland / Eric Schell | 4.63 | 18.84 | |
| Evan Flemming / Matt Fuhr | 4.15 | 16.77 | |
| Alex & Richard Lower | 6.26 | 16.37 | |
| Kyle Rohmor / Tim Cantwell | 4.23 | 16.00 | |
| Tony & Chase Stanley | 3.80 | 15.76 | |
| Johnny Wilder / Mike Harris | 4.94 | 15.00 | |
| Mark & Jordan Young | 0.00 | 10.50 | |
| Jeff Brown / Ron Johnson | 0.00 | 0.00 | |
| Johnny & William Howard | 0.00 | 0.00 | |
| Stump Bledsoe / Glenn Elliott | 0.00 | 0.00 | |
| Jeff Shaw / James Richardson | 0.00 | 0.00 | |
| Dennis & Keith Allen | 0.00 | 0.00 | |
| Tony Woodward / Scott Smith | 0.00 | 0.00 | |
| Paul Worthington / Justin Hendrix | 0.00 | 0.00 | |
| Total Entrys | | | $4,320.00 |
| BONUS $ | | | $1,000.00 |
| 2018 Old North Spring Final Fund | | | $3,560.00 |
| Total Paid At Ramp | | | $8,880.00 |
| Total Paid 2018 Spring Old North | | | $43,405.00 |