Next Old North Qualifier is July 12 at Falls launching from Ledgerock!
To view the Old North Points go to the North Division page and scroll down! The 2020 Old North Point Winners will fish the 2121 Old North Qualifiers FREE!
We had some big bags weighed in at Jordan! The Top 5 teams weighed in over 28 lbs! Jordan has got to be one of the top lakes in the country right now!
Tom Saywell & Jason Gibson win with 5 bass weighing 29.44 lbs! They earned $2,000.00!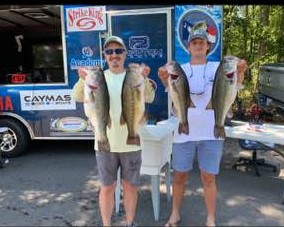 Jonathan Holloway & Steve Ford took 2nd with 5 bass weighing 29.32 lbs! $1,365.00!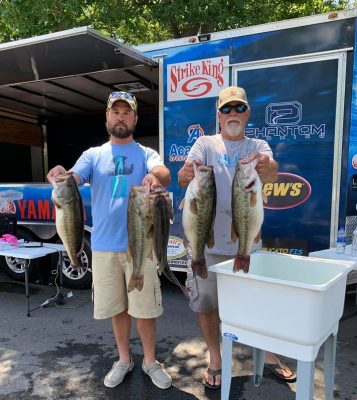 3rd went to Jeff Hodges & Partner with 28.78 lbs!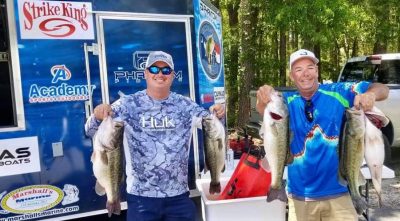 Billy Bledsoe & Brian McDonald claimed 4th with 28.49 lbs and brought in the 2nd BF at 7.70 lbs!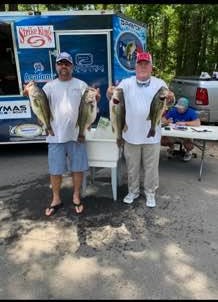 Todd Massey & Ray Inscoe came in 5th with 28.24 lbs!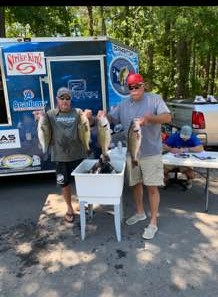 Josh Hooks & Jamie Fajardo 6th with 27.95 lbs!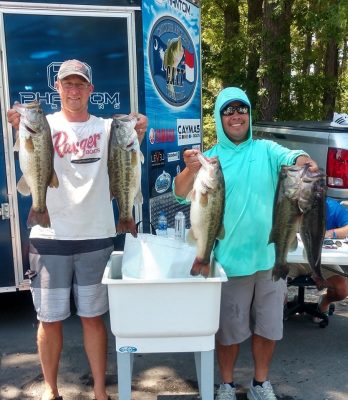 Johnathan Hastings & Julian Burgoff weighed in the 1st BF at 8.38 lbs!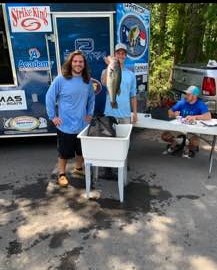 | | | | | |
| --- | --- | --- | --- | --- |
| 32 Teams | BF | Weight | Winnings | Points |
| Tom Saywell / Jason Gibson | 7.29 | 29.44 | $2,000.00 | 110 |
| Steve Ford / Jonathan Holloway | 5.78 | 29.32 | $1,365.00 | 109 |
| Jeff Hodges / Jonathan Phillips | 7.05 | 28.78 | $850.00 | 108 |
| Billy Bledsoe / Brian McDonald | 7.70 | 28.49 | $565.00 | 107 |
| Todd Massey / Ray Inscoe | 6.13 | 28.24 | $200.00 | 106 |
| Josh Hooks – Jamie Fajardo | 6.56 | 27.95 | $170.00 | 105 |
| Bryce McClenney | 6.87 | 25.42 | | 104 |
| Clay Ausley / Randy Parker | 5.81 | 24.71 | | 103 |
| Johnathan Hastins / Julian Burgorff | 8.38 | 22.77 | $210.00 | 102 |
| Jonathan Canady / Daniel Wood | 6.16 | 20.96 | | 101 |
| Todd Sumner / Mike Dinterman | 5.97 | 20.54 | | 100 |
| Todd Staker / Scott Woodson | 5.64 | 19.41 | | 99 |
| Rich Z / Jamie Olive | 0.00 | 19.05 | | 98 |
| John MichenFelder / Daniel Love | 6.09 | 18.46 | | 97 |
| Doug stallings / Seth Ellis | 0.00 | 17.49 | | 96 |
| David Bullock / Jammie Henderson | 4.62 | 15.80 | | 95 |
| Johnny Wilder / Jim Nichols | 5.76 | 14.84 | | 94 |
| Josh Huff / Rick Dunstan | 5.62 | 13.87 | | 93 |
| Steven Michales | 0.00 | 13.84 | | 92 |
| Alec & Richard Lower | 2.99 | 13.42 | | 91 |
| Johnny & William Howard | 4.57 | 12.30 | | 90 |
| Zack Davenport / Wesley Tucker | 0.00 | 12.18 | | 89 |
| Dennis Reedy / Tommy Marrow | 0.00 | 12.14 | | 88 |
| Jeff Shaw / James Richand | 0.00 | 11.07 | | 87 |
| John McCleland Eric Schell | 0.00 | 10.45 | | 86 |
| Jordan & Mark Young | 0.00 | 9.70 | | 85 |
| David Newell / Christopher Moss | 0.00 | 5.59 | | 84 |
| Gary Johnson / Chris Inscoe | 0.00 | 4.10 | | 83 |
| Randy Black / Mikey Anderson | 0.00 | 0.00 | | 82 |
| Jeff Brown / Ron Johnson | 0.00 | 0.00 | | 82 |
| Brett Winborn / John Denton | 0.00 | 0.00 | | 82 |
| Michael Hatley | 0.00 | 0.00 | | 82 |
| Total Entrys | | | $4,950.00 | |
| BONUS $ | | | $1,100.00 | |
| Total Paid At Ramp | | | $5,360.00 | |
| Old North 2020 Spring Final Fund | | | $440.00 | |
| 2020 CATT Championship Fund | | | $50.00 | |
| 2020 Old North Spring Final Fund Total | | | $440.00 | |
| 2020 CATT Championship Fund Total | | | $3,600.00 | |