Next Wateree Open is June 15th at Clearwater Cove!
Lee Morris & Robert Ross win BIG Saturday with 19.79 lbs!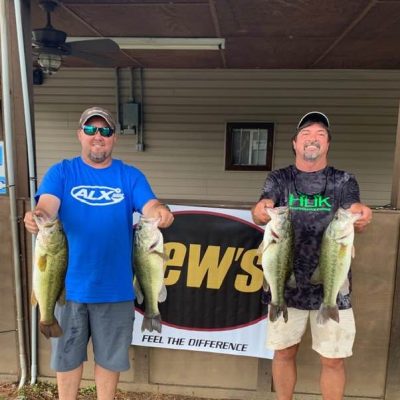 Must enter 6 Opens to be eligible to enter the Open Final
Enter 10 Opens and fish the Open Final Free
Safe Daylight – Weigh in Determined at Ramp
$100 Entry    Optional $25 side pot at each event!
Lews Product awarded at Final! 
| | | | | |
| --- | --- | --- | --- | --- |
| | Big | Total | Total | |
| 16 Teams | Fish | Weight | Winnings | Points |
| Lee Morris – Robert Ross | 5.02 | 19.79 | $900.00 | 110 |
| Bob Weaver – Scott Floyd | 5.27 | 18.72 | $250.00 | 109 |
| Brad Petway – Brett Collins | 5.90 | 17.18 | $215.00 | 108 |
| Craig Haven – Tim Haven | 4.36 | 16.72 | | 107 |
| Max Price – David Ethridge | 3.87 | 15.99 | | 106 |
| Trip Poplin – Marshall Finch | 5.40 | 15.15 | $45.00 | 105 |
| Chad Rabon – Walt Almond | 3.65 | 15.10 | | 104 |
| Barry Brown – Steven Walker | 4.68 | 14.47 | | 103 |
| Jason Bateman – Steve Phillips | 3.35 | 14.25 | | 102 |
| Alan Fletcher – Peanut Hinson | 3.56 | 13.66 | | 101 |
| David Canupp & David Canupp | 3.00 | 12.89 | | 100 |
| Bubba Baker – Colden Baker | 3.71 | 12.52 | | 99 |
| Chad Gainey – Todd Butler | 0.00 | 9.88 | | 98 |
| Michael Richardson -Shane Cantley | 0.00 | 1.93 | | 97 |
| Jerry Freezon | 0.00 | 0.00 | | 96 |
| Austin Kitterman – Colin Rager | 0.00 | 0.00 | | 96 |
| | | | | |
| | | | | |
| 2019 Wateree Open Final Fund | | | $310.00 | |
| 2019 Wateree Open Final Fund Total | | | $2,700.00 | |
| 2019 Wateree Open Point Fund | | | $965.00 | |
| **2018 Point Winners Free Entry | | | | |
| 2019 Pt Winners Receive Free Entry 2019 | | | | |
| Teams 2-6 In Points Receive $$ | | | | |