Next up is the Old North Fall Final on Jordan Lake Nov 20th! You only had to enter 1 Old North Fall Qualifier to be eligible to enter!
Clay Ausley & Tony Miller win the Old North Fall Points and will receive free entry to all 2022 Old North Qualifiers!
Clay Ausley & Tony Miller took 1st Place at Jordan with 5 bass weighing 21.08 lbs and weighed the BF at 5.39 lbs! All total they earned $1,114.00!
Bobby & David Matthews claimed 2nd with 17.82 lbs!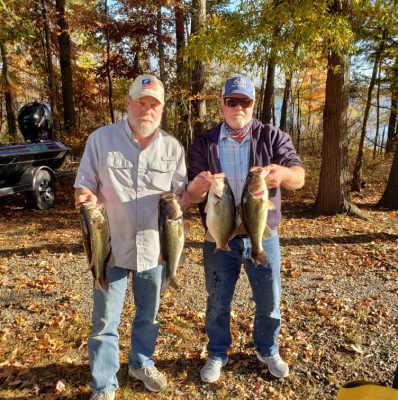 2nd BF went to Bryce McClenney & Johnny Anton weighing 5.28 lbs!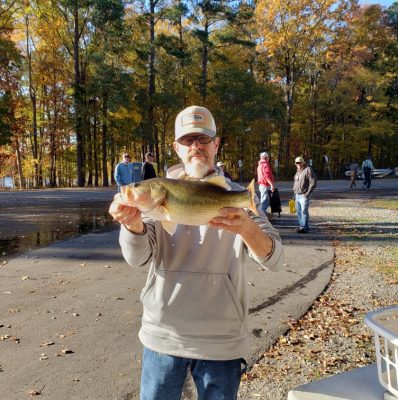 | | | | | |
| --- | --- | --- | --- | --- |
| Angler(s) | BF | Weight | Winnings | Points |
| Clay Ausley – Tony Miller | 5.39 | 21.08 | $1,114.00 | 110 |
| Bobby Matthews – David Matthews | 4.64 | 17.82 | $620.00 | 109 |
| Dennis Reedy – Scott Smith | 4.03 | 16.46 | $320.00 | 108 |
| Bryce Mcclenney – Johnny Anton | 5.28 | 15.46 | $166.00 | 107 |
| Brett Winborn – John Denton | 0.00 | 15.08 | | 106 |
| Mark Herndon – Bobby Houser | 0.00 | 13.41 | | 105 |
| Todd Gibson – Jason Dennis | 0.00 | 12.81 | | 104 |
| Bryan Collins – Drex Harding | 0.00 | 12.63 | | 103 |
| Ricky Parker – Tuck Bolton | 0.00 | 12.60 | | 102 |
| Seth Ellis – Doug Stallings | 0.00 | 11.25 | | 101 |
| Zack Huey – Brandon Thornton | 0.00 | 6.52 | | 100 |
| James Davis – Delores David | 3.46 | 3.46 | | 99 |
| Timmy Blair-  Jeremy Wright | 0.00 | 3.02 | | 98 |
| Shane Burns | 0.00 | 0.00 | | 88 |
| Rodney Perry – Sherman Glover | 0.00 | 0.00 | | 88 |
| Nate Brown – George Stone | 0.00 | 0.00 | | 88 |
| Tony Fofi – Mark Mohler | 0.00 | 0.00 | | 88 |
| Dustin Morgan- Tanner Morgan | 0.00 | 0.00 | | 88 |
| Charles Stewart – Matt Dean | 0.00 | 0.00 | | 88 |
| Steven Michaels | 0.00 | 0.00 | | 88 |
| Jeff Brown – Trey Hanning | 0.00 | 0.00 | | 88 |
| Todd Sumner – Rick Dunstan | 0.00 | 0.00 | | 88 |
| Total Entrys | | | $1,760.00 | |
| BONUS $ | | | $900.00 | |
| Total Paid At Ramp | | | $2,220.00 | |
| Old North 2021 Fall Final Fund | | | $340.00 | |
| 2022 CATT Championship Fund | | | $50.00 | |
| 2021 Old North Fall Final Fund Total | | | $1,135.00 | |