We wrapped up the last 2018 Fall Qualifier this past Saturday on Lake Wateree!  To be eligible to enter the Wateree Fall Final a team had to enter at least 1 Wateree Fall Qualifier!  We will award plaques and Lews Products! Also 2 Academy Gift Cards valued at $25 each!
Donald Hinson & Alan Fletcher took the top spot with 16.95 lbs!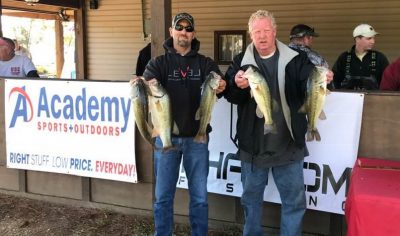 Butch Williams & David Ethridge finished 2nd with 13.77 lbs!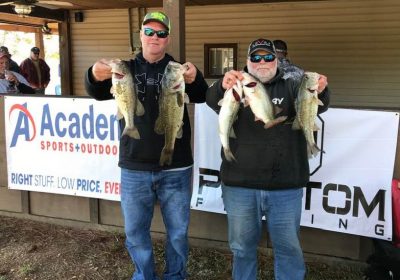 Scott Williams & Robbie English with the BF at 5.39 lbs!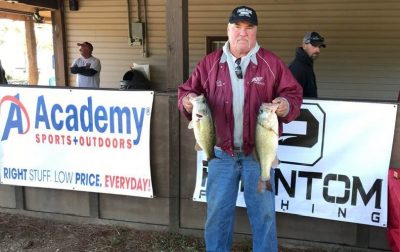 | | | | | |
| --- | --- | --- | --- | --- |
| | Big | Total | Total | |
| 14 Teams | Fish | Weight | Winnings | Points |
| Alan Fletcher-Donald Hinson | 4.05 | 16.95 | $710.00 | 220 |
| David Ethridge-Butch Williams | 4.60 | 13.77 | $200.00 | 218 |
| Phillip Anderson – Andy Lake | 3.52 | 13.58 | | 216 |
| Jason Quinn – John Paul George | 3.60 | 13.40 | | 214 |
| Scott Williams- Robby English | 5.39 | 12.86 | $98.00 | 212 |
| David Canupp | 3.53 | 12.51 | | 210 |
| Mark Richardson | 0.00 | 10.40 | | 208 |
| Todd Butler-Mack Kitchens | 3.85 | 9.85 | | 206 |
| Tim-Craig Haven | 4.73 | 9.59 | $42.00 | 204 |
| Brad Petway – Brett Collins | 2.91 | 9.58 | | 202 |
| Shannon Jordan – Jeff Hatfield | 0.00 | 0.00 | | 200 |
| Mike Byrd-Clint Byrd | 0.00 | 0.00 | | 200 |
| Scott Floyd-Greg Covin | 0.00 | 0.00 | | 200 |
| Chris Sullivan | 0.00 | 0.00 | | 200 |
| Total Entrys | | | $1,120.00 | |
| BONUS $ | | | $260.00 | |
| Total Paid At Ramp | | | $1,050.00 | |
| Wateree 2018 Fall Final Fund | | | $300.00 | |
| 2019 CATT Championship Fund | | | $30.00 | |
| 2018 Wateree Fall Final Fund Total | | | $1,510.00 | |
| 2019 CATT Championship Fund Total | | | $2,015.00 | |