**Remember guys you have to enter 3 CATT Qualifiers to be able to enter the June 2-3 CATT Championship on Kerr. $10,000 1st Place! You can make your 3 by having fished any FALL 2017 CATT Trails and by fishing any SPRING CATT Trails—the 3 don't have to be in the same Division!
You only have to enter 1 Old North Qualifier to be eligible to enter the Old North Final!
Paul Rigsbee & Nathan Talley took 1st this past Saturday at Jordan with 5 bass weighing 27.12 lbs! They took home $1,375.00!
2nd went to Daryl Strayhorn & Bo Adams with a limit weighing 26.98 lbs! They took home $695.00!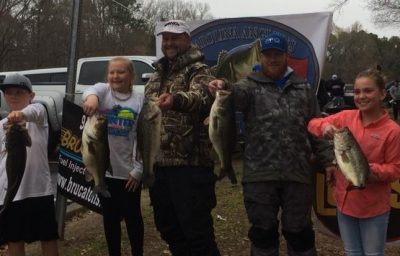 Billy Bledsoe & Brian McDonald claimed 3rd with 5 bass weighing 21.63 lbs and they earned $300.00!
Dennis Allen & Keith Allen took the last money paying spot with 17.54 lbs and weighed in the 1st BF at 8.44 lbs. They collected $280.00!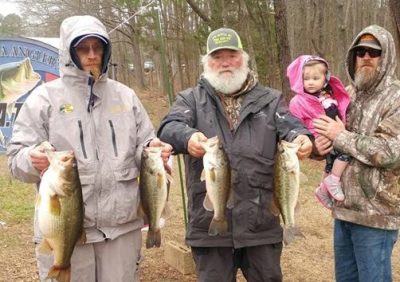 Rick Dunstan & Josh Huff weighed the 2nd BF at 8.37 lbs and took home $60.00!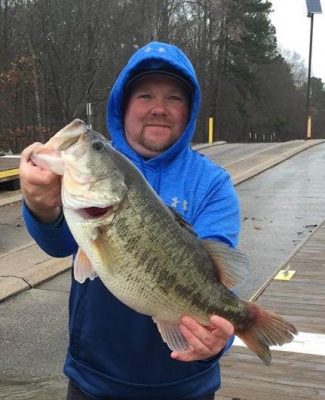 Next Old North Qualifier is back at Jordan April 7th at Farrington Point!
21 Teams
Big
Total
Total
 
Team
Fish
Weight
Winnings
Points
Paul Rigsbee&Nathan Talley
6.61
27.12
$1,375.00
110
Daryl Strayhorn&Bo Adams
7.84
26.98
$695.00
109
Billy Bledsoe&Brian McDonald
8.05
21.63
$300.00
108
Dennis Allen&Keith Allen  1st BF
8.44
17.54
$280.00
107
Todd Sumner
6.98
16.47
106
Rick Dunstan&Josh Huff   2nd BF

8.37

13.06
$60.00
105
Jeremy Sabo
3.32
12.73
104
John McLeland&Eric Schell
4.82
10.27
103
Johnny Howard&William Howard
5.39
9.10
102
Jay Fuhr&Tim Wiltfong
0.00
8.43
101
Seth Ellis&Jamey Caldwell
7.08
7.08
100
Tim Penhollow&Keith Barker(sub)
3.36
6.73
99
Scott Woodson&Todd Staker
5.78
5.78
98
Rick Ohlson&Randy Parker
5.27
5.27
97
Rich Sczerbala&Walt Culledge (sub)
0.00
5.27
96
Mike Pike&Gary Phillips
4.82
4.82
95
Hal Blackwelder&Bryan Welch
0.00
3.63
94
Mark Lowe&Cliff Swann
0.00
2.99
93
Terry Amen&BryceOwens
0.00
0.00
92
Daniel Wood&Paul Worthington
0.00
0.00
92
Andy Williams&Hunter Williams
0.00
0.00
92
Total Entrys
 
 
$2,400.00
 
BONUS $
 
 
$720.00
 
Total Paid At Ramp
 
 
$2,710.00
 
Old North 2018 Spring Final Fund
 
 
$410.00
 
2018 CATT Championship Fund
 
 
$0.00
 
 
 
 
 
 
2018 Old North Spring Final Fund Total
 
$765.00
 
2018 CATT Championship Fund Total
 
 
$3,575.00