Next Old North is at Jordan Lake April 28th launching from Farrington Point!
Dennis & Keith Allen win 2 in a row! They weighed in 16.55 lbs taking 1t place and $2,480.00!
Scott Woodson & Todd Staker claim 2nd with 13.15 lbs!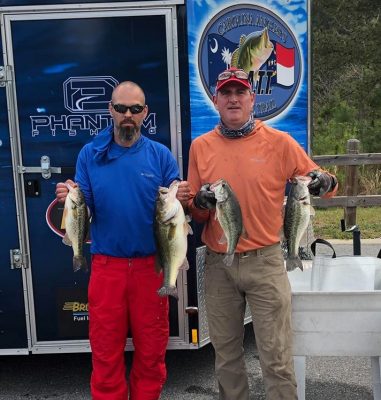 Jaime Fajardo & Jeff Hodges with the BF of the day! 7.69 lbs!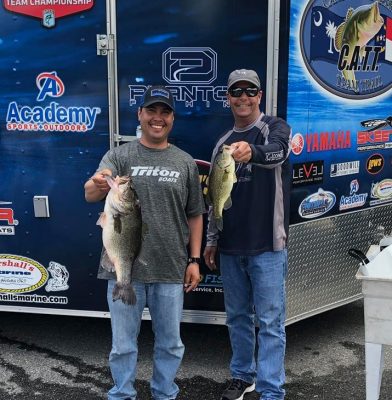 | | | | | |
| --- | --- | --- | --- | --- |
| | Big | Total | Total | |
| 35 Team | Fish | Weight | Winnings | Points |
| Dennis Allen – Keith Allen | 5.59 | 16.55 | $2,480.00 | 110 |
| Scott Woodson – Todd Staker | 6.38 | 13.15 | $1,190.00 | 109 |
| Richard Petty – Hunter Petty | 6.09 | 10.98 | $630.00 | 108 |
| Randy Black – Mikey Anderson | 5.80 | 10.69 | $350.00 | 107 |
| Terry Amen –  Chuck Darden | 5.16 | 10.66 | $250.00 | 106 |
| Jaime Fajardo – Jeff Hodges | 7.69 | 9.50 | $438.00 | 105 |
| Tom Saywell – James Saywell | 4.75 | 9.21 | $160.00 | 104 |
| Chris Insco – Mark Antonelli | 5.74 | 7.02 | | 103 |
| Jonathan Holloway – Brian West | 6.74 | 6.74 | $102.00 | 102 |
| Kyle Romohr – Tim Cantrell | 5.71 | 5.71 | | 101 |
| James Davis – Dolores Davis | 0.00 | 5.10 | | 100 |
| Mike Cole – Vinson Nettles | 0.00 | 4.61 | | 99 |
| Thomas Kuchen – Britt Kuchen | 4.47 | 4.47 | | 98 |
| Tony Stanley – Chase Stanley | 0.00 | 3.59 | | 97 |
| John McClelland – Eric Schell | 2.46 | 2.46 | | 96 |
| Jordan Young – Mark Young | 1.86 | 1.86 | | 95 |
| Rich Z – Jamie Olive | 0.00 | 0.00 | | 94 |
| Todd Sumner – Chuck Bolten | 0.00 | 0.00 | | 94 |
| Jeff Brown – Ron Johnson | 0.00 | 0.00 | | 94 |
| Johnny Howard – William Howard | 0.00 | 0.00 | | 94 |
| Alec Lower – Jon West | 0.00 | 0.00 | | 94 |
| David Blanton – Jimmy Henderson | 0.00 | 0.00 | | 94 |
| Evan Fleming – Matt Fuhr | 0.00 | 0.00 | | 94 |
| Rick Dunstan – Josh Huff | 0.00 | 0.00 | | 94 |
| Edward Smith – Richard Emge | 0.00 | 0.00 | | 94 |
| Ronnie Harrison | 0.00 | 0.00 | | 94 |
| James Freeland – Jim Freeland | 0.00 | 0.00 | | 94 |
| Juddie Revels – Kaden Revels | 0.00 | 0.00 | | 94 |
| Stump Bledsoe – Glenn Elliott | 0.00 | 0.00 | | 94 |
| Paul Worthington | 0.00 | 0.00 | | 94 |
| wesley Tucker – Zak Davenport | 0.00 | 0.00 | | 94 |
| Ashely Ivey | 0.00 | 0.00 | | 94 |
| Bibba Haywood – David Fyore | 0.00 | 0.00 | | 94 |
| Steve Millen – Scott Mathews | 0.00 | 0.00 | | 94 |
| David Wilson & Randall Wilson | 0.00 | 0.00 | | 94 |
| Total Entrys | | | $5,600.00 | |
| BONUS $ | | | $950.00 | |
| Total Paid At Ramp | | | $5,600.00 | |
| Old North 2019 Spring Final Fund | | | $625.00 | |
| 2019 CATT Championship Fund | | | $50.00 | |
| 2019 Old North Spring Final Fund Total | | | $1,970.00 | |
| 2019 CATT Championship Fund Total | | | $4,520.00 | |