Check out the remaining Phantom Outdoor Invitationals for 2022! Tap on the Phantom Logo for more info and to view the 2022 Phantom Outdoors Invitational Schedule!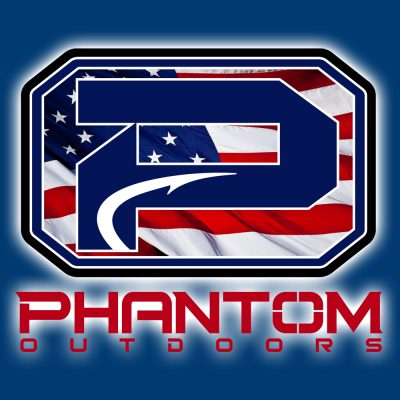 Also you can visit the Phantom Outdoors website and shop for some great outdoor gear! Use PHANTOMCATT15 at check out and earn 15% off your order! Tap on the Phantom Caps to start shopping!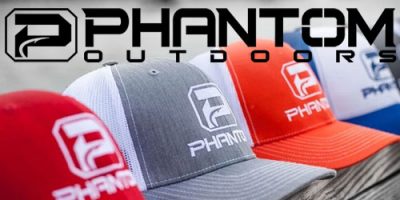 Here's the results!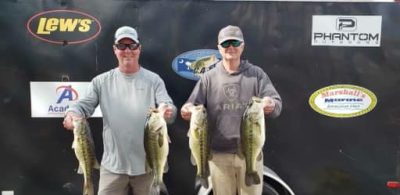 Scott Griffin & Jay Allen win the Lake Gaston Phantom Outdoors Invitational with 5 bass weighing 19.75 lbs! Kick in the 2nd BF and 1st in the Side Pots and they took home $5,100.00!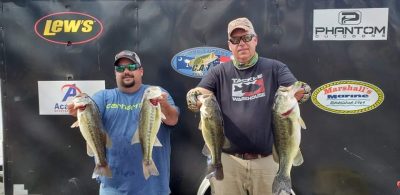 Michael Chlomoudis & Powell Kemp finished 2nd with a limit weighing 18.82 lbs and they took home $2,250.00!
Adam & Gene Richardson with some nice Lake Gaston Bass!

Mike May with a few of his teams catch!
| | | | |
| --- | --- | --- | --- |
| Team | BF | Weight | Winnings |
| Scott Griffin –  Jay Allen | 5.58 | 19.75 | $5,100.00 |
| Michael Chlomoudis –  Powell Kemp | 0.00 | 18.82 | $2,250.00 |
| Daniel Boseman – Jordan Hughes | 0.00 | 18.30 | $800.00 |
| Tony Axt -Hunter Axt | 0.00 | 17.72 | $400.00 |
| Adam Richardson – Gene Richardson | 4.84 | 17.42 | $300.00 |
| Jay Wright, Mickey Anderson | 5.96 | 16.47 | $220.00 |
| Robert Nanney, Trey Nanney | 5.43 | 16.15 | |
| Troy Winstead, Mike May | 0.00 | 15.44 | |
| Bobby Clark, Tommy Hughes | 0.00 | 15.03 | |
| Chuck Murray, Randy Groves | 0.00 | 14.58 | |
| Jerry Cullom, Ricky Todd | 0.00 | 13.93 | |
| Fred Lingerfelter, KC Choosakul | 0.00 | 13.87 | |
| Ivan Morris, Janet Morris | 0.00 | 13.83 | |
| Land Weaver, John Edwards Jr. | 0.00 | 13.57 | |
| Walt Goff, Phillip Gihler | 4.11 | 13.50 | |
| Alan Mitchell, Dennis Bradley | 0.00 | 13.48 | |
| Ryan Harrell, Carter Harrell | 0.00 | 13.37 | |
| Dave Waack  Rick Morris | 4.11 | 13.08 | |
| Bryce Henley, Edward Davis | 0.00 | 11.54 | |
| Scott Golden, Jesse Medlin | 0.00 | 11.52 | |
| Drew Johnson | 0.00 | 11.50 | |
| Shane Doughtie, Evan White | 0.00 | 10.64 | |
| Ryan Broughman, Randy Broughman | 5.28 | 9.63 | |
| Allen White, Mike Vaughan | 0.00 | 8.92 | |
| Tim Tyson, Colbey Reynolds | 0.00 | 7.77 | |
| Les Forrest, Justin Dyson | 0.00 | 5.19 | |
| JT Palmore, Bobby Crisman | 0.00 | 0.00 | |
| Brandon Taylor, David Lanaville | 0.00 | 0.00 | |
| Arnold Cooms, George Smiley | 0.00 | 0.00 | |
| Bobby Peedin, Michael Ferguson | 0.00 | 0.00 | |
| Cory Byrum, Kevin Dickens | 0.00 | 0.00 | |
| Chris Bishop, Richard Bracey | 0.00 | 0.00 | |