We had 66 teams enter the 2021 Phantom Outdoors Classic on Lake Hartwell, SC! We are looking ahead to next year and we will be back at Lake Hartwell! We will definitely host a $5,000 1st Place Phantom Invitational 2022 Spring and may host another 2-day $10,000 1st Place Phantom Outdoors event on Lake Hartwell later in the Fall of 2022! Thanks to the good people at Green Pond Landing & Event Center for great facilities!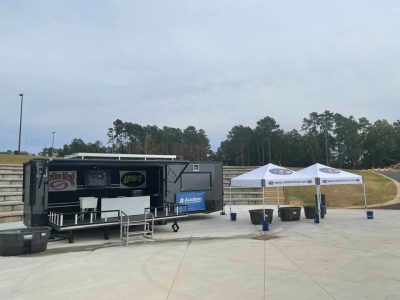 The wind was howling the 2nd day and the fishing was a little tougher but someone always finds the right weight to take home the 1st Place Prize! Jimmy Blackwell & Caleb Wyatt did just that bringing in 10 bass weighing 30.57 lbs and took home 1st Place worth $13,600.00! They also received 2 $100 Strike King/Lews Gift Cards! Great Job Guys!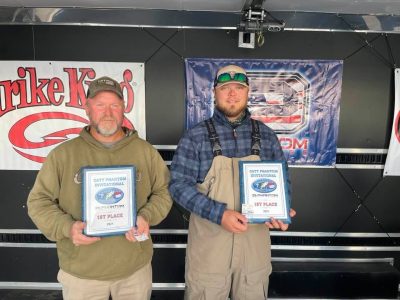 Hunter Keels & Justin Raines were 2nd with 10 bass weighing 30.19 lbs! They took home $3,400.00!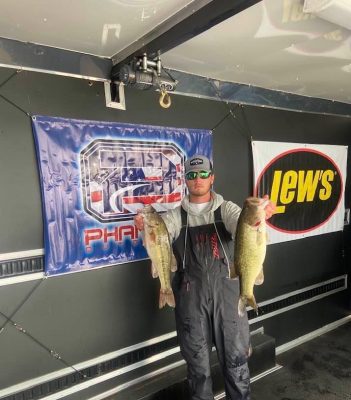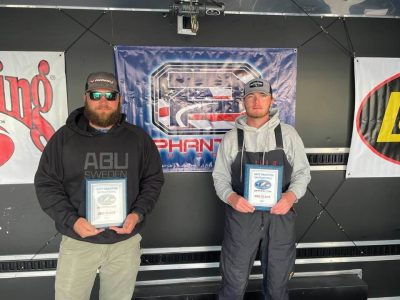 Finishing 3rd were Colin Smith & Ben Stone with a 10 bass limit weighing 29.88 lbs! They collected $1,700.00!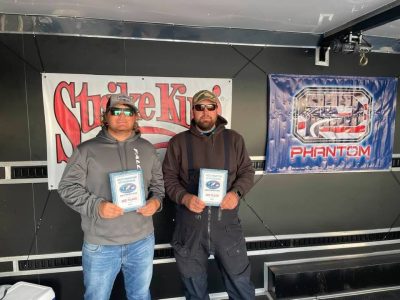 Carl Whitfield & Robby Hunnicutt claimed 4th with 29.65 lbs for 2 days! They also weighed the 1st Academy BF at 5.94 lbs! All total they earned $1,100.00 PLUS a $25 Academy Gift Card!!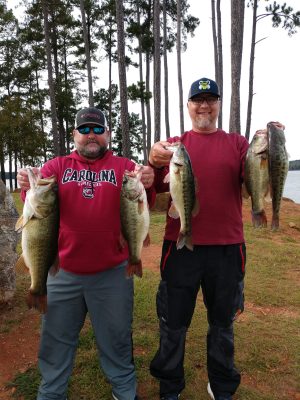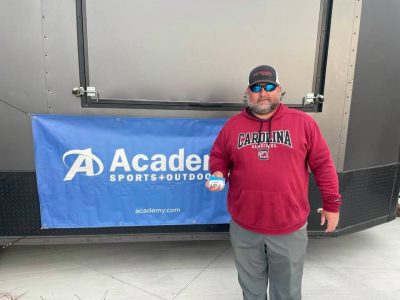 Eric Martin & Rusty Bullard took 5th with a 2 day total at 29.15 lbs!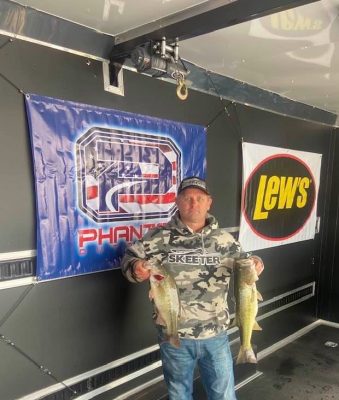 6th went to Vinson Blanton & Wesley Sandifer with a 2 day total at 28.65 lbs!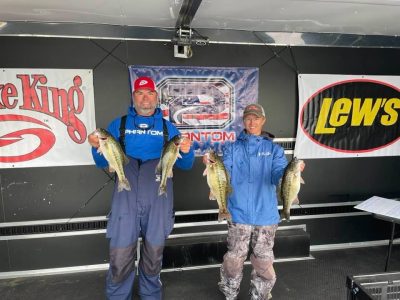 2nd Academy BF went to Logan & Tracy Watkins weighing 5.93 lbs! They earned $150.00 PLUS a $25 Academy Gift Card!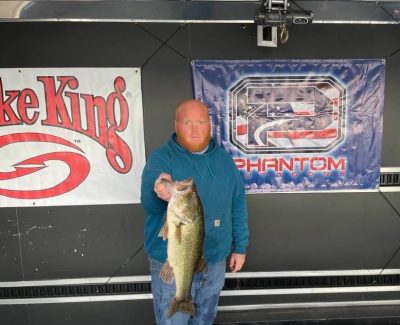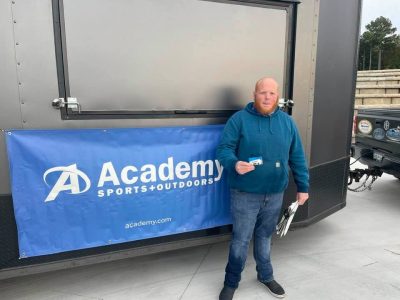 | | | | | | | |
| --- | --- | --- | --- | --- | --- | --- |
| | BF | Weight | BF | Weight | Total | |
| Team | Day 1 | Day 1 | Day 2 | Day 2 | Weight | Winnings |
| Caleb Wyatt – Jimmy Blackwell | 4.28 | 14.98 | 3.93 | 15.59 | 30.57 | $13,600.00 |
| Justin Raines – Hunter Keel | 5.49 | 16.57 | 2.78 | 13.62 | 30.19 | $3,400.00 |
| Colin Smith – Ben Stone | 3.89 | 16.09 | 3.56 | 13.79 | 29.88 | $1,700.00 |
| Carl Whitfield – Robby Hunnicutt | 5.94 | 16.71 | 3.46 | 12.94 | 29.65 | $1,100.00 |
| Eric Martin – Rusty Bullard | 5.31 | 16.80 | 3.31 | 12.35 | 29.15 | $500.00 |
| Vinson Blanton – Wesley Sandifer | 3.73 | 14.23 | 4.03 | 14.42 | 28.65 | $400.00 |
| Brent Long – Sidney Weaver | 3.72 | 12.09 | 5.48 | 15.88 | 27.97 | $300.00 |
| Derrick Bridges – David Wyhte | 3.55 | 13.60 | 3.68 | 14.37 | 27.97 | $250.00 |
| Rodney Cromer | 4.36 | 14.42 | 4.00 | 13.27 | 27.69 | $200.00 |
| Eric Jeter – Darren Jeter | 2.96 | 12.43 | 3.49 | 15.21 | 27.64 | |
| David McGinnis – Billy Ballard | 3.53 | 14.48 | 2.90 | 13.05 | 27.53 | |
| Joe Anders – Greg Glouse | 2.75 | 12.46 | 3.76 | 15.05 | 27.51 | |
| Logan Watkins – Tracy Watkins | 3.17 | 13.08 | 5.93 | 14.36 | 27.44 | $150.00 |
| Baylor Ronemus | 3.43 | 12.13 | 3.49 | 15.10 | 27.23 | |
| Grayson Brewster – Blake Campbell | 3.57 | 15.53 | 2.51 | 11.08 | 26.61 | |
| Lane Clark – Patrick Murry | 3.38 | 13.03 | 3.27 | 13.53 | 26.56 | |
| Derek Lehtonen – Dakpta Lehtonen | 3.50 | 15.05 | 3.40 | 11.15 | 26.20 | |
| Brody Manley – Barrett Keel | 3.51 | 11.60 | 4.52 | 14.14 | 25.74 | |
| Scott Allgood – Caleb Allgood | 2.72 | 11.24 | 3.63 | 14.47 | 25.71 | |
| Christopher Chavis – Nick Hager | 3.06 | 12.43 | 3.08 | 1.32 | 25.63 | |
| Shawn Gray – Keith Gray | 3.99 | 13.54 | 2.76 | 11.99 | 25.53 | |
| Robbie Hipps – Rodney Chastain | 3.74 | 14.44 | 2.48 | 10.85 | 25.29 | |
| Joe Dan Mitchell – Tyler Campbell | 2.29 | 11.00 | 3.89 | 14.00 | 25.00 | |
| Brady Kimbrell – Scott Reese | 2.14 | 9.21 | 5.21 | 15.45 | 24.66 | |
| John Gibson – Cliff Tilley | 2.79 | 10.48 | 4.53 | 13.40 | 23.88 | |
| Gil Senn | 3.11 | 13.25 | 2.39 | 10.26 | 23.51 | |
| Reid McGinn – Maurice Bennett | 27.20 | 12.23 | 2.76 | 11.12 | 23.36 | |
| Daniel Jordan – Lyn Langston | 4.90 | 11.00 | 3.72 | 12.31 | 23.31 | |
| Jim Sanders | 3.69 | 12.23 | 2.76 | 10.87 | 23.10 | |
| Jeff jennings | 4.59 | 13.04 | 4.31 | 9.92 | 22.96 | |
| Aaron Jordan – Gregg Goff | 2.39 | 6.59 | 4.32 | 14.85 | 21.44 | |
| Robert Clarke | 3.34 | 11.12 | 2.42 | 10.23 | 21.35 | |
| Erik Martin – Brock Taylor | 2.23 | 8.29 | 3.01 | 12.25 | 20.54 | |
| Jerry Hart – Roy Stuart | 2.30 | 9.96 | 2.58 | 10.12 | 20.08 | |
| Roger Coggins – Bobby Williams | 0.00 | 7.46 | 3.63 | 12.51 | 19.97 | |
| Keith Speece – George Bost | 2.93 | 8.31 | 4.56 | 11.32 | 19.63 | |
| Larry Masters | 0.00 | 5.41 | 4.05 | 11.23 | 16.64 | |
| Michael Jackson – Deron Johnson | 2.86 | 7.03 | 0.00 | 8.33 | 15.36 | |
| Ryan Lesley | 3.43 | 13.97 | 0.00 | 0.00 | 13.97 | |
| Orion Hunt – Bobby Smith | 2.50 | 8.63 | 0.00 | 4.56 | 13.19 | |
| Tyler Thompson – Brandon Addis | 3.70 | 13.06 | 0.00 | 0.00 | 13.06 | |
| Phillip Anderson – Chad Blackburn | 2.73 | 7.14 | 0.00 | 5.69 | 12.83 | |
| Gene Sparks – Shannon Stowe | 0.00 | 4.46 | 0.00 | 8.05 | 12.51 | |
| Justin Kimmel – Matt Henry | 3.33 | 12.12 | 0.00 | 0.00 | 12.12 | |
| Russell Gardner | 3.79 | 11.99 | 0.00 | 0.00 | 11.99 | |
| Bo Hill – George Gilbert | 2.71 | 11.33 | 0.00 | 0.00 | 11.33 | |
| Brian Bowers – Justin Debose | 4.21 | 10.79 | 0.00 | 0.00 | 10.79 | |
| Roger Gosnell – Chad Powell | 2.30 | 10.56 | 0.00 | 0.00 | 10.56 | |
| Tim Watson – Travis Garrett | 2.63 | 10.41 | 0.00 | 0.00 | 10.41 | |
| Billy Willis – Glenn Porter | 1.91 | 8.73 | 0.00 | 0.00 | 8.73 | |
| Quoine York – Richie Dixon | 3.02 | 8.62 | 0.00 | 0.00 | 8.62 | |
| Robbie Hoover – Tyler Hoover | 3.87 | 8.17 | 0.00 | 0.00 | 8.17 | |
| John Bloomfield | 3.49 | 7.48 | 0.00 | 0.00 | 7.48 | |
| Kevin Dye – Greg Arnold | 0.00 | 7.03 | 0.00 | 0.00 | 7.03 | |
| Chris Cook – Donald Black | 0.00 | 5.80 | 0.00 | 0.00 | 5.80 | |
| Justin Mizell – Walker Mishue | 0.00 | 4.96 | 0.00 | 0.00 | 4.96 | |
| Isaac Case | 0.00 | 4.63 | 0.00 | 0.00 | 4.63 | |
| Michael Ard – Jeff Parsons | 0.00 | 4.31 | 0.00 | 0.00 | 4.31 | |
| Donald Poteat | 0.00 | 0.00 | 0.00 | 0.00 | 0.00 | |
| Devon Fuller – Blake Harris | 0.00 | 0.00 | 0.00 | 0.00 | 0.00 | |
| Bart Aiken | 0.00 | 4.74 | 0.00 | 0.00 | 0.00 | |
| Charles Murphy – Kota Ray | 0.00 | 0.00 | 0.00 | 0.00 | 0.00 | |
| Michael Anders – Jon Anders | 3.31 | 12.12 | 0.00 | 0.00 | 0.00 | |
| Jody Jones – Randy Childers | 3.75 | 12.90 | 0.00 | 0.00 | 0.00 | |
| John Parker – Randy Moss | 2.62 | 9.51 | 0.00 | 0.00 | 0.00 | |
| Justin Tingen – Jonathan Carter | 3.38 | 11.31 | 0.00 | 0.00 | 0.00 | |