We had a great turn out for the 1st 2021 Phantom Outdoors Invitational at the Cooper River, SC with 55 teams entering! We plan to make this an annual event on the Cooper River so if you didn't make this years Invitational we hope to see you in 2022!
Use PHANTOMCATT15 at checkout an earn 15% off your next Phantom Outdoor Gear order! Tap on the Phantom logo to get started!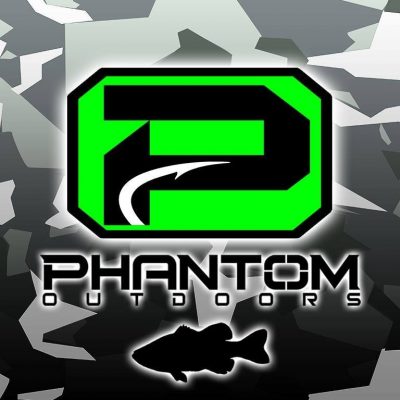 John Campbell & Grace Campbell win the Cooper River 2021 Phantom Outdoors Invitational with 5 bass weighing up at 17.93 lbs! They also weighed in the 1st BF at 5.42 lbs! All total they collected $5,850.00! Plus a $25 Gift Certificate from Bizz Baits! www.bizzbiats.com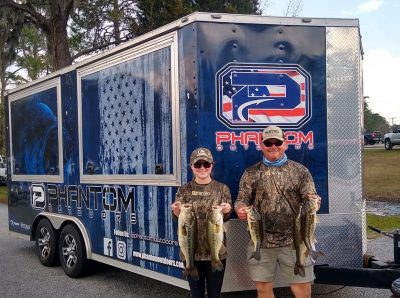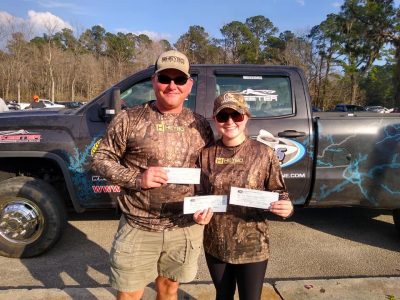 2nd Place went to Wayne Clifton & Micah Bennett with 13.70 lbs worth $2000.00!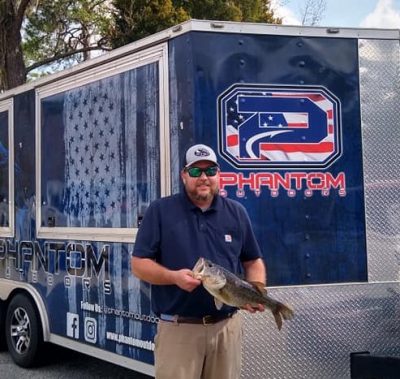 Justin Harvey & Jonathan Brindle weighed in 13.59 lb for 3rd Place and they collected $2.325.00!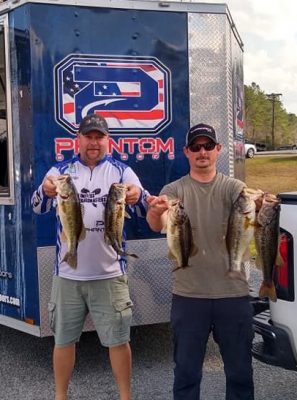 Allan Williams & Chad Cook 4th with 13.40 lbs! $2,020.00!
Check out the rest of the money winners! Thanks for fishing!
| | | | |
| --- | --- | --- | --- |
| 55 Teams | BF | Weight | Winnings |
| John Campbell – Grace Campbell | 5.42 | 17.93 | $5,850.00 |
| Wayne Clifton – Micah Bennett | 4.72 | 13.70 | $2,000.00 |
| Jonathan Brindle – Justin Harvey | 3.11 | 13.59 | $2,325.00 |
| Allan Williams – Chad Cook | 3.54 | 13.40 | $2,020.00 |
| Bill Holmes – Will Smith | 5.30 | 13.39 | $500.00 |
| Randy Gibson | 3.89 | 12.98 | $1,040.00 |
| Willy Thompson – Doug Robertson | 3.89 | 11.64 | $415.00 |
| Roger Dennis – Davie Boman | 3.30 | 10.71 | $225.00 |
| Caleb Gerald – Mike Gerald | 2.59 | 10.52 | $200.00 |
| Todd Smith – Matt Murphy | 3.02 | 10.44 | |
| Gentry Manning – Travis Osbourne | 2.37 | 10.25 | |
| Brian Crosby – Elvis Black | 3.33 | 10.24 | |
| Johan Wilson – Danny Shanz | 2.56 | 10.23 | |
| Mark Johnson – Kyle Johnson | 3.52 | 10.15 | |
| Cody Wilson – John Corriveau | 3.73 | 10.13 | |
| Matt Baker – Andrew Baker | 2.35 | 9.85 | |
| Andrew Vereen – Ron Cannon | 2.52 | 9.84 | |
| Michael Gibbons – James Gibbons | 3.85 | 9.84 | |
| James Fender – Kyle Welch | 2.46 | 9.76 | |
| Robbie Boyd – Casey Warren | 4.34 | 9.09 | |
| Chris Peirano – Jesse Stanley | 3.16 | 9.00 | |
| Anthony Lee – Jason Owens | 2.34 | 9.00 | |
| Chris Jones – Ricky Bellamy | 2.57 | 8.83 | |
| James Robison – Carluss King | 2.81 | 8.48 | |
| Cecil Wolfe – Eddie Cox | 3.13 | 8.46 | |
| Gary Pope – Kevin Alford | 2.07 | 8.15 | |
| David Waldrop – Nick McPherson | 2.78 | 8.09 | |
| Jeremy Hewitt – Brian Howard | 2.31 | 7.70 | |
| Shawn Benton – Logan Benton | 3.70 | 7.67 | |
| Derrick Nixon – Bob Letizi | 3.77 | 7.48 | |
| Jeff Mullis – Rocky Mullis | 2.40 | 7.33 | |
| Elvis Peagler – Dylan McCalister | 1.81 | 6.67 | |
| Dylan McConnell – Dave McConnell | 1.48 | 6.35 | |
| Rob Poston – Austin McConnell | 2.18 | 6.29 | |
| Nick Lambert – Lance Lambert | 2.36 | 6.21 | |
| Greg Walker | 1.74 | 5.24 | |
| John Brady – Tony Cook | 0.00 | 4.98 | |
| Jamie Ethridge – Scott McClellan | 1.32 | 4.96 | |
| Willie Weatherford – Mike Judy | 1.99 | 1.99 | |
| Grant Powell – Travis Gatlin | 0.00 | 0.00 | |
| Winky Watford – Scottie Mixon | 0.00 | 0.00 | |
| Johnny Brinson – James White | 0.00 | 0.00 | |
| Winston Martin – Neal Martin | 0.00 | 0.00 | |
| Jason Mitchum – Paul Gaskins | 0.00 | 0.00 | |
| Spencer McNeil – Ben Cox | 0.00 | 0.00 | |
| Bubba Dennis – Bucky Clarke | 0.00 | 0.00 | |
| Danny Smith – Russ Luderman | 0.00 | 0.00 | |
| Chad Pennell – Brandon Riley | 0.00 | 0.00 | |
| Randal Drew – Ryan Drew | 0.00 | 0.00 | |
| Michael Craven – Nathan Mixson | 0.00 | 0.00 | |
| Kenny Kessler – Phil Cumbee | 0.00 | 0.00 | |
| Brian Surowiec – Walt Cumbee | 0.00 | 0.00 | |
| Mike Ard – Rusty Bullard | 0.00 | 0.00 | |
| Tom Bancroft – TJ Bancroft | 0.00 | 0.00 | |
| Brian Hackworth – Junter Hackworth | 0.00 | 0.00 | |