We had another great crowd at the 3rd Phantom Outdoors Open we've held on the Cooper River! Next year we will try to host the Phantom back in February!
Use PHANTOMCATT15 at checkout and earn 15% off your order when you shop on line! Tap on the Phantom logo to visit the Phantom Outdoors on line store!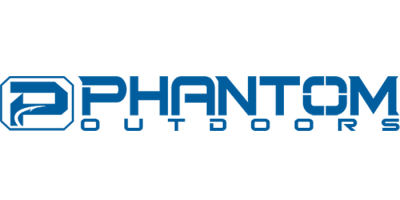 Michael Craven & Justin Craven make it 2 in a row! They weighed in 5 bass at 20.40 lbs taking 1st Place and $5,100.00!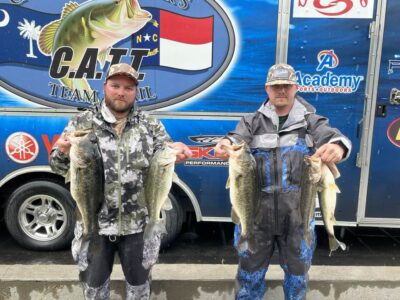 Randall & Ryan Drew took 2nd with 18.63 lbs and they collected $2,700.00!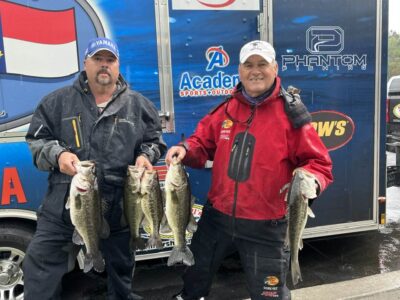 Mark Morris & Kenny Clark with 17.30 lbs for 3rd Place! $1,000.00!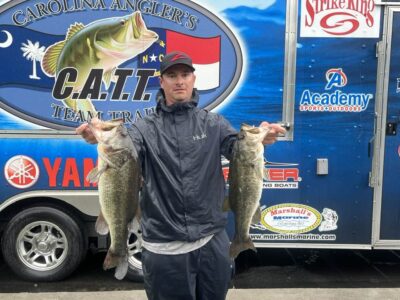 James Fender & Kyle Welch weigh in 15.75 lbs and the Academy BF at 7.44 lbs good enough for 4th and $1,550.00!
5th Place went to Chris Peirno & Jim Butler 14.67 lbs worth $385.00!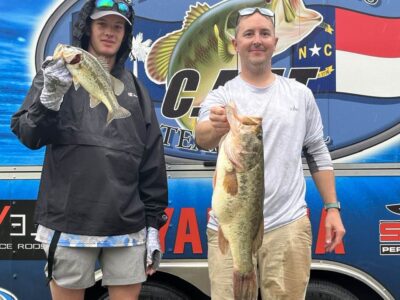 2nd BF Mike Freeman & Trent Manning! 6.63 lbs!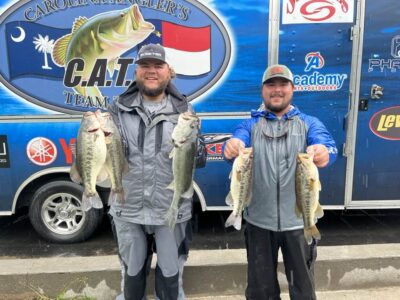 | | | | |
| --- | --- | --- | --- |
| Team | BF | Weight | Winnings |
| Michael Craven -Justin Craven | 4.81 | 20.40 | $5,100.00 |
| Randall Drew – Ryan Drew | 6.11 | 18.63 | $2,700.00 |
| Kenny Clark – Mark Morris | 5.79 | 17.30 | $1,000.00 |
| James Fender – Kyle Welch | 7.44 | 15.75 | $1,550.00 |
| Chris Peirno – Jim Butler | 5.11 | 14.67 | $385.00 |
| Shawn Benton – Logan Benton | 3.25 | 13.73 | |
| CJ Cannington – Kody Harvey | 4.41 | 13.42 | |
| Matt Baker – Andrew Baker | 3.45 | 12.03 | |
| Chad Pennell – Lindsey Pennell | 0.00 | 11.35 | |
| Hunter Hackworth – Brant Shuler | 2.43 | 11.35 | |
| Brian Brunson – Cody Wilson | 2.87 | 11.03 | |
| Billy Fanning – Zack Wagner | 2.94 | 10.87 | |
| Jared Boles – John Campbell | 2.37 | 10.83 | |
| James Gibbons | 2.91 | 10.43 | |
| Brandon McMillan – Drew Benton | 2.73 | 10.14 | |
| Winkey Watford – Scottie Mixon | 2.91 | 9.86 | |
| Ryan Bowles – Brandon Riley | 2.46 | 9.66 | |
| Randy Gibson | 2.16 | 9.61 | |
| Michael Ard – Jeff Parsons | 2.21 | 8.51 | |
| JW Smith – Rodney Smith | 0.00 | 7.98 | |
| Jamie Bryant – Trey Bryant | 2.55 | 7.90 | |
| Mike Freeman – Trent Manning | 6.63 | 7.80 | $100.00 |
| Aaron Novitski – Ryan Baylis | 0.00 | 7.06 | |
| Jody Scott – Roger Dennis | 2.18 | 6.94 | |
| Simmie Wrenn – Kobie Ethridge | 3.56 | 6.87 | |
| Dale Lovelace – Bentley Walker | 0.00 | 5.82 | |
| John Clarke – Victor Moore | 0.00 | 5.72 | |
| Aaron Toups – Terry Sullivan | 0.00 | 5.45 | |
| Mitchell Bowers – Jerry Bowers | 0.00 | 5.41 | |
| John Ford Jr – John Ford Sr | 0.00 | 5.40 | |
| Wendell Lampkin – Jayden Lampkin | 0.00 | 5.32 | |
| Andrew Kirk – Nick Kirk | 0.00 | 1.66 | |
| Travis Gatlin – Grant Powell | 0.00 | 0.00 | |
| Jimmy Bihlear – TJ Bancroft | 0.00 | 0.00 | |
| Justin Lifsey | 0.00 | 0.00 | |
| Kevin Hardee | 0.00 | 0.00 | |
| Glenn Varner – Irwin Varner | 0.00 | 0.00 | |
| Jonathan Brindel – Justin Harvey | 0.00 | 0.00 | |