At the 2020 CATT Santee Cooper Spring Final the 1st BF will be awarded either a Lews Baitcast Reel or a Strike King Prize Pack!
Next 2020 Spring Santee Cooper CATT is Mar 14th at John C Land and it's a GOLD!
Lonnie Jones & Robert Clarke bring in 5 bass weighing 28.37 lbs and take home $1,878.00!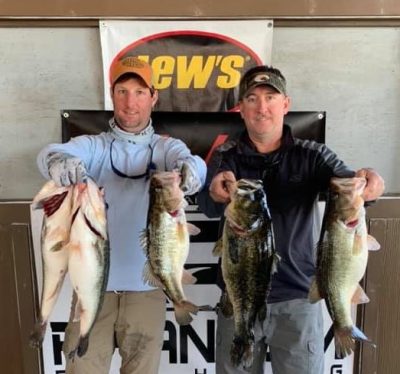 Ronnie & Trip Mills finish 2nd with 20.19 lbs!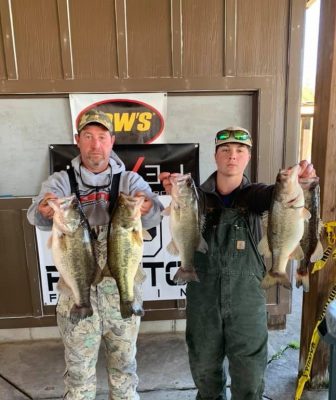 Don Pendarvis – Bobby Gibbs weigh in the 1st Academy BF at 7.21 lbs!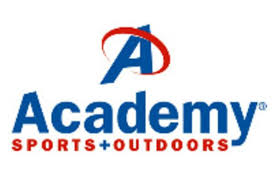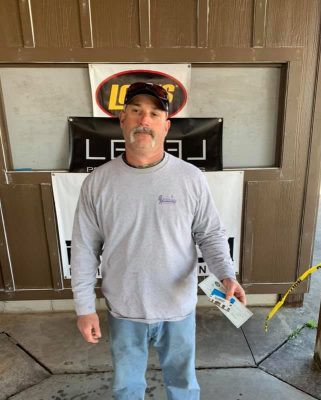 | | | | | |
| --- | --- | --- | --- | --- |
| | Big | Total | Total | |
| 27 Teams | Fish | Weight | Winnings | Points |
| Lonnie Jones – Robert Clarke | 7.18 | 28.37 | $1,878.00 | 110 |
| Ronnie Mills – Trip Mills | 5.93 | 20.19 | $560.00 | 109 |
| Chris Brunson – Nelson Walker | 0.00 | 19.86 | $300.00 | 108 |
| Jason Green – Brain Miller | 0.00 | 18.16 | $200.00 | 107 |
| Brian Scott – Brad Beatson | 0.00 | 17.18 | $125.00 | 106 |
| Don Pendarvis – Bobby Gibbs | 7.21 | 15.47 | $182.00 | 105 |
| Rodney Jordan | 6.50 | 15.45 | | 104 |
| Chad Crosby – Keith Britt | 0.00 | 10.66 | | 103 |
| Greg Walker – Scott Perrine | 0.00 | 10.11 | | 102 |
| John Wilson – Danny Shanz | 0.00 | 6.57 | | 101 |
| Max Terry – James Glasscock | 0.00 | 6.13 | | 100 |
| Stevie Walker | 5.86 | 5.86 | | 99 |
| Rick McLean – Andy Moore | 0.00 | 4.50 | | 98 |
| Barry Simms – Witt Dority | 0.00 | 3.33 | | 97 |
| William Thigpen – Bucky DeBerry | 0.00 | 0.00 | | 96 |
| Ronnie McCoy | 0.00 | 0.00 | | 96 |
| Patrick Williams | 0.00 | 0.00 | | 96 |
| Jamie Partee | 0.00 | 0.00 | | 96 |
| Nick Gant – Randall Miller | 0.00 | 0.00 | | 96 |
| Gordon Owens – Horace Scott | 0.00 | 0.00 | | 96 |
| Clark Gibbs – Freddie Gibbs | 0.00 | 0.00 | | 96 |
| Scott Spittle – Brandon Spittle | 0.00 | 0.00 | | 96 |
| John Ford Sr – John Ford Jr | 0.00 | 0.00 | | 96 |
| Mark Johnson – Gary Pope | 0.00 | 0.00 | | 96 |
| Casey Warren – Dalton Warren | 0.00 | 0.00 | | 96 |
| Wade Grooms | 0.00 | 0.00 | | 96 |
| Total Entrys | | | $3,120.00 | |
| BONUS $ | | | $600.00 | |
| Total Paid At Ramp | | | $3,245.00 | |
| Santee Cooper 2020 Spring Final Fund | | | $350.00 | |
| 2020 CATT Championship Fund | | | $75.00 | |
| 2020 Santee Cooper Spring Final  Total | | | $1,040.00 | |
| 2020 CATT Championship Fund Total | | | $2,410.00 | |