Next CATT SENC Fall Qualifier is Sept 30th at White Lake!
If you have entered 2 SENC Events in 2023 (Spring/Fall) your team is eligible to enter the 2023 Phantom Outdoors Classic on Lake Norman Dec 1-2, 2023! $10,000 1st Place! 2022 Phantom Winners took home $14,000.00!  Tap on this link to view Phantom info! Tournament Results Phantom Outdoors Classic Lake Norman, NC Dec 2-3, 2022 – Carolina Anglers Team Trail (cattteamtrail.com)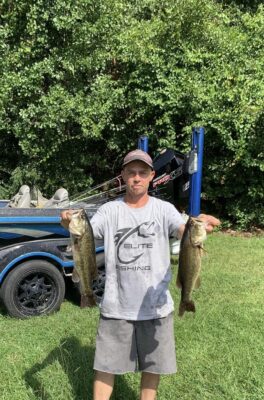 Kris Corbett wins the Cape Fear River with 5 bass weighing 12.50 lbs worth $1,020.00!
| | | | | |
| --- | --- | --- | --- | --- |
| Team | BF | Weight | Winnings | Points |
| Kris Corbett | 2.87 | 12.50 | $1,020.00 | 110 |
| Nathan Nobles – Kris Rabon | 4.50 | 12.37 | $479.00 | 109 |
| Cameron Fowler | 3.62 | 11.07 | $211.00 | 108 |
| Mitch Garner – Ralph McLean | 0.00 | 10.36 | | 107 |
| Zach Milam – Ben Milam | 2.60 | 9.33 | | 106 |
| Chris Prosser – Seth Smith | 3.23 | 9.18 | | 105 |
| Jason Dew | 0.00 | 8.21 | | 104 |
| Hunter Capps | 0.00 | 7.30 | | 103 |
| Patrick Lunsford – Patrick Lunsford Jr | 0.00 | 7.28 | | 102 |
| Jeremy Jacobs – Beckett Jacobs | 0.00 | 6.85 | | 101 |
| Russ Brenner – Aaron Brenner | 0.00 | 5.19 | | 100 |
| David Sasser | 0.00 | 5.08 | | 99 |
| Vincent Povazsay | 0.00 | 4.79 | | 98 |
| Keith Butler | 0.00 | 4.61 | | 97 |
| Ed Nelson – Danny Wilson | 0.00 | 4.17 | | 96 |
| Adam Smith – Corey Lanhum | 0.00 | 0.00 | | 86 |
| Total Entrys | | | $1,800.00 | |
| BONUS $ | | | $320.00 | |
| Total Paid At Ramp | | | $1,710.00 | |
| SENC Fall 2023 Final Fund | | | $310.00 | |
| CATT | | | $50.00 | |
| 2023 CATT Championship Fund | | | $50.00 | |
| 2023 SENC Fall Final Fund Total | | | $495.00 | |