Next up is the SENC Spring Final June 24 on the NE Cape Fear River – Castle Hayne Ramp! A team had to enter 2 SENC Qualifier's to be eligible to enter! You can check the points by going to the SENC Division page and scroll all the way down!
Zack Rogers – Devin Cook win the SENC Spring Points and will receive $500.00!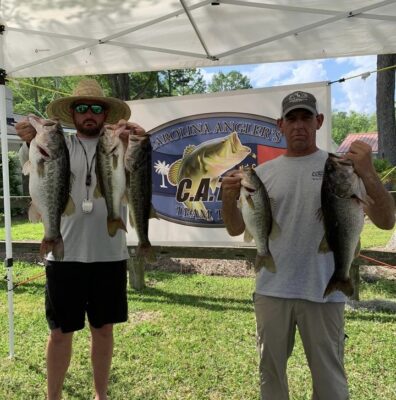 Chris Savage & Wayne Mishue took 1st Place with 5 bass weighing 19.99 lbs worth $1,235.00!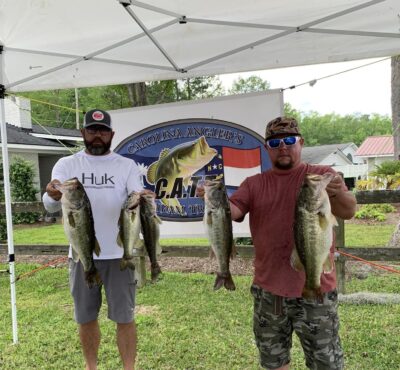 Jeremy Sullivan & Eric Buie took 2nd with 19.00 lbs!
| | | | | |
| --- | --- | --- | --- | --- |
| Team | BF | Weight | Winnings | Points |
| Chris Savage – Wayne Mishue | 5.58 | 19.99 | $1,235.00 | 110 |
| Jeremy Sullivan – Eric Buie | 5.19 | 19.00 | $410.00 | 109 |
| Seth Sholer – Dylan Bond | 5.06 | 17.32 | $210.00 | 108 |
| Michael Jarrell – Misty Jarrell | 4.49 | 14.56 | $110.00 | 107 |
| Desmond  Bowan – Ray Dawson | 5.84 | 14.05 | $140.00 | 106 |
| Jason Dew – Tom Elliott | 5.49 | 12.93 | | 105 |
| John Owsley – Keith Evanfield | 3.24 | 12.09 | | 104 |
| Ronald Watts – Preston Watts | 0.00 | 8.71 | | 103 |
| Andy Coor – Dan Siuta | 4.53 | 6.81 | | 102 |
| Jamie Milam – Michael Milam | 0.00 | 6.54 | | 101 |
| Chris Prosser – Seth Smith | 0.00 | 5.16 | | 100 |
| Daniel R McGarry – Marc Goldberg | 2.68 | 4.29 | | 99 |
| Ken Hoffman – David Puskas | 0.00 | 0.00 | | 98 |
| Zack Rogers – Devin Cook | 0.00 | 0.00 | | 97 |
| Michael McDonald – Zach Chambers | 0.00 | 0.00 | | 96 |
| Mitch Garner – Ralph McLean | 0.00 | 0.00 | | 95 |
| David Sasser – Chris Gainey | 0.00 | 0.00 | | 85 |
| John Orchard | 0.00 | 0.00 | | 85 |
| Joe Sholer – Ray Hunter | 0.00 | 0.00 | | 85 |
| Charles Cottingham – Shawn Hardy | 0.00 | 0.00 | | 85 |
| Total Entrys | | | $2,000.00 | |
| BONUS $ | | | $375.00 | |
| Total Paid At Ramp | | | $2,105.00 | |
| SENC Spring 2023 Final Fund | | | $200.00 | |
| CATT | | | $30.00 | |
| 2023 CATT Championship Fund | | | $50.00 | |
| 2023 SENC Spring Final Fund Total | | | $865.00 | |