We wrapped up the SENC Spring Qualifiers this past Saturday and we have 39 teams eligible to enter the 2022 CATT SENC Spring Final on Lake Waccamaw April 23rd! With $1,000 in the SENC Final Fund we are looking at a great payback at the Final!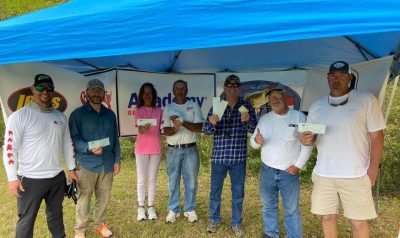 Aaron Dennis & Andy Coor win the 2022 SENC Spring Points and will fish the Spring Final free plus receive $200.00!
Neil Smith & Hunter Jones finished 2nd in the points and will receive $100.00!
Don't forget guy, by entering 2 CATT events you have qualified to enter the 2022 CATT Academy Championship on Kerr! We usually have at least 185 teams enter! 1st Place is a minimum of $10,000.00!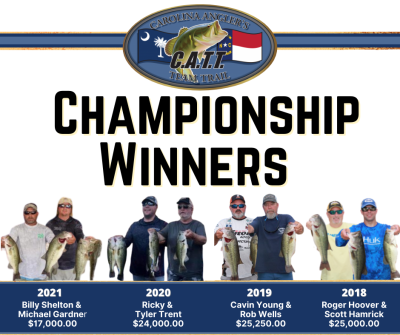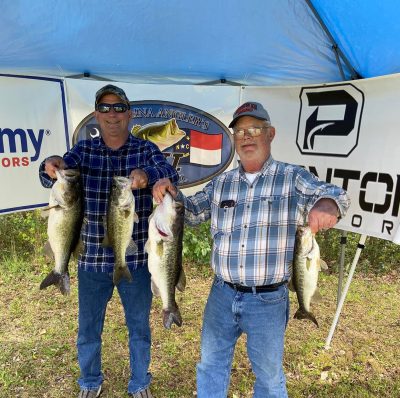 David Sasser & Jerry Taylor earned 1st Place at Lake Waccamaw with 5 bass weighing 17.77 lbs! With the Side Pot and 1st BF added in they took home $1,691.00!

Michael & Misty Garrell took home $687.00 for their 2nd Place finish with 16.54 lbs!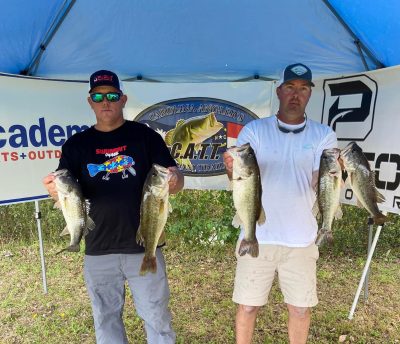 Jason Dew & Tom Elliott claimed 3rd with 14.95 lbs!

Andrew Young & Robbie Everett took 4th with 13.65 lbs!
| | | | | |
| --- | --- | --- | --- | --- |
| Team | BF | Weight | Winnings | Points |
| David Sasser – Jerry Taylor | 7.04 | 17.77 | $1,691.00 | 110 |
| Michael Garrell – Misty Garrell | 4.47 | 16.54 | $687.00 | 109 |
| Jason Dew – Thomas Elliott | 4.19 | 14.95 | $225.00 | 108 |
| Andrew Young – Robbie Everett | 3.46 | 13.65 | $150.00 | 107 |
| Mike Lanier – Jonathan Laneir | 4.63 | 12.81 | | 106 |
| Wayne Mishue – Paul Warwick | 5.14 | 12.78 | | 105 |
| Chris Savage – Mike Murphy | 3.06 | 10.92 | | 104 |
| Aaron Dennis – Andy Coor | 7.04 | 10.72 | $66.00 | 103 |
| David Blanton – Bowman Gray | 0.00 | 10.45 | | 102 |
| Neil Smith – Hunter Jones | 0.00 | 8.16 | | 101 |
| Eric Buie – Eric Buie | 4.33 | 7.21 | | 100 |
| Michael McDonald – Zach Milam | 6.55 | 6.55 | | 99 |
| Shawn Hicken | 4.70 | 6.42 | | 98 |
| Lamar Siler | 3.56 | 4.84 | | 97 |
| Robert Norvel – Bob Norvell | 0.00 | 3.92 | | 96 |
| Mark Fairfax – Mason Fairfax | 0.00 | 2.81 | | 95 |
| Steven Woodcock – Chris Leigh | 0.00 | 0.00 | | 85 |
| Jonathan Owsley – Keith Ehrenfield | 0.00 | 0.00 | | 85 |
| Walker Mishue – Justin Mizzell | 0.00 | 0.00 | | 85 |
| Gary Cox Jr – Gary Cox | 0.00 | 0.00 | | 85 |
| Chris Walton | 0.00 | 0.00 | | 85 |
| Desmon Bowen – Ray Dawson | 0.00 | 0.00 | | 85 |
| Total Entrys | | | $2,640.00 | |
| BONUS $ | | | $425.00 | |
| Total Paid At Ramp | | | $2,819.00 | |
| SENC Spring 2022 Point Fund | | | $300.00 | |
| SENC Spring 2022 Final Fund | | | $240.00 | |
| 2022 CATT Championship Fund | | | $50.00 | |
| 2022 SENC Spring Final Fund Total | | | $1,000.00 | |