We kicked off the Spring SENC Trail with 12 boats entering at White Lake! WE look for a better crowd at Lake Waccamaw Mar 31! Come on out and join us!
Chris Savage & Michael Campbell took 1st Place with 5 bass weighing 12.05 lbs! They weighed in the 1st BF at 4.18 lbs and along with some BF cash they received an Academy Gift Card! Ad in the BONUS $ and the Chris & Michael took home $644.00!

2nd went to Travis Priest & Matt Gause with 11.20 lbs worth $180.00!
2nd BF went to Ashley Cottrell & Tony Davis with a 4.09 lb bass and they collected $36.00!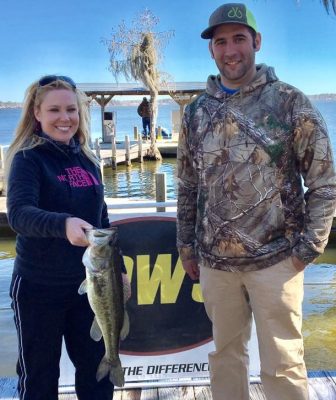 Ashley & Tony!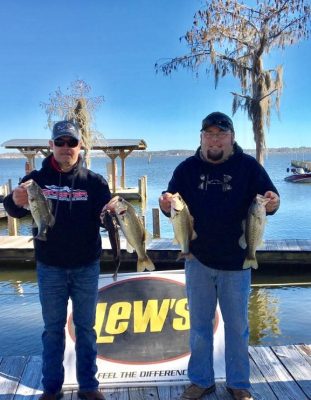 Travis Priest & Matt Gause  2nd Place
| | | | | |
| --- | --- | --- | --- | --- |
|                                    12 Teams | Big Fish | Weight | Winnings | Points |
| Chris Savage – Michael Campbell  BONUS $ & 1st BF | 4.18 | 12.05 | $644.00 | 110 |
| Travis Priest – Matt Gause | 3.11 | 11.20 | $180.00 | 109 |
| Michael Kinlaw – Mike Burney | 0.00 | 10.06 | | 108 |
| Andrew Young – Rob Everett | 3.35 | 9.24 | | 107 |
| Lance Siler – Mitch Vernon | 2.81 | 8.98 | | 106 |
| Mike Garrell – Kristen Long | 2.35 | 8.36 | | 105 |
| Shawn Hicken | 3.92 | 6.33 | | 104 |
| Tony Davis – Ashley Cottrell  2nd BF | 4.09 | 4.09 | $36.00 | 103 |
| Austin Stormes – Marc Moore | 0.00 | 0.00 | | 102 |
| Ray Gerald – Curtis Reaves | 0.00 | 0.00 | | 102 |
| Roby Wyatt – Mike Prytula | 0.00 | 0.00 | | 102 |
| Jaime Pierce – Jeremy Sullivan | 0.00 | 0.00 | | 102 |
| Total Entrys | | | $960.00 | |
| BONUS $ |   |   | $200.00 | |
| Total Paid At Ramp |   |   | $860.00 | |
| 2018 SENC Spring Final Fund |   |   | $275.00 | |
| 2018 CATT Championship Fund |   |   | $25.00 | |
|   |   |   |   | |
| 2018 SENC Spring Final Fund Total |   |   | $275.00 | |
| 2018 CATT Championship Fund Total |   |   | $2,875.00 | |