Next Tidewater  CATT is on the Chowan River July 19 launching from Shoups Landing!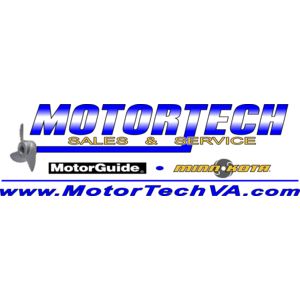 We're picking up steam on the Tidewater Division with 27 teams entering the Qualifier on the Perquimans River June 28th! As you can see the purse will increase so get your fishing buddies to come join us at the Chowan River July 19th!
The CATT Championship is Nov 7-8, 2020! 1st Place is a minimum of $10,000! We paid back $25,000 to 1st Place last year with a field a tad shy of 190 boats! Click on the link for more info!  https://www.cattteamtrail.com/divisions/catt-championship/
To view the Tidewater Points go to the Tidewater Division Page and scroll all the way down to the bottom and you will see the Tidewater Points! Tidewater Point winner fish the Final free and will be boat #1 at the Tidewater Final! 1st Place at the Tidewater Final takes home $2,500.00!
Gary Debrito & Derek Goodman are our big winners from the Perquimans River! They weighed in 5 bass at 19.55 lbs and took home $1,675.00!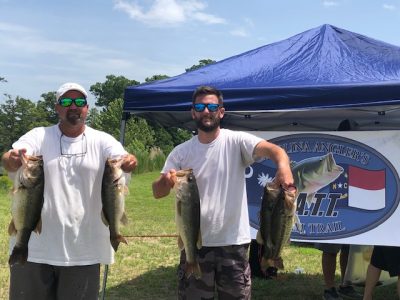 2nd Place went to David Gardner & Tom Foster with 17.29 lbs!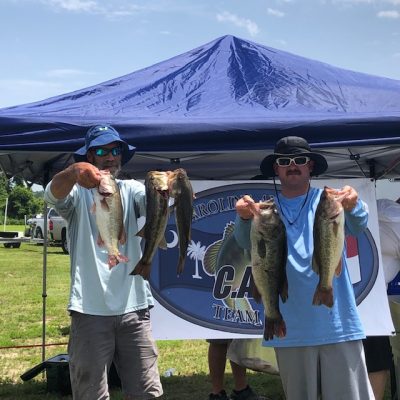 Mike & JP Scott with their 4th place bag!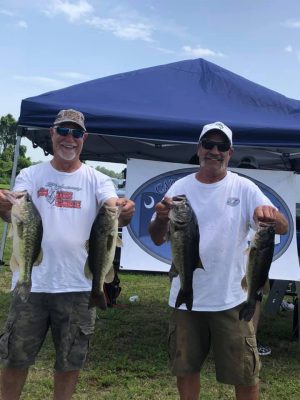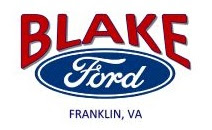 27 Teams
BF
Weight
Winnings
Points
Gary Debrito/ Derek Goodman
5.40
19.55
$1,675.00
110
Tom Foster/ David Gardner
5.95
17.29
$600.00
109
Mike Chloumoudis/ JA Williford
0.00
15.79
$300.00
108
Mike Scott/ JP Scott
4.89
15.75
$200.00
107
Mark Moretz/ Ray Cobb
5.42
15.72
$150.00
106
Jeff Peterson/ Bobby Clarke
6.61
15.29
$81.00
105
Chris Turner/ Kenneth Moore
4.80
14.45
104
Jamie Phelps/JR Mulligan
0.00
14.05
103
Keith Jennings/ Jerry Murray
6.78
14.01
$189.00
102
Jason Law/ Terry Lovell
0.00
13.67
101
Mike Evans/ Heath Parker
0.00
13.23
100
Jeff Hayden/ Benny Cannon
4.59
12.73
99
Ronnie Ketchum/ Benny Hendricks
0.00
12.43
98
Charlie Reed/ Tom Houlroyd
0.00
12.35
97
Ricky Mize/ Chris Mize
4.12
11.83
96
Mike Knapp/ Ben Knapp
0.00
11.39
95
Brandon Overton/Johnny Jones
0.00
94
Greg Dick/ Jim Dick
0.00
9.65
93
Mark London/ Matt Jennings
0.00
9.42
92
David Shaffer/ Scott Shaffer
0.00
8.24
91
Steve Brickhouse/ James Williams
6.32
8.20
90
Matt Greshak/ Dustin Alley
0.00
4.25
89
Scott Rock/ Cliff Hoggard
0.00
0.00
88
Brad Hiddinbotham/ Chad Outlaw
0.00
0.00
88
Joe Glazebrook/ Chris Carmel
0.00
0.00
88
Ken Kipler/ Shawn Dunlap
0.00
0.00
88
Josh Powell/ Eric Rountree
0.00
0.00
88
Total Entrys
$3,240.00
BONUS $
$450.00
Total Paid At Ramp
$3,195.00
2019 Tidewater Final Fund
$370.00
2019 CATT Championship Fund
$75.00
2019 Tidewater Final Fund Total
$1,030.00
2019 CATT Championship Fund Total
$3,975.00