Next up for the Tidewater Division is the Chowan River 17 launching from  the Wildlife Ramp Edenton April 11th! This should be a good one! We already have a good number of teams entered!
2 BIG MONEY CATT events coming up!
2021 CATT Academy Championship May 22-23, 2021 $10,000 1st Place
2018, 2019, & 2020 CATT Championship winners took home $25,000.00!
Tap on the link for more info!
Phantom Outdoors Invitational June 26th Chowan River, NC Bayside Marina in Edenton!
$5,000.00 1st Place!
Another great payday on the Tidewater Division! Jordan Sanderlin & Andrew George weighed in a SACK on a windy day! Their best 5 weighed 26.73 lbs and they had 2 HAWGS in their bag at 8.71 lbs and a 7.01 lb bass! Jordan & Andrew took home $2,590.00!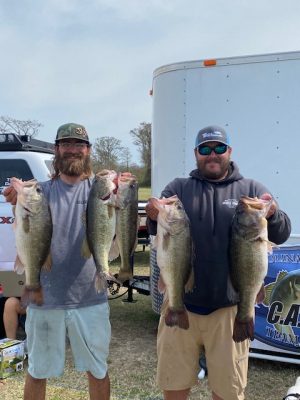 Gary Debrito & Derek Goodman pictured with their 5th place check!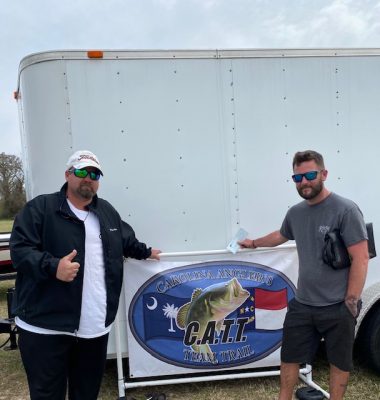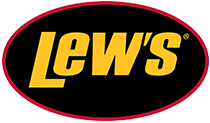 | | | | | |
| --- | --- | --- | --- | --- |
| 39 Teams | BF | Weight | Winnings | Points |
| Jordan Sanderlin/ Andrew George | 8.71/7.01 | 26.73 | $2,590.00 | 110 |
| Spencer Murray/ Gerald Murray | 0.00 | 16.29 | $750.00 | 109 |
| Ray Cobb / Mark Moretz | 0.00 | 15.27 | $465.00 | 108 |
| Jobie Walker/Chris Napier | 4.72 | 13.18 | $340.00 | 107 |
| Gary Debrito/ Derek Goodman | 3.53 | 11.58 | $265.00 | 106 |
| Keith Jennings/Jerry Murray | | 11.25 | $200.00 | 105 |
| Jimmie Ritter/Zach Boslau | 3.49 | 11.20 | $150.00 | 104 |
| Rick Plemmons/ Chris Pike | 4.85 | 11.17 | | 103 |
| David Ward/ Vern Townsend | 0.00 | 10.85 | | 102 |
| Charlie Reed/ Kirk Wall | 0.00 | 10.67 | | 101 |
| David Buchannon/Brian Richardson | 3.95 | 10.18 | | 100 |
| Nick Meek/Kyle Verkuilen | 0.00 | 9.66 | | 99 |
| William Jordan/ Eugene Foushee | 0.00 | 9.36 | | 98 |
| Bob Gomez/ Eddie Tipton | 3.66 | 9.17 | | 97 |
| Nathaniel Kilgore/ Stan Krasnodar | 0.00 | 9.01 | | 96 |
| Ben Knapp/Mike Napp | 0.00 | 8.84 | | 95 |
| Brian Cooper/ Heath Parker | 0.00 | 8.79 | | 94 |
| Matt Jennings/ Mark London | 0.00 | 8.66 | | 93 |
| Doug Larson/ Susan Griffin | 0.00 | 8.59 | | 92 |
| Jason Law/ Terry Lovell | 0.00 | 8.50 | | 91 |
| JP Scott/ Mike Scott | 4.46 | 7.36 | | 90 |
| Mike Evans | 0.00 | 7.32 | | 89 |
| David Shaffer/ Scott Shaffer | 0.00 | 6.01 | | 88 |
| Tony Baker/Chris Wynne | 0.00 | 6.00 | | 87 |
| Tom Foster/ David Gardner | 0.00 | 5.90 | | 86 |
| Jeremy Gatewood/ Angela Angel | 0.00 | 5.89 | | 85 |
| Jim Dick/ Greg Dick | 0.00 | 5.54 | | 84 |
| Timothy Fallon/ Richard Griswold Jr | | 2.27 | | 83 |
| Charles Doss/ David Hickman | 0.00 | 1.98 | | 82 |
| Brad Higginbotham/ Nate Barber | 0.00 | 0.00 | | 72 |
| Joe Glazebrook/Chris Carmel | 0.00 | 0.00 | | 72 |
| Luke Nickert/Andrew Bass | 0.00 | 0.00 | | 72 |
| Travis Badgett Ricky Paige | 0.00 | 0.00 | | 72 |
| Ken Kipler/ Shawn Dunlap | 0.00 | 0.00 | | 72 |
| William Heighter/Doug Hewitt | | 0.00 | | 72 |
| Jeff Hayden/ Benny Cannon | 0.00 | 0.00 | | 72 |
| Benny Hendricks/Ronnie Ketchum | 0.00 | 0.00 | | 72 |
| Greg Taylor/Adam Haithcock | 0.00 | 0.00 | | 72 |
| Josh Powell/ Eric Rountree | 0.00 | 0.00 | | 72 |
| Total Entrys | | | $4,680.00 | |
| BONUS $ | | | | |
| Total Paid At Ramp | | | $4,710.00 | |
| 2021 Tidewater Final Fund | | | $405.00 | |
| 2021 CATT Championship Fund | | | $75.00 | |
| 2021 Tidewater Final Fund Total | | | $835.00 | |
| 2021 CATT Championship Fund Total | | | $2,335.00 | |