The Waccamaw River Summer Final is Aug 4th at Bucksport! Thanks for fishing CATT!
Corey Singleton & Jesse Hopkins brought in a super bag weighing up at 20.35 lbs! They also weighed in the 1st BF at 6.83 lbs and took the BONUS $ for a total of $1,056.00 in winnings!
Jesse Hopkins with the BF of the day!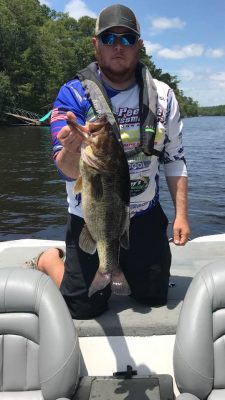 Nick Gant & Mark Gallup win the points and will fish the Final Free Plus blast off #1!
| | | | | |
| --- | --- | --- | --- | --- |
| | Big | Total | Total | |
| 28 Teams | Fish | Weight | Winnings | Points |
| Corey Singleton & Jesse Hopkins 1st BF & BONUS $ | 6.83 | 20.35 | $1,056.00 | 220 |
| Timmy Squirers & Jess White | 4.02 | 15.70 | $350.00 | 218 |
| Nick Gant & Mark Gallup 2nd BF | 6.82 | 15.37 | $334.00 | 216 |
| Richard & Gavin Porter | 4.16 | 13.47 | $130.00 | 214 |
| Chris Jones & Ed Owens | 2.70 | 9.30 | $100.00 | 212 |
| Kaleb Gerald & Wesley Williamson | 3.58 | 9.26 | | 210 |
| Ray Inman & Jennifer Hautamaki | 3.23 | 9.18 | | 208 |
| Greg & Logan Benton | 2.96 | 9.04 | | 206 |
| Wade Cook & Brian Howard | 2.59 | 8.79 | | 204 |
| Cody & River Squirers | 2.04 | 8.68 | | 202 |
| Reid McDowell & Danny Allen | 1.98 | 8.37 | | 200 |
| Don McLaud | 0.00 | 6.68 | | 198 |
| Timmy Williamson & James Walters | 0.00 | 6.65 | | 196 |
| Andrew Vereen & Jordan Weaver | 0.00 | 6.11 | | 194 |
| Trent Lippard & Alan Locklear | 0.00 | 4.56 | | 192 |
| Sammie & Colton Grier | 0.00 | 3.30 | | 190 |
| Winston Martin | 0.00 | 0.00 | | 188 |
| Mark Johnson | 0.00 | 0.00 | | 188 |
| Kyle & Cristin Chestnut | 0.00 | 0.00 | | 188 |
| Carlton & Jacob Thompkins | 0.00 | 0.00 | | 188 |
| Matthew & Terry Gohen | 0.00 | 0.00 | | 188 |
| Wesley Howell | 0.00 | 0.00 | | 188 |
| Smithy Smith | 0.00 | 0.00 | | 188 |
| Charles Fryer | 0.00 | 0.00 | | 188 |
| Grayson Brewster & Jaqueese Moss | 0.00 | 0.00 | | 188 |
| Casey Warren | 0.00 | 0.00 | | 188 |
| Patrick Cook & Wayne Marlow | 0.00 | 0.00 | | 188 |
| Jason Owens & Anthony Lee | 0.00 | 0.00 | | 188 |
| Total Entrys | | | $2,240.00 | |
| BONUS $ | | | $260.00 | |
| Total Paid At Ramp | | | $1,970.00 | |
| Waccamaw River 2018 Summer Final Fund | | | $500.00 | |
| 2019 CATT Championship Fund | | | $30.00 | |
| 2018 Waccamaw River Summer Final Fund Total | | | $1,810.00 | |
| 2019 CATT Championship Fund Total | | | $775.00 | |