We're looking forward to another big year on the Waccamaw River and we're off to a great start!31 Teams showed up at Bucksport this past Saturday to do battle and the weights were tight!
Next Waccamaw River CATT is June 2nd and will launch out of Georgetown!
Wade Cook & Brian Howard took the win with 12.01 lbs and claimed the BONUS $. Their 1st Place check totaled up to $1,035.00! They also took home an AFTCO Gift Card!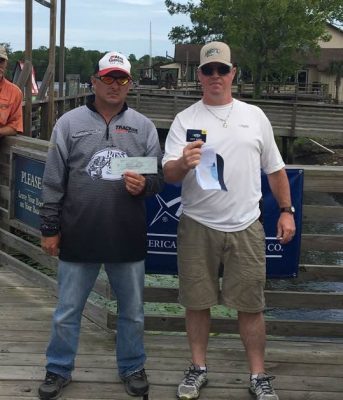 Coy Watts & David Hutcherson finished in the runner up spot with 5 bass weighing 11.71 lbs! They also weighed the 1st Bf at 4.67 lbs and took home $577.00!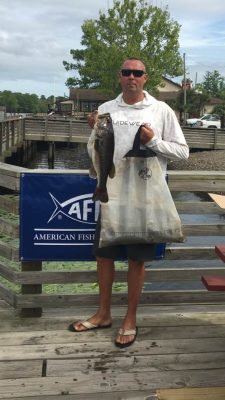 Check out the rest of the money winners! More pics below the results!
 
Big
Total
 
 
31 Teams
Fish
Weight
Winnings
Points
Brian Howard & Wade Cook  BONUS $
2.89
12.01
$1,035.00
110
Coy Watts & David Hutcherson  

1st BF

4.67
11.71
$577.00
109
Charles Fryer
3.88
10.72
$260.00
108
Adam Lewis & Guest Wesley Williamson
3.78
10.44
$140.00
107
Nick Gant & Mark Gallup
2.29
9.76
$110.00
106
Lin Fore
2.69
8.55
$100.00
105
Matthew Goheen & Hunter Spivey
2.47
8.45
 
104
Winston & Nathan Martin   

2nd BF

4.11

8.16
$93.00
103
Timmy Williamson & James Walters
1.97
8.00
102
Ryan Thompson
2.54
7.95
101
Chris Blanchette & Bill Foster
1.95
7.59
100
Mark Johnson & Gary Pope
2.40
7.57
99
Chris Jones & Ed Owens
1.84
7.47
98
Don Mclaud & Shawn Tackett
0.00
7.37
97
Jody & Hunter Vines
2.13
7.16
96
Robbie Byrum & Sammie Patterson
0.00
7.05
95
John & Johnathan Kelly
0.00
7.02
94
River & Cody Squirers
0.00
6.82
93
Kyle Chestnut & Kristine Wildner
2.31
6.58
92
Reid McDowell
1.54
6.39
91
Rick & Richard Vines
0.00
6.27
90
Keaton Capps & Seth Rabon
0.00
6.16
89
Alex Cribb
2.83
5.73
88
Grayson Brewster & Jacques Moss
0.00
5.61
87
Corey Singleton & Jesse Hopkins
0.00
5.44
86
Cal Marsh & Eric Freeman
0.00
0.00
85
Caleb Cox & Dylan Gasque
0.00
0.00
85
Les Jordan & Jonah Elliott
0.00
0.00
85
Casey Warren
0.00
0.00
85
Anthony Lee. & Billy Cook
0.00
0.00
85
Smithy Smith
0.00
0.00
85
Total Entrys
 
 
$2,480.00
 
BONUS $
 
 
$360.00
 
Total Paid At Ramp
 
 
$2,315.00
 
Waccamaw River 2018 Summer Final Fund
 
 
$475.00
 
2018 CATT Championship Fund
 
 
$50.00
 
 
 
 
 
 
2018 Waccamaw River Summer Final Fund Total
 
 
$475.00
 
2018 CATT Championship Fund Total
 
 
$4,480.00