Next Waccamaw River CATT is Sept 26 at Bucksport!
To view the Waccamaw River Points go to the Waccamaw River Division page and scroll down!
1st Place worth $944.00 went to Ricky Wood & Conner Cartmell with 5 bass weighing 13.06 lbs and they weighed in the 2nd BF at 4.20 lbs!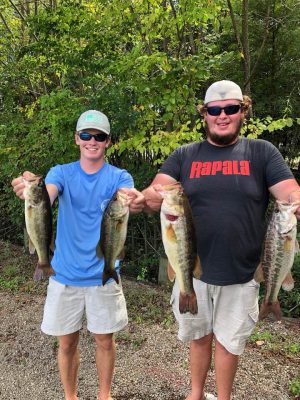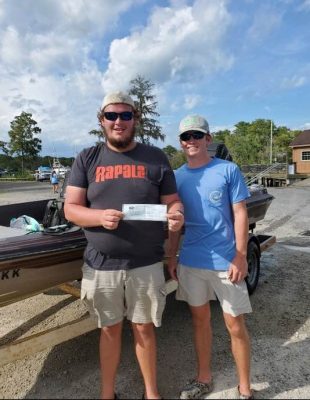 Freddy Mincey & Jeff Cannon claimed 2nd with a limit weighing 12.92 lbs! They weighed the 1st BF at 4.22 lbs!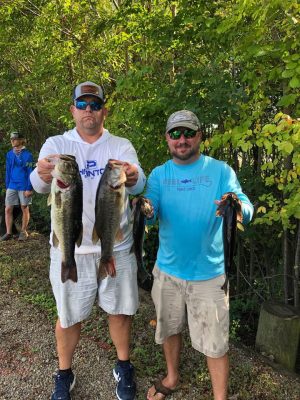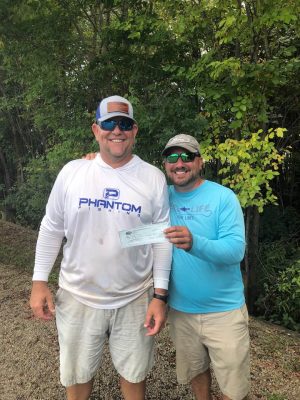 Will Prosser & Kevin Alford took 3rd with 11.38 lbs!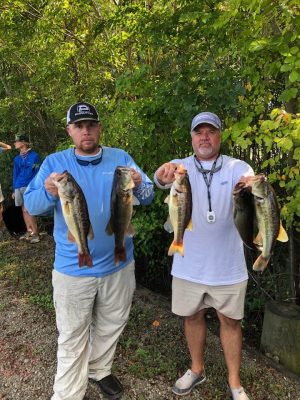 Timmy Squirers & Seth Rabon finished 4th with 11.10 lbs! They also received an Academy Gift Card valued at $25!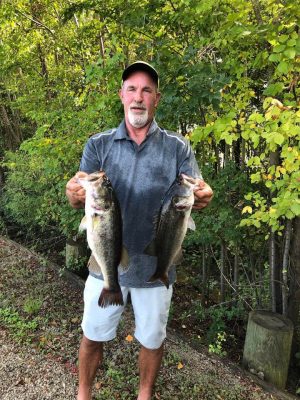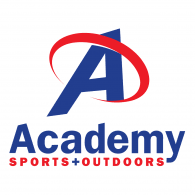 | | | | | |
| --- | --- | --- | --- | --- |
| | BF | Weight | Winnings | Points |
| Ricky Wood & Conner Cartmell | 4.20 | 13.06 | $944.00 | 110 |
| Freddy Mincey & Jeff Cannon | 4.22 | 12.92 | $461.00 | 109 |
| Kevin Alford & Will Prosser | 2.96 | 11.38 | $200.00 | 108 |
| Timmy Squirers & Seth Rabon | 3.48 | 11.10 | $120.00 | 107 |
| Charles Fryer & Danny Rabon | 2.19 | 10.49 | | 106 |
| Kaleb Gerald & Adam Lewis | 2.81 | 9.98 | | 105 |
| Avery Williams & Will Sandt | 2.75 | 9.83 | | 104 |
| Mark Johnson & Gary Pope | 2.37 | 9.17 | | 103 |
| Logan & Shawn Benton | 2.31 | 9.17 | | 102 |
| Andrew Vereen & Jordan Weaver | 2.49 | 9.05 | | 101 |
| George Porter & James Wade | 2.58 | 8.84 | | 100 |
| Robby Boyd & Ryan Thompson | 2.38 | 8.76 | | 99 |
| Kyle Johnson | 2.23 | 8.41 | | 98 |
| Don McLaud & Shawn Tackett | 2.25 | 7.72 | | 97 |
| Chris Jones & Ed Owens | 2.41 | 7.62 | | 96 |
| Kevin Heniford & Jesse Long | 2.77 | 7.38 | | 95 |
| Jamie Etheridge & Scott McClellan | 1.75 | 6.58 | | 94 |
| Glenn Cribb & JR Barfield | 0.00 | 6.25 | | 93 |
| Seth Hamilton & Austin Herring | 1.64 | 5.83 | | 92 |
| Colby Calhoun & Christin Cox | 0.00 | 5.83 | | 91 |
| Kyle & Kristin chestnut | 0.00 | 5.38 | | 90 |
| Stephen Smith   Sub Madison Hardee | 0.00 | 5.35 | | 89 |
| Eric Cox & Robby Byrum | 0.00 | 5.16 | | 88 |
| Total Entrys | | | $1,840.00 | |
| BONUS $ | | | $350.00 | |
| Total Paid At Ramp | | | $1,725.00 | |
| 2020 Waccamaw River Fall Final Fund | | | $365.00 | |
| 2020 CATT Championship/Phantom Fund | | | $50.00 | |
| 2020 Waccamaw River Final Fund Total | | | $365.00 | |
| 2020 CATT Championship/Phantom Fund Total | | | $4,520.00 | |