The 2022 Waccamaw Fall CATT Final will be held December 17 at Bucksport!
Kaleb Gerald & Charlie Holmes win the Fall Waccamaw Points and will receive Free Entry to the December Final PLUS a $75,00 check PLUS 2 – Fall Point Champ Plaques!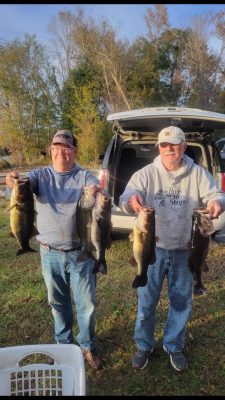 Chris Jones & Ed Owens win the Waccamaw with 5 bass weighing 19.61 lbs with a BF at 5.08 lbs! They took home a total of $1,455.00!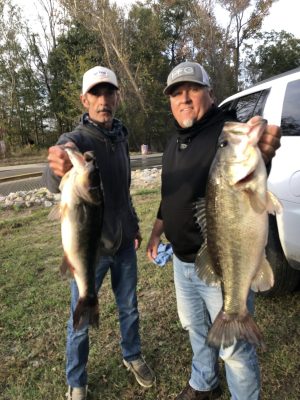 Danny & Joey McLean 2nmd Place with 15.64 lbs and 2nd BF at 5.26 lbs!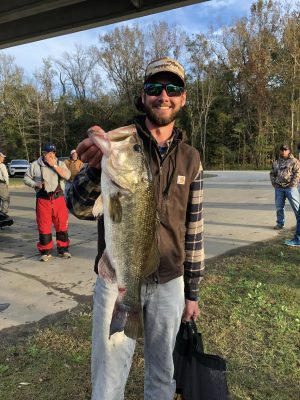 Andrew Vereen 3rd with 13.11 lbs and the BF of the day at 6.04 lbs!
Team
BF
Weight
Winnings
Points
Chris Jones & Ed Owens
5.08
19.61
$1,455.00
110
Danny & Joey McLean
5.26
15.64
$522.00
109
Andrew Vereen
6.04
13.11
$388.00
108
Gary Pope & Brian Howard
3.98
11.84
$120.00
107
Kaleb Gerald & Charlie Holmes
2.85
11.17
106
Timmy Squirers & Noah Jones
3.23
10.51
105
Rickey Wood & Johnny Duarte
3.13
10.16
104
Charles Fryer & Charlie Johnson
2.26
9.52
103
Danny Martin & Britt Brown
3.14
9.38
102
Colby Ard & Justin Laine
2.60
9.12
101
David & Cody Wilder
3.48
8.79
100
Ray Inman
1.99
8.44
99
Ron Terwilliger & Mac Cooper
2.58
8.21
98
Robby Byrum & Eric Cox
2.26
8.04
97
Marion Humphrey & James Odom
7.96
7.96
96
Don Mclaud & Calvin Clatterbuck
4.97
7.92
95
Jim Tierney
0.00
3.30
94
Ryan Thompson & Brian Meyers
0.00
0.00
84
Mike Gerald & Jesse Norris
0.00
0.00
84
Casey Warren
0.00
0.00
84
Scott Poston & Kevin Owens
0.00
0.00
84
Michael Harrelson
0.00
0.00
84
JD Farrand & Jesse White
0.00
0.00
84
Shawn Todd & Keaton Harrelson
0.00
0.00
84
Total Entrys
$2,400.00
BONUS $
$450.00
Total Paid At Ramp
$2,485.00
2022 Waccamaw Fall Final Fund
$240.00
2022 Waccamaw Fall Point Champs
$75.00
2023 CATT Championship/Phantom Fund
$50.00
2022 Waccamaw Fall Fund Total
$720.00