The 2021 CATT Waccamaw River Fall Trail is posted! go to the Waccamaw Division page to view! We had a great 2021 Summer Series along with the success of the 2021 Waccamaw River Phantom Outdoors Invitational! At the conclusion of the Summer Final Saturday the total $$ CATT has paid on the Waccamaw River is $41,760.00!
We had a great crowd with 40 Teams enter the Summer Final at Bucksport Marina! With over $7,000.00 up for grabs someone was going to have a good day on the Waccamaw River. That someone was John Proctor of Conway, SC and Johnny Duarte from Boiling Spring, SC. They brought in 5 bass weighing 16.94 lbs to capture 1st Place! Adding to their total Team J&J weighed in the 2nd BF at 5.33 lbs and took home a total of $3,530.00! They also earned a $50 Strike King/Lews Gift Card!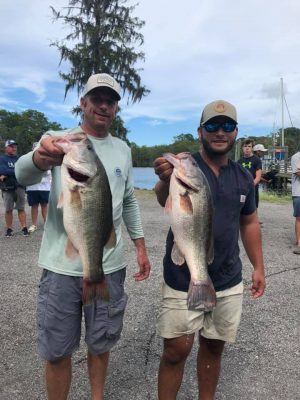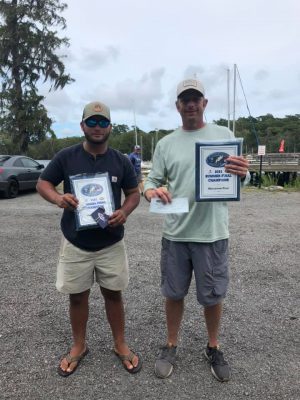 2nd Place went to Mark Johnson of Georgetown, SC & Gary Pope also of Georgetown, SC with 5 bass weighing 15.56 lbs! They earned $1,200.00!
Casey & Dalton Warren of Galivants Ferry, SC took 3rd with 14.56 lbs worth $725.00!
Hunter Dickerson & Mark Curry both of Conway claimed 4th with 14.49 lbs and took home $430.00!
Chad Williams & Rodney Hardee both of Conway, SC collected $250.00 for their 5th Place finish with 13.47 lbs!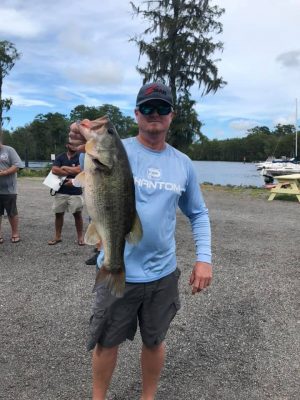 Mike Gerald & Jesse Norris both of Conway, SC finished in 6th Place with 13.20 lbs and received $220.00!
Winston Martin of Hemingway, SC & Wayne Marlow of Johnsonville, SC were the 7th Place team with 13.11 lbs. They earned $210.00!
Chris Jones of Conway, SC and Ed Owens of Hemingway, SC took 8th with 12.89 lbs worth $200.00!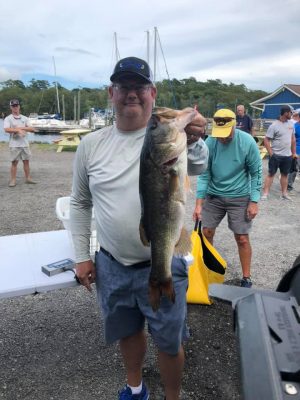 JD Farrand & Jess White both of Conway, SC claimed the BF prize with a 5.85 lbs bass! They took home $260.00 plus a $100 Strike King/Lews Gift Card!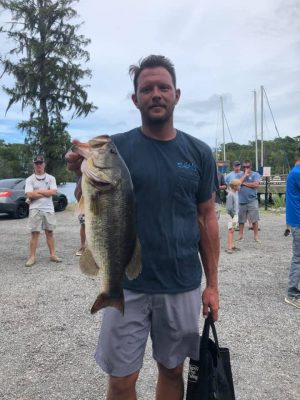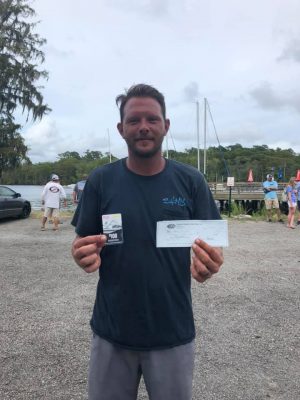 Wilson Hewitt of Georgetown, SC with a nice un!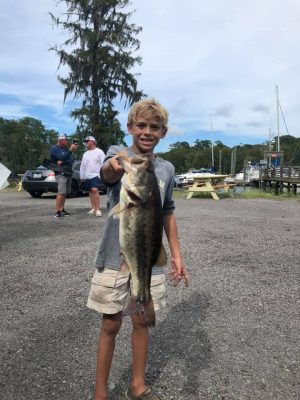 Jacob & Steve Martin both from Conway, SC were our 2021 Waccamaw River Summer Point Champs!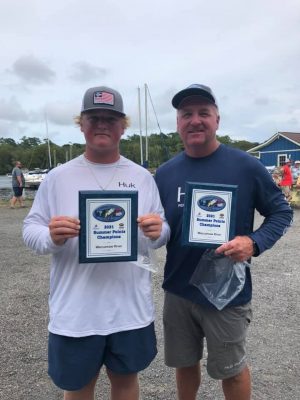 | | | | |
| --- | --- | --- | --- |
| Team | BF | Weight | Winnings |
| 1.John Proctor & Johnny Duarte | 5.33 | 16.94 | $3,530.00 |
| 2.Mark Johnson & Gary Pope | 5.16 | 15.56 | $1,200.00 |
| 3.Casey & Dalton Warren | 3.39 | 14.56 | $725.00 |
| 4. Hunter Dickerson & Mary Curry | 3.44 | 14.49 | $430.00 |
| 5. Chad Williams & Rodney Hardee | 4.91 | 13.47 | $250.00 |
| 6.Mike Gerald & Jesse Norris | 3.84 | 13.20 | $220.00 |
| 7. Winston Martin & Wayne Marlow | 3.74 | 13.11 | $210.00 |
| 8. Chris Jones & Ed Owens | 4.65 | 12.89 | $200.00 |
| 9. Danny & Kaleb McLean | 3.41 | 12.57 | |
| 10. Danny Martin & Britt Brown | 3.15 | 12.55 | |
| 11. Jeremy & Wilson Hewitt | 3.63 | 12.47 | |
| 12. Corey Singleton & Jesse Hopkins | 2.36 | 11.79 | |
| 13. Calvin Clatterbuck & Bradley Thompkins | 3.35 | 11.67 | |
| 14. Ben Cox | 0.00 | 11.35 | |
| 15. Eric Lilly & TJ Hardee | 0.00 | 11.25 | |
| 16. Tommy & Thomas Collins | 3.07 | 11.24 | |
| 17. Jason Farrand & Jess White | 5.85 | 11.20 | $260.00 |
| 18. Steve & Jacob Martin | 2.67 | 11.14 | |
| 19. Nick gant & Patrick Cook | 2.98 | 11.13 | |
| 20. Danny Allen & Reid McDowell | 2.78 | 10.94 | |
| 21. Brian Howard & Wade Cook | 2.57 | 10.92 | |
| 22. Kevin Edge & Carluss King | 0.00 | 10.34 | |
| 23. Jesse Long & Kevin Heniford | 2.64 | 10.00 | |
| 24. George Porter & James Wade | 2.17 | 9.88 | |
| 25. OJoe Gabella & Lee Floyd | 0.00 | 9.68 | |
| 26. Timmy & Cody Squirers | 0.00 | 8.74 | |
| 27. Robby Byrum & Eric Cox | 0.00 | 8.65 | |
| 28. Justin Williams & Jordan Cook | 0.00 | 8.60 | |
| 29. Scott McClellan | 0.00 | 6.91 | |
| 30. Chris Alston | 0.00 | 5.02 | |
| 31. Avery & Ritchie William | 0.00 | 0.00 | |
| 32. Ron cannon | 0.00 | 0.00 | |
| 33. Timmy Williamson & James Walters | 0.00 | 0.00 | |
| 34. Shawn todd & Keaton harrelson | 0.00 | 0.00 | |
| 35.:Dustin Powell & trey Vereen. | 0.00 | 0.00 | |
| 36. Carlton Thompkins & Joel Barfield | 0.00 | 0.00 | |
| 37. Charles Fryer & Danny Rabon | 0.00 | 0.00 | |
| 38. Darren cook & Peter Horne | 0.00 | 0.00 | |
| 39. Benny Carter | 0.00 | 0.00 | |
| 40. Eric Freeman & Kevin Bazen | 0.00 | 0.00 | |
| Total Entrys | | | $4,680.00 |
| Final Fund | | | $1,370.00 |
| 2021 Waccamaw River Final Total Payback | | | $7,175.00 |
| 2021 Waccamaw River Payback as of 8/15 | | | $41,760.00 |