Guys, we had another great season at Wateree with the Wateree Opens almost paying back $30,000.00! 
We ended up with 11 of the 17 teams eligible to enter the Wateree Open Final at Wateree Saturday! If a team entered 10 Opens this year they did not pay an entry fee! You had to enter at least 6 Opens to be eligible. 3 of the 11 teams paid an entry fee while 8 teams did not and the rest of the money paid back consisted of the BONUS and the Wateree Open Final Fund which totaled up to $6,355.00!
We had a rainy and cold day Saturday but Craig Haven & Tim Haven found a way to catch a nice limit weighing 15.94 lbs! They took home 1st place and $3,180.00! They also received a Lews Mach Speed Stick!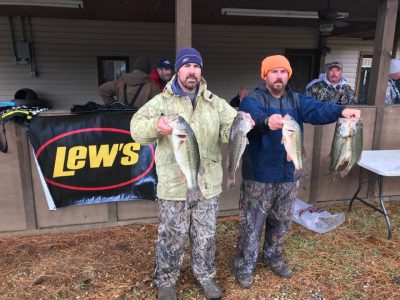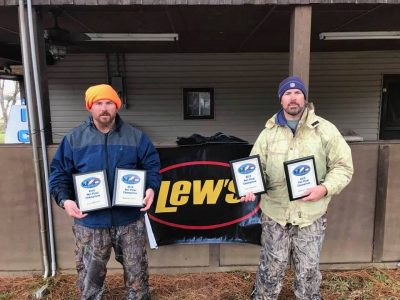 2nd went to David Ethridge & Butch Williams with 14.35 lbs! They took home $1,650.00!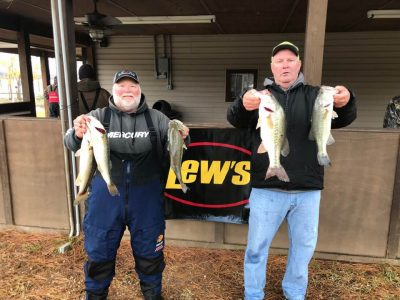 Michael Richardson & Shane Cantley earned 3rd with 11.95 and collected $675.00!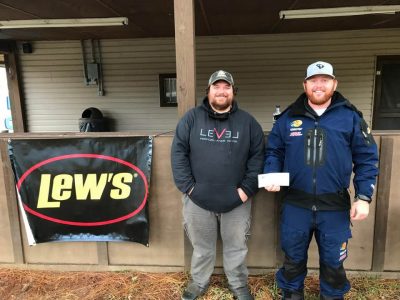 Jason Bateman & Steve Phillips earned some cash and 2 – $25 Academy Gift Cards!
See you guys next year!
| | | | | |
| --- | --- | --- | --- | --- |
| | | Big | Total | Total |
| Place | Team | Fish | Weight | Winnings |
| 1 | Tim Haven – Craig Haven    BONUS $ | 4.76 | 15.94 | $3,180.00 |
| 2 | Butch Williams – David Ethridge  BONUS $ | 4.25 | 14.35 | $1,650.00 |
| 3 | Shane Cantley – Michael Richardson | 5.10 | 11.95 | $675.00 |
| 4 | Jason Bateman – Steve Phillips | 3.95 | 10.56 | $200.00 |
| 5 | Jerry Freezon – Kareem White | 3.09 | 6.93 | |
| 6 | John Paul George – Jason Quinn | 2.42 | 6.86 | |
| 7 | David F. Canupp – David L. Canupp | 2.74 | 6.29 | $150.00 |
| 8 | Brad Petway – Brett Collins | 0.00 | 3.36 | |
| 9 | Todd Butler – **Point Money | 0.00 | 0.00 | $500.00 |
| 10 | Scott Floyd – Greg Corvin | 0.00 | 0.00 | |
| 11 | Alan Fletcher – Donald Hinson | 0.00 | 0.00 | |
| | Total Paid Wateree Open Final | | | $6,355.00 |
| | Total Paid Wateree Opens 2018 | | | $29,445.00 |