Next Yadkin Fall CATT is the Final Nov 20 at High Rock Lake – Southmont Hwy 8!
You had to enter 2 Fall Yadkin CATT Qualifiers to be eligible to enter the Final!
John Kistler & Rusty Melton win the Yadkin Fall Points and will fish the Yadkin Final Free!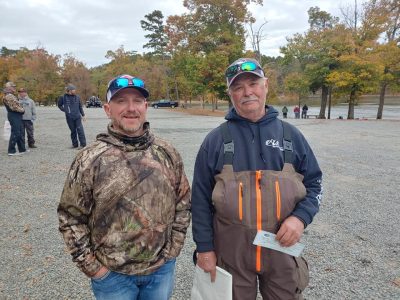 Wayne Ingram & Chris Brown took 1st Place with 5 bass weighing 22.51 lb! They also weighed in the Academy BF at 6.13 lbs! All total Wayne & Chris earned $1,520.00!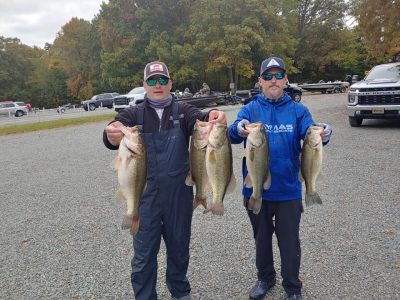 Jeremy Talbert & Tod Haynes finished 2nd with 20.49 lbs!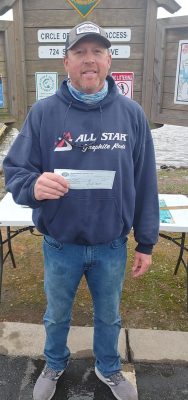 Jason & Jacob Smith 3rd with 18.87 lbs!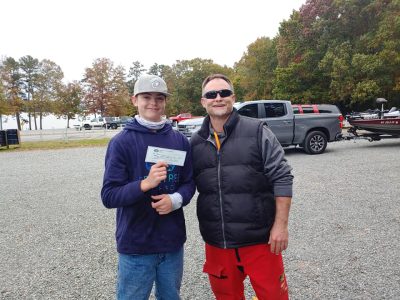 Shawn Knight & Ron Wolfarth took 4th with 17.96 lbs!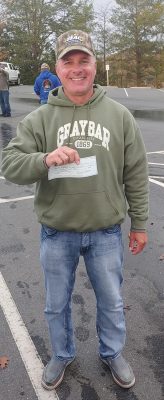 Christian Johnson 5th with 16.04 lbs!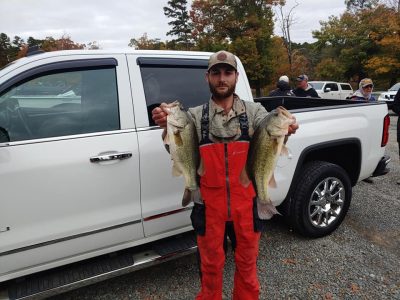 Steve Sink & Jason Riggs 6th 15.48 lbs!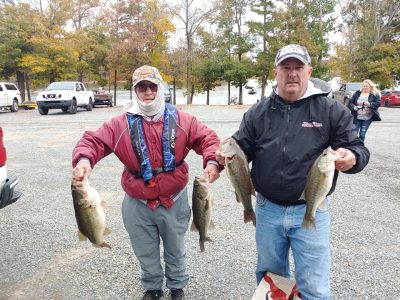 Tommy Jones & Tom Fil claimed 7th with 15.07 lbs!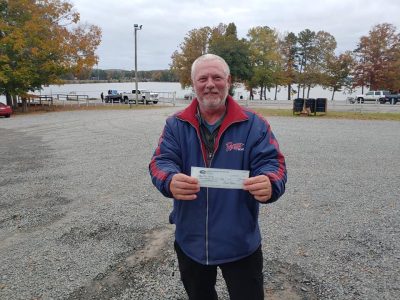 | | | | | |
| --- | --- | --- | --- | --- |
| Team | BF | Weight | Winnings | Points |
| Chris Brown – Wayne Ingram | 6.13 | 22.51 | $1,520.00 | 110 |
| Jeremy Talbert – Tod Haynes | 5.25 | 20.49 | $560.00 | 109 |
| Jason Smith – Jacob Smith | 5.28 | 18.87 | $380.00 | 108 |
| Ron Wolfarth – Shawn Knight | 5.16 | 17.96 | $200.00 | 107 |
| Christian Johnson | 4.24 | 16.04 | $120.00 | 106 |
| Jason Riggs – Steve Sink | 5.62 | 15.48 | $110.00 | 105 |
| Tommy Jones – Tom File | 5.08 | 15.07 | $100.00 | 104 |
| David Hunt – Darrell Crumbley | 4.65 | 14.85 | | 103 |
| Dusty Taylor – Kolton Hawks | 0.00 | 14.56 | | 102 |
| David Wright | 0.00 | 14.24 | | 101 |
| Jacon Bridges – Brady Weisner | 0.00 | 12.98 | | 100 |
| Ricky Roten – Stephen Cannon | 0.00 | 12.84 | | 99 |
| Dwayne Hughes – Mark Hughes | 0.00 | 10.65 | | 98 |
| Austin Garland – Mike Lawhon | 0.00 | 10.47 | | 97 |
| Hunter Harwood – Scott Harwood | 4.84 | 9.95 | | 96 |
| Curt Lare – Devin Kennedy | 0.00 | 9.68 | | 95 |
| Alan Thompson – Mike Coley | 0.00 | 9.56 | | 94 |
| Ethan Cox – Cody Thompson | 0.00 | 8.92 | | 93 |
| John Kistler – Rusty Melton | 5.78 | 8.84 | $105.00 | 92 |
| Josh Griffin – Daniel Griffin | 5.21 | 8.17 | | 91 |
| Micah Speights – Chad Coley | 0.00 | 7.73 | | 90 |
| Zach Schelsi – Kris Sebels | 0.00 | 6.14 | | 89 |
| Derek Briles – Dustin King | 0.00 | 5.03 | | 88 |
| Randy Weddington – Ronnie Smith | 4.87 | 1.82 | | 87 |
| Danny Nifong – Mathew Nifong | 0.00 | 0.00 | | 77 |
| Craig Gatewood | 0.00 | 0.00 | | 77 |
| Shane Kennedy | 0.00 | 0.00 | | 77 |
| Scott Henley – Johnny Heaton | 0.00 | 0.00 | | 77 |
| Randy Bell – David Lloyd | 0.00 | 0.00 | | 77 |
| Frank Larmond – David Larmond | 0.00 | 0.00 | | 77 |
| Joel Ketchum – Sam Cole | 0.00 | 0.00 | | 77 |
| Jason Thomas – Rodney Thomas | 0.00 | 0.00 | | 77 |
| Brad Burns – Caleb Burns | 0.00 | 0.00 | | 77 |
| Jack Vanderford – Lucas Hedrick | 0.00 | 0.00 | | 77 |
| Lance Isenhour | 0.00 | 0.00 | | 77 |
| Total Entrys | | | $2,800.00 | |
| BONUS $ | | | $800.00 | |
| Total Paid At Ramp | | | $3,095.00 | |
| Yadkin FALL 2021 Final Fund | | | $405.00 | |
| 2022 CATT Championship Fund | | | $50.00 | |
| 2021 Yadkin FALL Final Fund Total | | | $2,300.00 | |