We have 59 teams eligible to enter the James River Final Oct 5-6! If we can get them all to show we're looking at a purse totaling over $13,000.00! 1st Place is taking home a minimum of $5,000.00!
Blastoff Position is Determined By Order Of Payment Note- Top 3 in points blast off top 3 position!
Must fish 4 of 7 Qualifiers to Fish Final
Fishing solo once & with sub once counts toward teams Qualification
You may fish solo and you can Qualify solo for the James River Final!
We wrapped up the James River Points Saturday!
1st Place Trey Goodman – Tim Chaffin  FREE Entry at all 2020 James River Qualifier and Blast Off #1  $840.00 Value PLUS $500.00 CASH!
2nd Place Chris Atwell – Gary Atwell $250.00 Cash
3rd Ray Hogge – Donnie Daniel $150.00 Cash
Clayton Robens & Mike Little weighed in 5 bass at 20.25 lbs and weighed the 1st BF at 7.17 lbs! They took home a total of $2,420.00!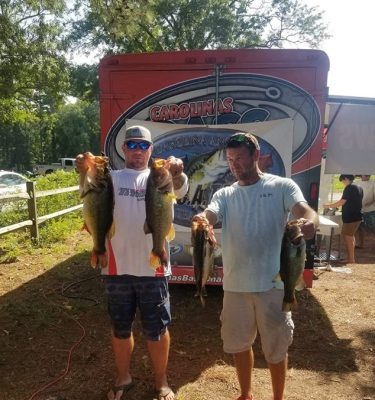 2nd went to Trey Goodman & Tim Chaffin with 17.70 lbs! They took home $1,000.00!
Charles James finished 3rd with 15.85 lbs and earned $675.00!
Check out the full results!
| | | | | |
| --- | --- | --- | --- | --- |
| 60 Teams | BF | Weight | Winnings | Points |
| clayton robens and mike little | 7.17 | 20.25 | $2,420.00 | 220 |
| trey goodman tim chaffin | 6.00 | 17.70 | $1,000.00 | 219 |
| charles james | 0.00 | 15.85 | $675.00 | 218 |
| joe carr | 5.54 | 15.54 | $560.00 | 217 |
| chris bryant and matt dunnigan | 0.00 | 15.30 | $425.00 | 216 |
| burley and brian langford | 5.24 | 14.86 | $315.00 | 215 |
| ryan and wayne drewery | 0.00 | 14.85 | $250.00 | 214 |
| jerry heffler and josh waggy | 0.00 | 14.44 | $530.00 | 213 |
| anthony and harrison baker | 0.00 | 14.15 | $180.00 | 212 |
| jeff valentine and daryl moody | 0.00 | 13.90 | $330.00 | 211 |
| andy semenco wayne andrews | 2.89 | 13.39 | $130.00 | 210 |
| william allan and mike martinez | 6.59 | 13.08 | $300.00 | 209 |
| zach and larry whit | 0.00 | 12.65 | | 208 |
| brandon hill and kevin king | 0.00 | 12.28 | | 207 |
| eddie griggs and eric rowe | 0.00 | 12.21 | | 206 |
| david and kyle owen | 0.00 | 11.99 | | 205 |
| luke and donald carson | 0.00 | 11.87 | | 204 |
| nelson marshall and ron studder | 0.00 | 11.82 | | 203 |
| jamie nealy and greg ball | 0.00 | 11.82 | | 202 |
| mickey anderson and bo boltz | 0.00 | 11.76 | | 201 |
| josh wright and kelly pratt | 0.00 | 11.69 | | 200 |
| ray hooge donnie daniel | 0.00 | 11.66 | | 199 |
| caleb burruss | 0.00 | 11.47 | | 198 |
| Milk and Cookies | 0.00 | 10.99 | | 197 |
| donnie bowman mike wright | 0.00 | 10.86 | | 196 |
| matt chisolm and todd fisher | 0.00 | 10.86 | | 195 |
| dave carney and andy bollhust | 0.00 | 10.79 | | 194 |
| john barnes and ryan barksdale | 0.00 | 10.67 | | 193 |
| doug wharton and darrel smith | 0.00 | 10.59 | | 192 |
| guy fairweather and jarred williams | 0.00 | 10.37 | | 191 |
| liedy clark and ricky west | 0.00 | 10.36 | | 190 |
| michael taylor and chris weaver | 0.00 | 10.27 | | 189 |
| bobby and robby harris | 4.69 | 10.05 | | 188 |
| duane hodge and brad colgen | 0.00 | 9.96 | | 187 |
|  tri nguyen and turner hart | 0.00 | 9.91 | | 186 |
| chris and gary atwell | 0.00 | 9.90 | | 185 |
| will vickory and dee kid | 0.00 | 9.83 | | 184 |
| audie murphy and monte aleman | 0.00 | 9.59 | | 183 |
| bubba whitehurst and parker hinks | 0.00 | 9.57 | | 182 |
| mike shears and eastwood | 0.00 | 9.20 | | 182 |
| ben knapp and rodney mason | 0.00 | 8.35 | | 180 |
| harvey reece anthony weithers | 0.00 | 8.34 | | 179 |
| roger williams and david fox | 0.00 | 8.08 | | 178 |
| chris burnett and chris powell | 0.00 | 8.00 | | 177 |
| william clement and james cornett | 0.00 | 7.65 | | 176 |
| bryan keane | 0.00 | 6.49 | | 175 |
| wayne taylor and john doyle | 0.00 | 6.01 | | 174 |
| lance taylor and steve webb | 0.00 | 3.84 | | 173 |
| stacy vasser | 0.00 | 3.20 | | 172 |
| mike hinkley matt pulley | 0.00 | 0.00 | | 171 |
| craig fagan torry aiken | 0.00 | 0.00 | | 171 |
| mike green and dylan gore | 0.00 | 0.00 | | 171 |
| marshall johnson and ryan lachinet | 0.00 | 0.00 | | 171 |
| ted lempke and william woodle | 0.00 | 0.00 | | 171 |
| robert godsey and jack oliva | 0.00 | 0.00 | | 171 |
| charles kline and jay griffin | 0.00 | 0.00 | | 171 |
| jimmy and ralpoh taylor | 0.00 | 0.00 | | 171 |
| ethan morrison and jt hart | 0.00 | 0.00 | | 171 |
| matthew kitt | 0.00 | 0.00 | | 171 |
| scott rodgers and micah mitten | 0.00 | 0.00 | | 171 |
| marcuss chandler and john mansini | 0.00 | 0.00 | | 171 |
| jerry britt and howard austin | 0.00 | 0.00 | | 171 |
| Total Entrys | | | $7,200.00 | |
| BONUS $ | | | $550.00 | |
| Total Paid At Ramp | | | $7,115.00 | |
| James River 2019 Final Fund | | | $475.00 | |
| 2019 CATT Championship Fund | | | $60.00 | |
| 2019 James River Final Fund Total | | | $3,760.00 | |
| 2019 CATT Championship Fund Total | | | $355.00 | |